Jersey Sports Zone is excited to formally announce the seven finalists for the 2022 Zoneman Trophy — JSZ's high school football player of the year in New Jersey. The winner will be announced on Sunday, December 11th on Jersey Sports Zone TV on WLNY-TV. 
---
The History of the Zoneman Trophy
By Rich Chrampanis, Jersey Sports Zone Chief Operating Officer
In the year 2000, I received the great honor of a Heisman Trophy ballot as I started my tenure on television at WPDE-TV in Myrtle Beach, South Carolina. I was so excited to get the chance to weigh in on such a significant award and it got me thinking of bringing the same kind of excitement to our high school football coverage. So we built a trophy and instead of the Heisman, the Zoneman was born. During my 15 years, we were fortunate to have some outstanding winners of our award starting with former Pittsburgh Steelers and Miami Dolphins linebacker Lawrence Timmons, former Notre Dame quarterback Everett Golson and current Las Vegas Raiders wide receiver Hunter Renfrow, who caught the game-winning TD pass for Clemson in the 2016 National Championship game.
The Zoneman tradition is still going strong in South Carolina, began its New Jersey chapter on the Jersey Shore and is now a statewide honor. We're excited to continue this tradition in New Jersey high school football as we will present the most outstanding player in the state with our Sixth Annual Zoneman Trophy.
Previous Zoneman Trophy Winners:
2017: Ashante Worthy, Freehold Boro QB
2018: Jalahn Dabney, Somerville QB
2019: Fadil Diggs, Woodrow Wilson DL/WR | Texas A&M
2020: Audric Estime, St. Joe's (Mont.) RB | Notre Dame
2021: LeQuint Allen, Millville RB | Syracuse
---
Zoneman Trophy Balloting
The 2022 Zoneman Trophy will be voted on by coaches from each conference in the state (SFC, WJFL, NJIC, Big Central, and Shore) as well as Jersey Sports Zone's staff of multimedia journalists and other credentialed media around the state. Each ballot includes a first-place vote (three points), a second-place vote (two points), and a third-place vote (one point).
We are honored to announce the 2022 Zoneman Trophy Finalists in alphabetical order!
---
Chase Bisontis | Don Bosco Prep Offensive Lineman
Bisontis was a four-year starter at non-public powerhouse Don Bosco Prep. This season, he brought a heightened level of physicality and focus to the offensive line and consistently moved some of the state's top players off the line of scrimmage. He's recognized by numerous scouting services as the consensus No. 1 ranked prospect in the Garden State and is one of the highest rated offensive lineman in the country. He's given a verbal commitment to Texas A&M.
Bisontis is the third Don Bosco player to be named a Zoneman Finalist (Jalen Berger, 2019; Kyle Monangai, 2019).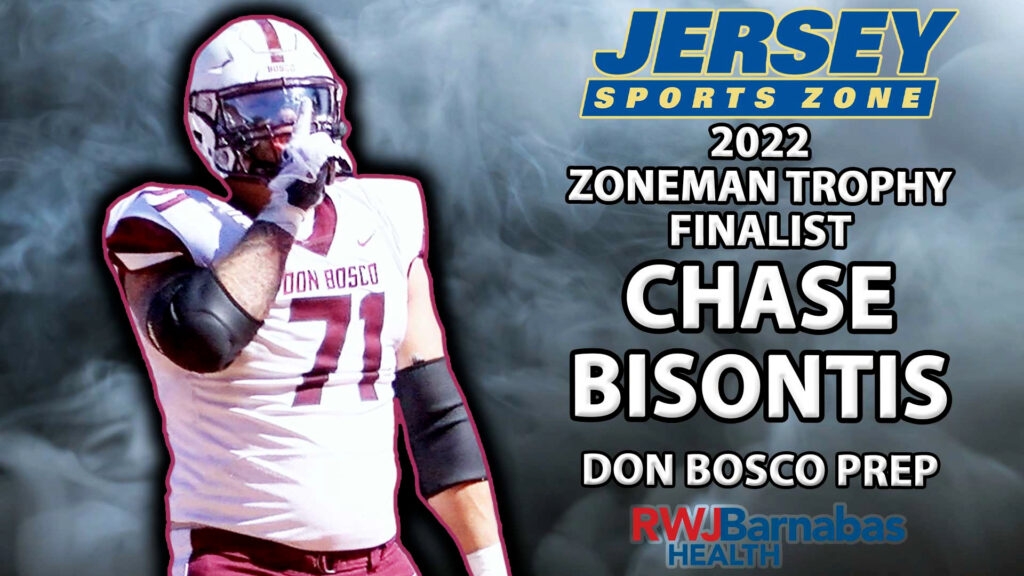 ---
Micah Ford | Toms River North Quarterback
Arguably the "breakout" player of the 2022 season, Ford was the driving force for Toms River North's remarkable season this fall. The junior signal caller ran roughshod against defenses and racked up 2,251 rushing yards and 33 rushing scores while passing for just over 1,000 yards and 17 touchdowns. The Mariners finished the year at 14-0 and won the Group 5 state championship.
Ford is the first-ever Toms River North player to be named a Zoneman finalist and is looking to become only the second Shore Conference player to win (Ashante Worthy, Freehold Boro, 2017.)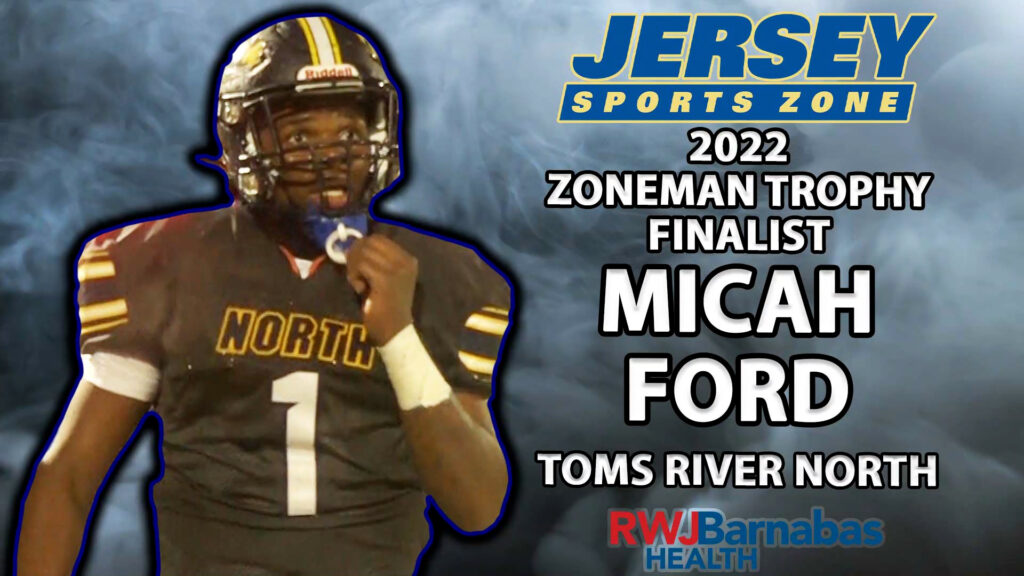 ---
Champ Long | St. Peter's Prep Quarterback
Robert "Champ" Long holds the distinction has the only senior quarterback in the state (excluding prep schools) to be committed to a Power-5 program. In his senior season at St. Peter's Prep, Long torched opposing defenses with 2,638 passing yards and a staggering 31 touchdown passes. Long played two varsity seasons with the Marauders and racked up nearly 5,000 yards and 51 scores through the air. He's verbally committed to Maryland.  
Long is the fourth St. Peter's Prep player to be named a Zoneman finalist (Shayne Simon, 2017; Cody Simon, 2019; Tahj Bullock, 2020).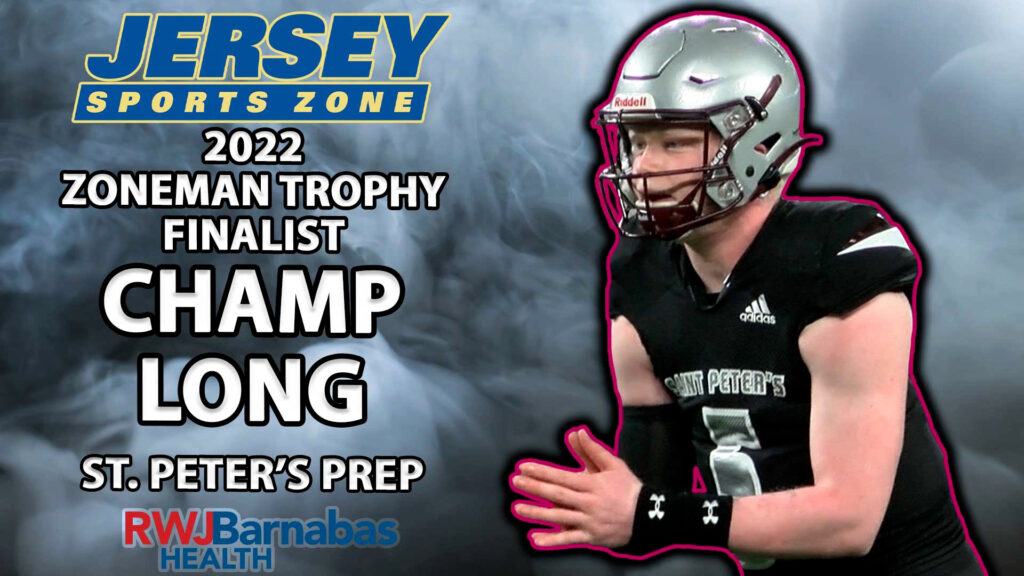 ---
Malachi Mercer | Bergen Catholic Linebacker
On a defense loaded with some of the top talent in the state, it was Mercer who emerged with the best season of that group. In his senior season, Mercer racked up a team-high 118 tackles while also snaring four interceptions to help lead the Crusaders to a second-straight Non-Public A state championship. Head coach Vito Campanile said Mercer also stepped up as a vocal leader for the team in 2022. Mercer will continue playing football in the Ivy League at Columbia. 
Mercer is the fourth Bergen Catholic player to be named a Zoneman Finalist (Johnny Langan, 2017; Rahmir Johnson, 2018; Steve Angeli, 2021).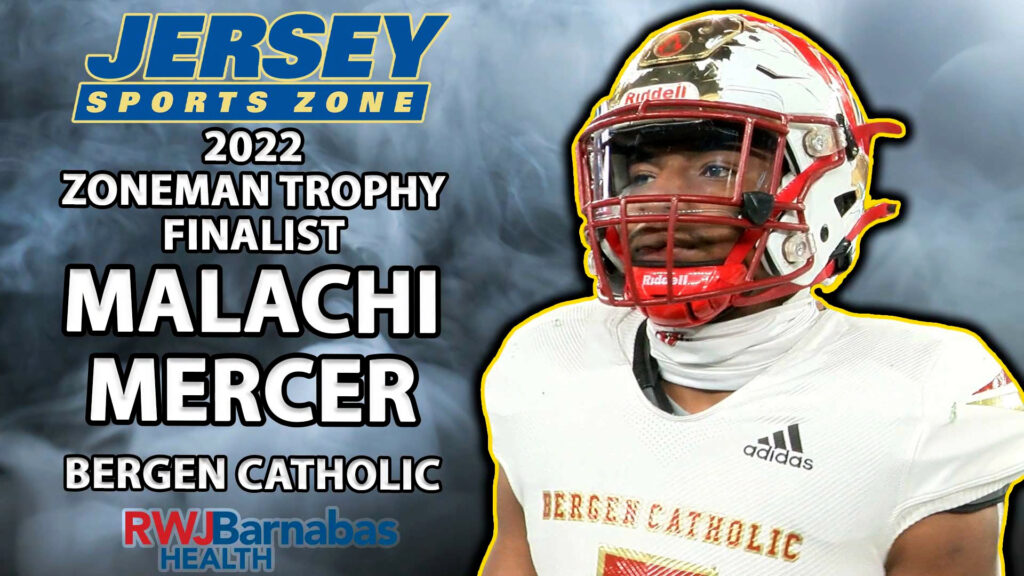 ---
Stefano Montella | West Morris Running Back
Montella was arguably the state's most dominant two-way player this season. The West Morris product produced the second-best single season rushing total in state history, as he racked up 2,503 yards and 31 touchdowns in 2022. Only current Indianapolis Colt and Salem legend Jonathan Taylor had more yards in a season. Montella also made 141 tackles and led the Wolfpack to a second-straight sectional title this season. Montella's 4,296 career yards and 50 total touchdowns set program records at West Morris. He will play Ivy League football at Brown University. 
Montella is both the first West Morris player and  first Morris County player to be named a Zoneman finalist.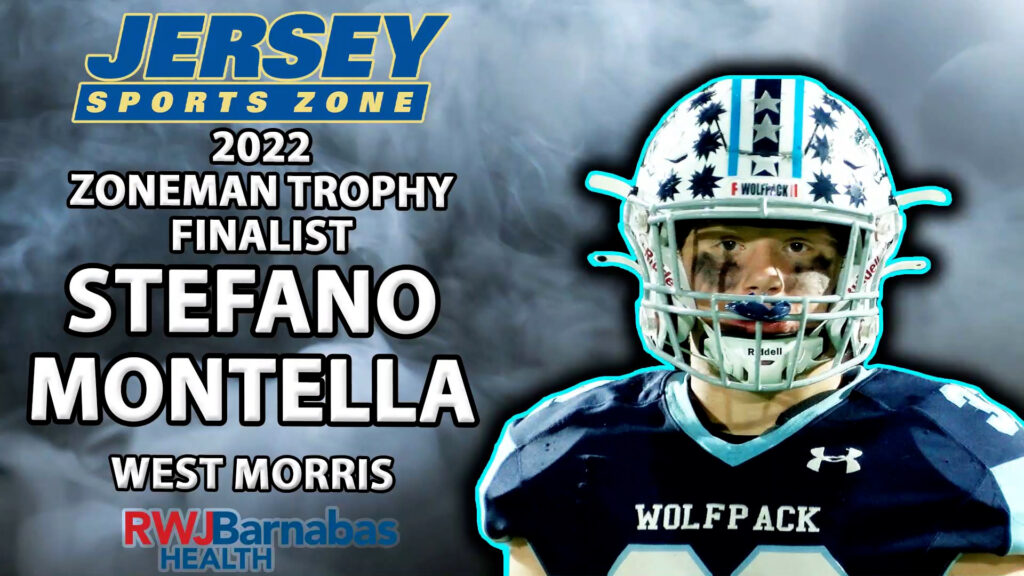 ---