Jersey Sports Zone is excited to formally announce the five finalists for the 2020 Zoneman Trophy — our N.J. high school football Player of the Year award. The winner will be announced virtually on the evening of Dec. 18. Meet the five finalists now!
---
The Story of the Zoneman Trophy
By Rich Chrampanis, Jersey Sports Zone COO
In the year 2000, I received the great honor of a Heisman Trophy ballot as I started my tenure on television at WPDE-TV in Myrtle Beach. I was so excited to get the chance to weigh in on such a significant award and it got me thinking of bringing the same kind of excitement to our high school football coverage. So we built a trophy – and instead of the Heisman – the Zoneman was born. During my 15 years, we were fortunate to have some outstanding winners of our award starting with former Pittsburgh Steelers and Miami Dolphins linebacker Lawrence Timmons, former Notre Dame quarterback Everett Golson and current Oakland Raiders wide receiver Hunter Renfrow, who caught the game winning TD pass in the 2016 National Championship game. The Zoneman tradition is still going strong in South Carolina, began its New Jersey chapter on the Jersey Shore and is now a coveted statewide honor. We're excited to continue this tradition in New Jersey high school football as we will present the most outstanding player in the state with our Fourth Annual Zoneman Trophy.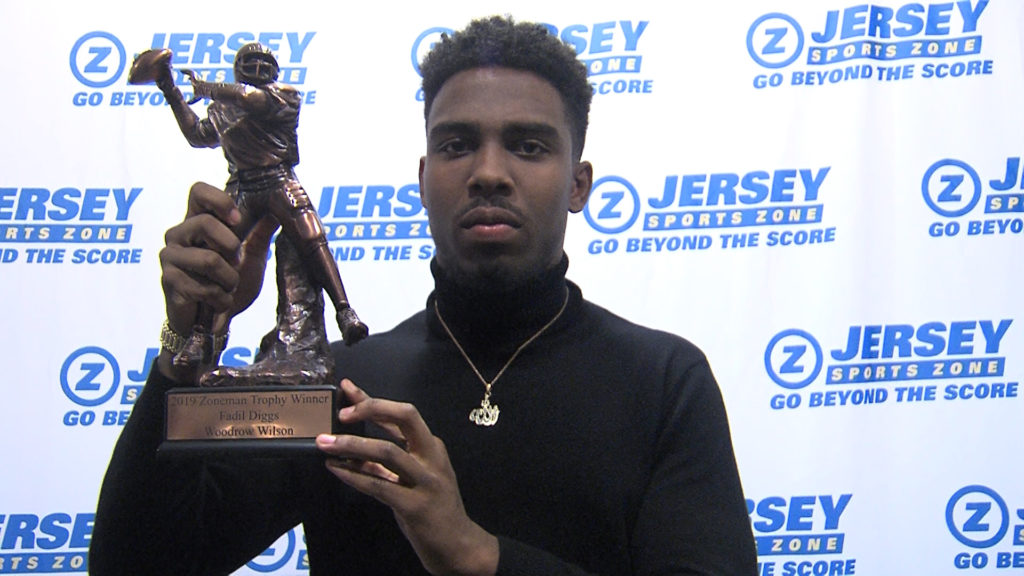 ---
The Zoneman Balloting
Our 2020 Zoneman will be voted on by head coaches from every part of the state (WJFL, Shore Conference, Big Central and the SFC) as well as the JSZ staff and media representatives from around the state. Every ballot has a 1st, 2nd and 3rd place vote with three points awarded for 1st, two for 2nd and one point for 3rd. We are excited to announce the finalists for the 2020 Zoneman Trophy in alphabetical order:
---
Meet the 2020 Zoneman Finalists
Tahj Bullock, St. Peter's Prep QB
Before ever taking a snap at St. Peter's Prep, fans and coaches on the St. Peter's Prep stands and sidelines buzzed about a kid nicknamed "Ducee" who would take New Jersey by storm. Now Tahj Bullock's illustrious high school career is over – and he'll be discussed as one of the most impactful player to ever play for the Marauders.
Bullock, a Virginia Tech commit, flashed in the six games St. Peter's Prep played in this season. He completed 51 percent of his passes for 818 yards and a touchdown to interception ratio of 12:0. Ducee also accounted for 306 yards and six more touchdowns on the ground, bringing his career touchdown total to an impeccable 52 scores.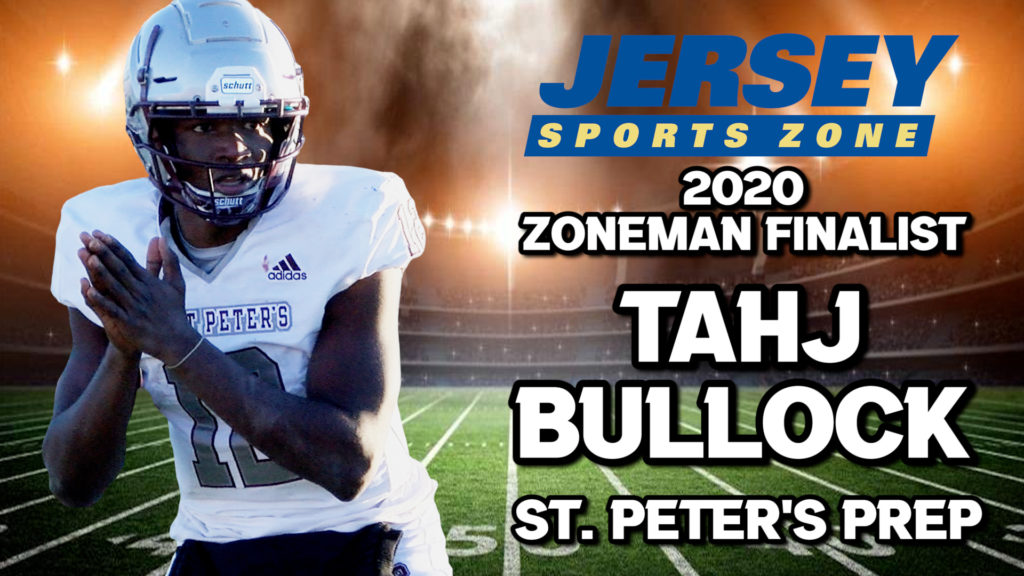 ---
Cookie Desiderio, Somerville RB
Players like Cookie Desiderio don't come around very often – and the numbers he produced in 2020 were just as unique. The Somerville bruiser exceeded every and all exception in this wild season with 1,569 rushing yards and 26 touchdowns on only 152 carries. That comes out to 10.3 yards every single time Desiderio took a handoff.
You know what makes those numbers so impressive? It's the fact that Desiderio did it in only seven games and that he surpassed every single benchmark he previously set in his junior season. Desiderio becomes the second player in Somerville history to be nominated for the award (Jalahn Dabney, 2018.) The recognition is well-deserved.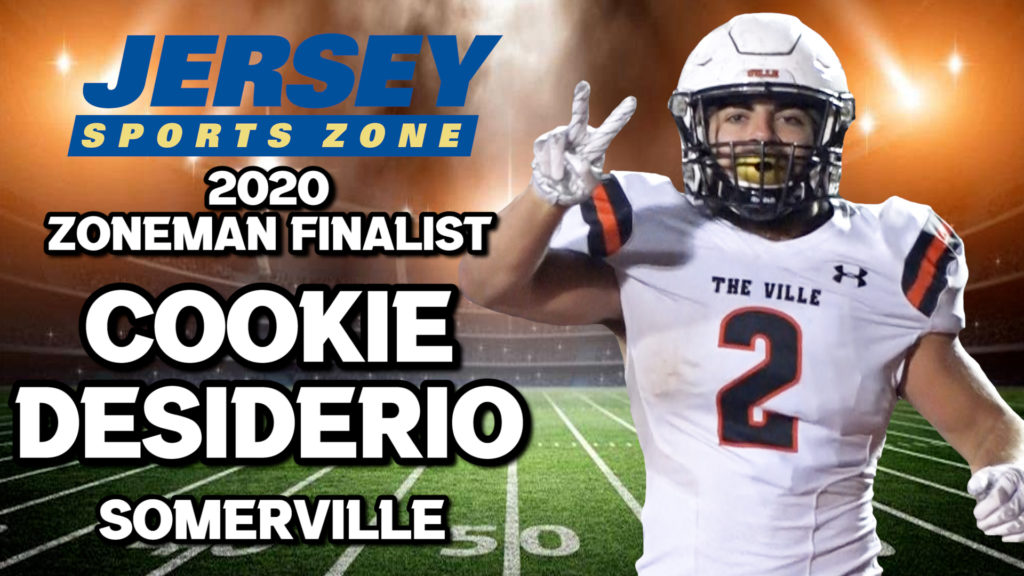 ---
Audric Estime, St. Joe's (Mont.) RB
Audric Estime put in an offseason for the ages to deliver one of the most dominant single season efforts anyone has ever seen in North Jersey. While playing in arguably one of the toughest divisions in the entire country, the St. Joe's (Mont.) product ran roughshod over the competition for 190 carries, 1,857 yards and 22 touchdowns. All of those were career highs in only eight games played.
The Michigan State commit was also the only player in the state to account for 2,000 scrimmage yards and finished 2020 with a total 2,042 yards and 24 touchdowns. The Big 10 better be ready for what's coming.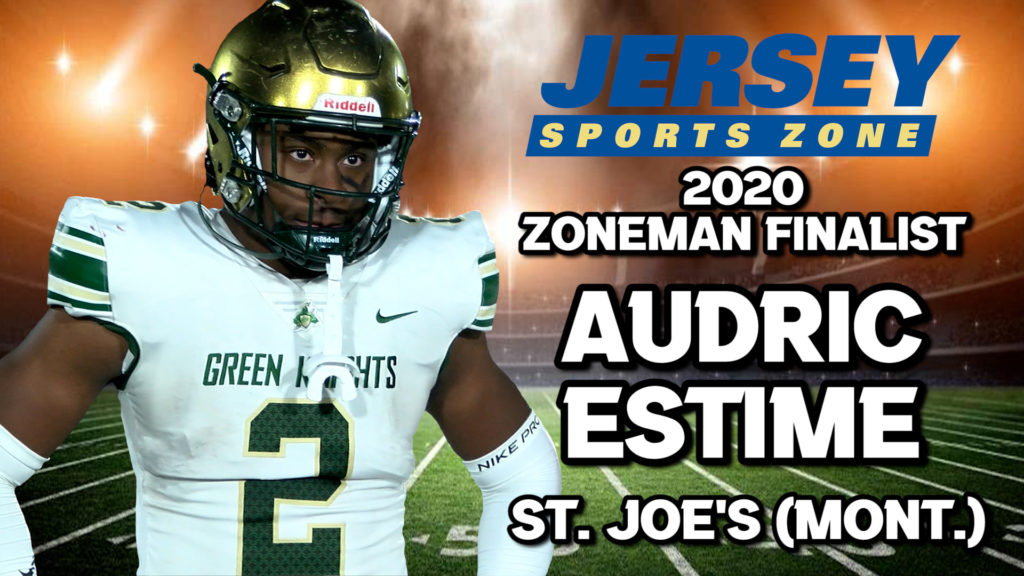 ---
Casey Larkin, Wall ATH
Both the soul and heartbeat of Wall's undefeated 2020 team is, without question, Casey Larkin. A starter on both sides of the ball for the Crimson Knights, Larkin shined in every game he played. At running back, he rushed for 870 yards and 13 touchdowns on only 97 carries. At defensive back, Larkin anchored the Crimson Knights defense with 32 tackles, five pass defenses and a fumble recovery.
Wall won the unofficial Shore Conference championship this season and finished the year 7-0. Larkin delivered two standout performances in the semifinal and finals. Some in New Jersey consider Wall to be the state's top-ranked team – if they indeed are, then Larkin had a major say in that decision.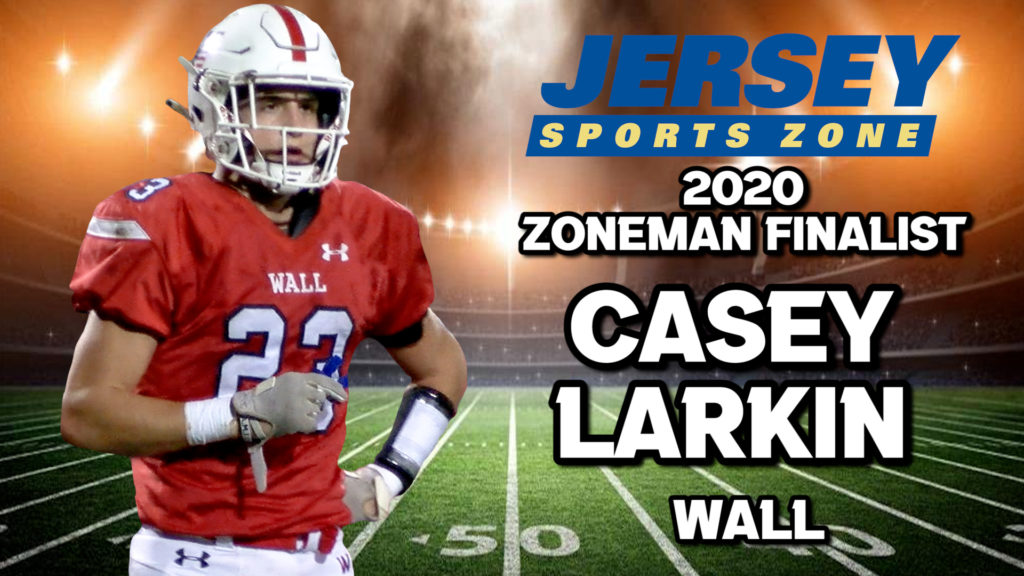 ---
Patrick "Cheeks" Smith, Holy Spirit RB
If you ask any high school football fanatic in South Jersey who the area's top player was this season, the answer would be short and quick: Cheeks. Patrick Smith, the Holy Spirit standout, was an absolute force to be reckoned with every time the rock was in his hands. Smith concluded an unforgettable 2020 campaign with 1,719 rushing yards and 16 touchdowns on a workhorse-like 221 carries this season.
Holy Spirit ended the season at 8-0 after becoming the unofficial South Jersey champions with a 21-7 win over Lenape in the WJFL Bracket A Final. Smith's incredible top-end speed and vision helped drive the Spartans to the upper echelon on New Jersey high school football in a crazy season.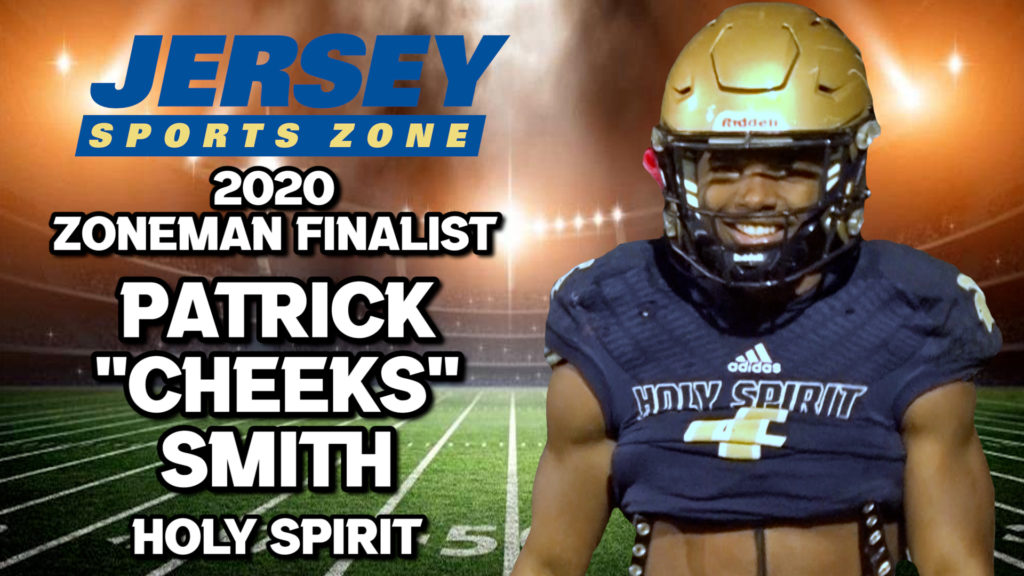 ---