Jersey Sports Zone – Going Beyond the Score
Jersey Sports Zone puts its emphasis on  high definition video highlights and features of New Jersey high school sports.   After three years of building a strong brand on the Jersey Shore with millions of views, 2017 brings the debut of Jersey Sports Zone and coverage from every part of the Garden State.  Jersey Sports Zone brings a new level of media coverage to New Jersey high school sports.  We've had a #1 play on ESPN SportsCenter, honored hundreds of athletes with season ending banquets and provided lifelong memories for families of athletes by capturing their great moments on and off the field.   We know how hard high school athletes work to get on the field and the work ethic and teamwork they show will pay dividends beyond the world of sports.  Jersey Sports Zone will discover future stars of major college and professional sports and promote high school athletes in a truly unique way.   If there's one thing we've learned in covering New Jersey high school sports, if we bring our cameras to a game there's a great chance that we're going to capture something exciting through our lens.
What games do you choose to cover?
Jersey Sports Zone is supported by sponsors.  That's done by having local businesses support their hometown team and statewide sponsors who allow us to showcase the top moments from New Jersey high school sports.  Every day when we look at the schedule of games around the state, our top priority is to serve the sports and teams that have sponsors.
Advertising Information
In addition to traditional digital ads, our partners are able to get video billboards as part of our coverage and the opportunity to showcase their business and message.   We are much more than a website!  From honoring athletes weekly with Game Balls and gathering the best of the best at our banquets, it's all because of our sponsors.  You can reach the ultimate demographic – the sports fan!  Our coverage is consumed by high school students, their parents, relatives and their entire community.  Contact rich@jerseysportszone.com to receive our media kit and learn more about how you can join the Jersey Sports Zone team.
Meet the Team
Our Executive Team
Dale Florio
Chief Executive Officer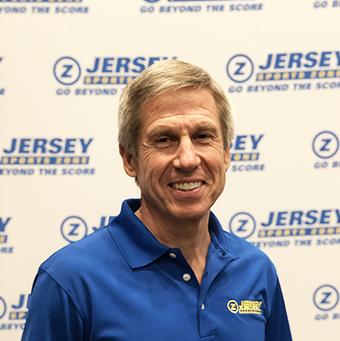 One of the least favorites times in my life was the last day my youngest child completed his high school career. Fortunately, Leslie and I have three great kids who all competed at the varsity level where we enjoyed each and every moment. As a former high school basketball coach, I saw firsthand the time and effort that young athletes put in just to make the team and hopefully get playing time. The final score doesn't really tell the story of these kids and that's why a group of us said it was time for Jersey Sports Zone.
When you think of it, these young men and women are playing sports for all the right reasons in an age when money and politics have crept in at the college and professional levels. Where to find highlights and stories about high school sports has increasingly become more difficult or almost nonexistent. Jersey Sports Zone is filling the void for athletes, parents, friends and loyal fans who want more than just the score of a game. Our goal at Jersey Sports Zone is to work hard every day to bring you the emotion and determination best exemplified by these young athletes.
You can reach me at Dale@jerseysportszone.com or .609-789-5605
Mark Kolb
Chief Strategy & Analytics Officer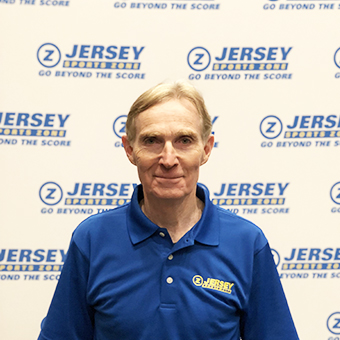 I was not much of a high school athlete thou I was a frequent spectator. I often watched my partner Dale play varsity basketball. Later in life I became a runner, first running around the block and later completing 5 marathons.
My most memorable sports experiences were watching our three 3 children play multiple sports in high school. Kathleen and I watched the positive impact that the coaches and teammates had on our children. Later, they all played D1 college sports and we traveled around the country to watch their games. It became clear just how important those early days of sports were. Our kids learned more than athletic skills. They learned lessons for life.
My day job is running early stage technology businesses, dealing with the strategy and financing to drive growth. I am thrilled to be a part of Jersey Sports Zone. We have a fine team of hard-working, collaborative people. We love the concept of bringing the games and stories of the high school athletes to our loyal audience. We are honored to serve both you and them.
You can reach me at Mark@jerseysportszone.com or 609-789-5605.
Leslie Florio
Chief Financial Officer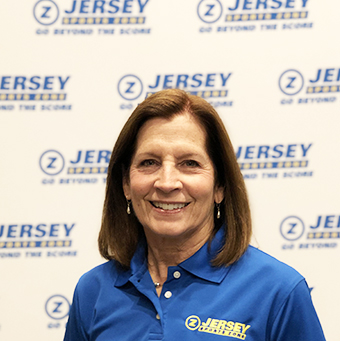 As a mother, I've spent countless hours in the bleachers watching a daughter compete in gymnastics, and two sons play soccer and basketball. My love of sports continues and I bring my background in finance to Jersey Sports Zone to help steer the financial operation. I have the reward of contributing to a youth sports endeavor and the pleasure of knowing parents and kids are enjoying those special moments online. What could be better?
I can be reached at Leslie@jerseysportszone.com
Rich Chrampanis
Chief Operating Officer & Senior Multi-Media Journalist
Growing up in Monmouth County, it was my dream as a kid to be a TV sportscaster. Watching the legendary Warner Wolf on WCBS-TV before ESPN, Warner was my gateway to great athletes and seeing their highlights. After starting my career behind the scenes at WCBS as an associate sports producer, I was able to get my break on-air in Ottumwa, Iowa. From there, I journeyed to Maine and Myrtle Beach, South Carolina, where I spent fourteen years as the sports director at the ABC affiliate.
My greatest passion during my television career was covering high school sports and developing a special and unique bond with athletes. As time went on, it was amazing to introduce an audience to future household names. Whether it was watching film with Washington Redskins defensive back Josh Norman or introducing Clemson fans to the player that would catch the game winning touchdown in the national championship game, it was a thrill to see kids work hard and achieve their dreams. Our banquets produced over 25 NFL players and two NBA veterans.
I was quite happy being on television every night, but realized that a change was on the horizon. People are not consuming media the same way and I wanted to shine a light on high school athletes where I grew up. Moving back to New Jersey and quitting a job that I loved was a major risk, but the athletes that I have covered taught me that it is possible to carve your own path with hard work and passion. For three years, our cameras went to countless games in the Shore Conference. Their genuine support and excitement for our product is the reason that a one man website has become a flourishing company that is ready to bring the same high level of video coverage to every part of New Jersey. The best way I can thank them is to get our cameras to as many games as possible and continue to share their talents and inspirational stories.
I can be reached at Rich@jerseysportszone.com
Karen Geisel
Chief Marketing Officer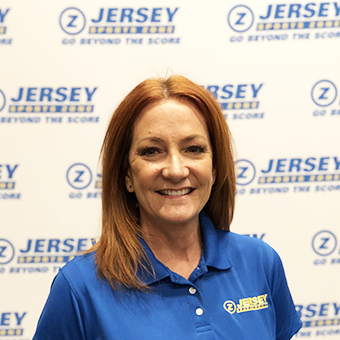 Growing up as the only tomboy in an all-girl family, playing any sport was my favorite pastime. By the time I reached high school my after hours were jammed with nightly practices and games, which led to numerous accolades and lifelong friendships.
In retrospect, playing sports in those formative years taught me more than I'd imagined, especially perseverance and teamwork: A trait that remained in me through college and well into my marketing and communications career. An outlook I also passed along to my three sons, who throughout their high school years became very passionate athletes and teammates, each of them receiving college offers while later two advanced even further to represent our country as an Army Ranger and an Apache helicopter pilot.
Essentially, sports participation goes beyond competition – it builds character.
Being a part of Jersey Sports Zone feels like we're not only supporting our state's communities, but we are also watching amateur athletes build the confidence and character needed to traverse life while acquiring the recognition they deserve. With the support of local and regional businesses, our "beyond the score" coverage captures the excitement, and in some cases heartwarming moments only high school athletes can offer – and to me, that's the icing on the cake!
You can reach me at karen@jerseysportszone.com
Greg Panos
Chief Technology Officer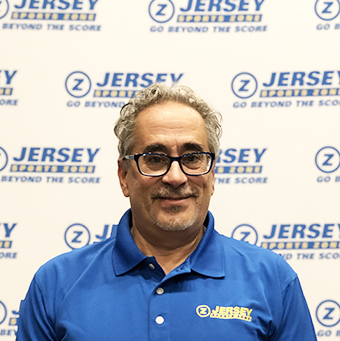 I grew up in Erie, PA, where my family owned restaurants. I fell in love with sports at an early age, as my dad and uncle would sponsor the "Steelers Caravan" trip to Erie. The Steelers coaches and players came up to Erie for a day and would sign autographs and meet fans at our restaurant from 1969 through 1980. I played football in high school and competed in martial arts tournaments around the country through my mid-twenties. I feel that athletic competition and training play and integral part in building character. All three of my children competed in high school sports, and my son played on a nationally ranked soccer club, as well as in college.
I have always loved the rush of participating in (and watching) any kind of sporting event. When I was introduced to the JSZ concept, I was "all in" when the opportunity to join the team was offered. Being involved with IT for decades, I was thrilled to be able to create our JSZ website and mobile app. 'Team' is a great descriptor of our collective group, as each member of our team possesses a set of specific, unique talents, that has helped to make JSZ the premier high school sports resource in NJ.
I can be reached at Greg@jerseysportszone.com
Our Multi-Media Journalists
Nery Rodriguez
Multi-Media Journalist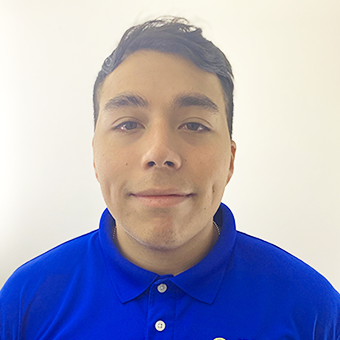 Being a sports journalist doesn't feel like a job for me, I love what I do and I have fun doing it. Since the time I could speak I always had the itch to be on TV. Whether it was reanacting WWF with my brothers (sorry Mom for anything we broke) or watching the Super Bowl every year as a family I knew my calling would be in sports. I'm the youngest of four and was raised in Keyport, NJ where I attended Keyport public schools from kindergarten till my high school graduation that featured a whopping 114 students. I'd spend the next couple years at Brookdale Community College before heading down to south Jersey for Rowan University in Glassboro, NJ. During my time at Rowan, the "Keyport Kid" worked at WXTF Fox 29 Philadelphia as a junior reporter where I was reporting, filming, editing and voicing sports features of high school athletes that premiered live on their Saturday morning news program. On campus I was known for being the football beat writer at the WHIT newspaper and a member of the championship Rowan University men's rugby team. The unpredictability of both sports and the human spirit is what makes me love my job. I believe we all have a story to tell and no matter how big or small the subject someone else out there can relate. When you can understand someone better and put yourself in their shoes without meeting them, that is journalism. I look forward to coming to your town soon.
I can be reached at nery@jerseysportszone.com
Jay Cook
Multi-Media Journalist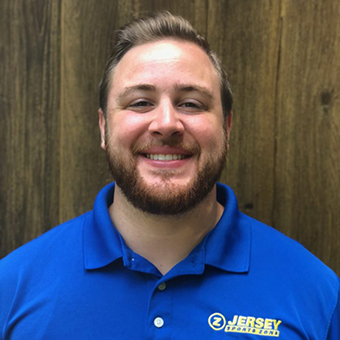 I'm Jay Cook, an award-winning storyteller born and raised the Middletown, NJ area. Being involved in the sports world was always a dream of mine. Growing up, I can remember commentating New York Jets games on Sunday afternoons and running my own football franchises in Madden. Those were the days! After working in a Tinton Falls restaurant for six years through high school and college, I got my break as a freelance news reporter at The Two River Times, a weekly newspaper in Monmouth County. I carved out a niche, earned a full-time job and in two years I won numerous first, second and third place news and feature reporting awards from the New Jersey Press Association for my coverage.
I didn't go to the big university nor did I land the mega-internship some college students get. I am a proud graduate of Brookdale Community College and Rutgers University's Newark journalism program.
If my name sounds familiar, that's because it is. I joined Jersey Sports Zone's predecessor — Shore Sports Zone —  as a freelance videographer in the fall of 2016. I was able to hone my skills over the past two years. Throughout JSZ's expansion, I've been able to tell some pretty amazing stories about the student athletes in New Jersey. I excited to join this promising team of experienced journalists.
Don't ever hesitate to reach out to me or stop me to chat on the sidelines. My job is to tell stories, so I want to hear yours. 
I can be reached at jay@jerseysportszone.com
Mike Frankel
Multi-Media Journalist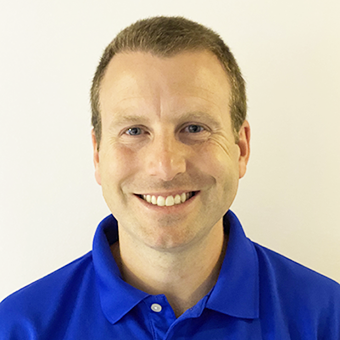 I have over a decade of experience covering high school sports in South Jersey. An Ocean City High School grad, I went on to study communications and broadcast journalism at both TCNJ and Syracuse University. I spent several years as the weekend sports anchor at NBC 40, before working as the sports director at SNJ Today. I am excited to be a part of the Jersey Sports Zone team, and thrilled to help shine a spotlight on the tremendous high school athletes in the Garden State. When I'm not on the sideline with a camera and a microphone, I stay busy playing every sport imaginable with my two young sons, Wesley and Bode.
I can be reached at mike@jerseysportszone.com
160 West State Street
Trenton NJ 08608
609-789-5605