https://www.youtube.com/watch?v=g61VMxJ6L9M
Jersey Sports Zone – Going Beyond the Score
Jersey Sports Zone puts its emphasis on  high definition video highlights and features of New Jersey high school sports.   After three years of building a strong brand on the Jersey Shore with millions of views, 2017 brings the debut of Jersey Sports Zone and coverage from every part of the Garden State.  Jersey Sports Zone brings a new level of media coverage to New Jersey high school sports.  We've had a #1 play on ESPN SportsCenter, honored hundreds of athletes with season ending banquets and provided lifelong memories for families of athletes by capturing their great moments on and off the field.   We know how hard high school athletes work to get on the field and the work ethic and teamwork they show will pay dividends beyond the world of sports.  Jersey Sports Zone will discover future stars of major college and professional sports and promote high school athletes in a truly unique way.   If there's one thing we've learned in covering New Jersey high school sports, if we bring our cameras to a game there's a great chance that we're going to capture something exciting through our lens.
What games do you choose to cover?
Jersey Sports Zone is supported by sponsors.  It's important to us to keep all of our content free to everyone.  That's done by having local businesses support their hometown team and statewide sponsors who allow us to showcase the top moments from New Jersey high school sports.  Every day when we look at the schedule of games around the state, our top priority is to serve the sports and teams that have sponsors.
Advertising Information
In addition to traditional digital ads, our partners are able to get video billboards as part of our coverage and the opportunity to showcase their business and message.   We are much more than a website!  From honoring athletes weekly with Game Balls and gathering the best of the best at our banquets, it's all because of our sponsors.  You can reach the ultimate demographic – the sports fan!  Our coverage is consumed by high school students, their parents, relatives and their entire community.  Contact rich@jerseysportszone.com to receive our media kit and learn more about how you can join the Jersey Sports Zone team.
Meet the Team
Rich Chrampanis, Chief Operating Officer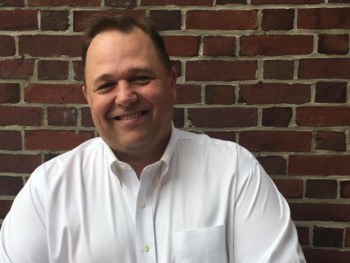 Growing up in Monmouth County, it was my dream as a kid to be a TV sportscaster.  Watching the legendary Warner Wolf on WCBS-TV before ESPN, Warner was my gateway to great athletes and seeing their highlights.  After starting my career behind the scenes at WCBS as an associate sports producer, I was able to get my break on-air in Ottumwa, Iowa.  From there, I journeyed to Maine and Myrtle Beach, South Carolina, where I spent fourteen years as the sports director at the ABC affiliate.
My greatest passion during my television career was covering high school sports and developing a special and unique bond with athletes.  As time went on, it was amazing to introduce an audience to future household names.  Whether it was watching film with Washington Redskins defensive back Josh Norman or introducing Clemson fans to the player that would catch the game winning touchdown in the national championship game, it was a thrill to see kids work hard and achieve their dreams.  Our banquets produced over 25 NFL players and two NBA veterans.
I was quite happy being on television every night, but realized that a change was on the horizon.  People are not consuming media the same way and I wanted to shine a light on high school athletes where I grew up.  Moving back to New Jersey and quitting a job that I loved was a major risk, but the athletes that I have covered taught me that it is possible to carve your own path with hard work and passion.   For three years, our cameras went to countless games in the Shore Conference.  Their genuine support and excitement for our product is the reason that a one man website has become a flourishing company that is ready to bring the same high level of video coverage to every part of New Jersey.  The best way I can thank them is to get our cameras to as many games as possible and continue to share their talents and inspirational stories.
Courtney DuPont, Multimedia Journalist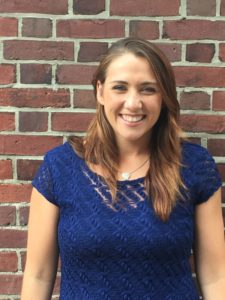 I'm Courtney DuPont, a young multimedia journalist born and raised in New Jersey. Originally from Carteret, I moved to Stewartsville at the age of four and grew up in a small town where sports meant everything. It was here I developed a passion for all sports, but especially baseball and football. I graduated in 2013 from Bethlehem Catholic High School, and in 2017 from Rutgers University. I have a degree in journalism and media studies with a  specialization in sports broadcasting. While at Rutgers, I worked for the Big Ten Network Student Union, RVision, as a sideline reporter, viodegrapher and editor. Additionally, during my final years of college I was a production assistant and floor director for the New Jersey Devils. My professional work experience, creativity and desire to shine the spotlight on high school athletes are all reasons why I am passionate about Jersey Sports Zone. I'm confident in the quality of work produced here, excited to develop a new media outlet across the state and look forward to the future of JSZ Sports.
Alex Lorenzo, Multimedia Journalist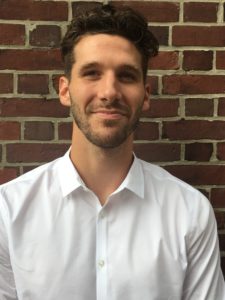 At JSZ, The Story Is Always King. It's our job to find, create, and deliver it. After many years of attending and following high school sporting events throughout the Garden State,  I have developed an eye for discovering top prospects and shining a spot light on them, their families, and their background.  After starting my own media company (NJ Sports Scene) at 20 years old, I've been has been able to obtain inside access and develop relationships with players that goes well beyond the typical reporter – athlete dynamic. With a dedicated passion in quality cinematography, my goal is to bring my own influence to an already diverse and talented media team at Jersey Sports Zone. Starting out as a young kid with just an iPhone and a dream, landing a full time position with a prominent media outlet such as JSZ has been a surreal experience for me.  I look forward to expanding the intimate and quality coverage that Rich Chrampanis had provided to the Shore Conference, now state wide, to athletes and families that could only gain from the newfound media spotlight. If you don't know me already, you'll probably catch me in a gym some where in Union County on a cold winter night. Don't be afraid to introduce yourself and say hello.
Nery Rodriguez, Multimedia Journalist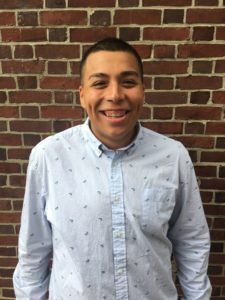 Being a sports journalist doesn't feel like a job for me, I love what I do and I have fun doing it. Since the time I could speak I always had the itch to be on TV. Whether it was reanacting WWF with my brothers (sorry Mom for anything we broke) or watching the Super Bowl every year as a family I knew my calling would be in sports. I'm the youngest of four and was raised in Keyport, NJ where I attended Keyport public schools from kindergarten till my high school graduation that featured a whopping 114 students. I'd spend the next couple years at Brookdale Community College before heading down to south Jersey for Rowan University in Glassboro, NJ. During my time at Rowan, the "Keyport Kid" worked at WXTF Fox 29 Philadelphia as a junior reporter where I was reporting, filming, editing and voicing sports features of high school athletes that premiered live on their 
Saturday
 morning news program. On campus I was known for being the football beat writer at the WHIT newspaper and a member of the championship Rowan University men's rugby team. The unpredictability of both sports and the human spirit is what makes me love my job. I believe we all have a story to tell and no matter how big or small the subject someone else out there can relate. When you can understand someone better and put yourself in their shoes without meeting them, that is journalism. I look forward to coming to your town soon.
Contact Us
Want to be a sponsor and get your team more highlights?  Email marketing @jerseysportszone.com Want to email the team?  rich@jerseysportszone.com, courtney@jerseysportszone.com, alex@jerseysportszone.com, nery@jerseysportszone.com Our office – 160 West State Street, Trenton NJ 08608,  609-789-5605