Jersey Sports Zone brought the top players from the 2017 New Jersey high school football season to the APA Hotel in Woodbridge for our first football banquet.  Our All-Zone consisted of top position players from around the state.  Our Plays of the Week and Plays of the Year winners were also honored.  The night culminated with our Prep Offensive and Defensive Players of the year and the presentation of JSZ's Zoneman Trophy, awarded to the top player in New Jersey.  Freehold Boro's Ashante Worthy captured the vote from coaches and media around the state following a 4,000 yard combined offensive season with over 60 touchdowns for the Colonials:
2017 Zoneman Trophy Balloting
JSZ secured votes from head coaches and media around the state (55 total) to ask their vote for the most outstanding player in New Jersey.  1st place votes get 3 points, 2 points for 2nd and 1 point for 3rd.  Here are the results of the top 6 vote getters and our Zoneman Finalist Podium:
| Name | High School | 1st | 2nd | 3rd | Total |
| --- | --- | --- | --- | --- | --- |
| Ashante Worthy | Freehold Boro | 23 | 8 | 6 | 91 |
| Devin Leary | Timber Creek | 10 | 11 | 8 | 60 |
| Naim Mayfield | Manalapan | 9 | 11 | 4 | 53 |
| Iverson Clement | Rancocas Valley | 3 | 2 | 6 | 19 |
| Shayne Simon | Saint Peter's Prep | 2 | 3 | 6 | 18 |
| Johnny Langan | Bergen Catholic | 2 | 4 | 2 | 16 |
Zoneman Trophy Balloting Committee 
Thanks to everyone from around the state who was part of the Zoneman process
JSZ Staff: Rich Chrampanis, Alex Lorenzo, Nery Rodriguez, Courtney DuPont, Jay Cook, Bryan DeNovellis, Mike Frankel
Statewide Media: Shawn Brown (Rivals), Joe Zedalis (NJ.com), Pat Lanni (NJ.com), Gregg Lerner (News 12 Varsity), Chris Melvin (Asbury Park Press), Phil Anastasia (Philadelphia Inquirer), Mike Kinney (News 12 Varsity), Bob Badders (Shore Sports Network)
Coaches: Middletown North, Keansburg, Point Pleasant Boro, Brick Memorial, Red Bank Catholic, Howell, Central Regional, Freehold Boro, Monmouth Regional, Mater Dei Prep, Somerville, Westfield, AL Johnson, Bridgewater-Raritan, Delaware Valley, Warren Hills, Hillsborough, Phillipsburg, Bound Brook, Bernards, Piscataway, Bergen Catholic, DePaul Catholic, Seton Hall Prep, Paramus Catholic, St. Peter's Prep, St. Mary's, New Milford, Queen of Peace, Montgomery, Linden, Dwight Morrow, Camden, Palmyra, Florence, Penns Grove, Washington Township, Timber Creek, St. Joe-Hammonton, Lenape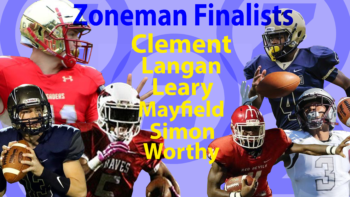 Watch our Zoneman Finalist Profiles
The JSZ staff went in depth to learn more about the six outstanding players who stood on the JSZ Zoneman Podium
JSZ Prep Player of the Year Winners
JSZ's Courtney DuPont presented the Prep Players of the Year with Vanderbilt commit Allan Walters of Peddie getting the offensive honors and top recruit Jayson Oweh of Blair Academy taking home the defensive honors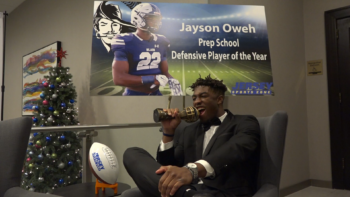 Plays of the Week and Plays of the Year Winners
Thanks to everyone who voted all year long on JSZ!
JSZ Play of the Week Winners
Week 0: David Lepoidevin/Joshua Ejiogu, Bound Brook
Week 1: Steve Lubischer/Jaden Key, Red Bank Catholic
Week 2: Evan Burton, Pinelands
Week 3: Dayshawn Porter/Devon Johnson – Monmouth Regional
Week 4: Blaine Netterman, Brick Memorial
Week 5: Zack Bair, Red Bank Catholic
Week 6: Ian Fitzgerald, Monmouth Regional
Week 7: Terry Outlaw Jr., South River
Week 8: Anthony Damato, Marlboro
Week 9: Ashante Worthy/Matt Krauss, Freehold Boro
Week 10: Brandon Cipriano, Point Pleasant Boro
Week 11: Ayir Asante, Saint Peter's Prep
2017 JSZ Plays of the Year Winners
TD Run: Eddie Morales, Howell and Bill Hackett, Trenton
TD Pass Play: Michael DeSantis/Travis Thomas, South River and Cameron Carti/Andrew Perez, Seton Hall Prep
Special Teams TD: Sean Spina, Ridge and Mack Byrne, Holmdel
Defensive TD of the Year: Jordan Morant/Javontae Jean-Baptiste Bergen Catholic and Caleb Stokes, Ewing
Sack of the Year: Anthony Corbin, Bergen Catholic and Nick Densieski, Saint John Vianney
Stick of the Year: Liam Donohue, Rumson-Fair Haven and Markus Bagley, St. Peter's Prep
Meet the 2017 JSZ All-Zone Team
We will post individual links to each players highlight reel this weekend on JSZ!
| Quarterback | Running Back | Wide Receiver | Tight End | Offensive Line |
| --- | --- | --- | --- | --- |
| Matt Busher, North Hunterdon | Jalen Berger, Don Bosco Prep | Naseim Brantley, Howell | Matt Alaimo, St. Joe-Montvale | Will Anderson, Delbarton |
| Tarrin Earle, Montclair | Aidan Bourget, Delsea | Tyreke Brown, Penns Grove | Liam Cabri, DePaul Catholic | Khris Banks, DePaul Catholic |
| David Estevez, River Dell | Jimmy Browne, Burlington City | Dylan Classi, Bergen Catholic | Henry Pearson, Paramus Catholic | Daniel Dawkins, Peddie |
| James Fara, Point Pleasant Boro | Kyle Dobbins, Timber Creek | Andrew Perez, Seton Hall Prep | | Michael Griggs, Red Bank Catholic |
| Taj Harris, Palmyra | Joe Green, Phillipsburg | Jasiah Provillon, Irvington | | Anthony Lord, Holy Spirit |
| Patrick Holly, Hun School | Josh Henderson, Hun School | Daevon Robinson, Shawnee | | Anthony Marinelli, DePaul Catholic |
| Maasai Maynor, St. Peter's Prep | Dehron Holloway, Paulsboro | Justin Shorter, South Brunswick | | Nick Russo, St. Joe-Montvale |
| Nick McNerney, Old Tappan | Juwon Jackson, Piscataway | Josh Szott, Hun School | | Conor Smith, Red Bank Catholic |
| Eddie Morales, Howell | Pete Lucas, Rumson-Fair Haven | | | Tyler Williams, Don Bosco Prep |
| Nick Patti, St. Joe-Montvale | Josh McKenzie, Bergen Catholic | | | |
| George Pearson, Mater Dei Prep | Isaiah Pacheco, Vineland | | | |
| Taquan Roberson, DePaul Catholic | Clayton Scott, Millville | | | |
| Josh Zamot, Holy Spirit | Tahj Valentine, Morristown-Beard | | | |
| | Danny Webb, Montclair | | | |
| Defensive Line | Linebacker | Defensive Back | Return Specialists | Kicker/Puinter |
| --- | --- | --- | --- | --- |
| Jayson Ademilola, St. Peter's Prep | Nihym Anderson, Vineland | Kevin Brennan, Don Bosco Prep | Jada Byers, St. Joe-Hammonton | Zach Hoban, Seton Hall Prep |
| Justin Ademilola, St. Peter's Prep | Justin Bryant, Bridgewater-Raritan | Elijah Clark, Sayreville | JoJo Kellum, Lenape | Angelo Gugliemelo, St. Joe-Montvle |
| Antonio Alfano, Rahway | Johnny Buchanan, Saint John Vianney | Deion Jennings, Timber Creek | | |
| Howard Cross, St. Joe-Montvale | Jalahn Dabney, Somerville | Zyheir Jones, Lakewood | | |
| Marcellus Earlington, Don Bosco Prep | Nick DeNucci, Pope John | Carlton Lawrence, Millville | | |
| Tyler Friday, Don Bosco Prep | Vinny DePalma, DePaul Catholic | Zamir Mickens, St. Peter's Prep | | |
| Travon King, Woodrow Wilson | Javar Garrett, Peddie | Jordan Morrison, Steinert | | |
| Josh Lezin, Lakewood | Marcus Hillman, Camden Catholic | Jarrett Paul, Paramus Catholic | | |
| Elijah McAllister, Rumson-Fair Haven | Quaison Horne, Weequahic | Evan Stewart, St. Joe-Montvale | | |
| Emmett McNamara, Red Bank Catholic | Javontae Jean-Baptiste, Bergen Catholic | | | |
| Kaymar Mimes, Long Branch | Jake Krellin, Middletown South | | | |
| Eli Sloan-El, Camden | Willie Matthews, Montclair | | | |
| Lance Turay, Irvington | Tommy Pearce, Manalapan | | | |
| Jake Vall-Llobera, Westfiled | | | | |