Jersey Sports Zone is excited to formally announce the six finalists for the 2019 Zoneman Award — our version of the N.J. high school football player of the year. The winner will be announced on Dec. 10 during our All-State Football Banquet held at the Delta by Marriot Woodbridge Hotel. Watch all six features from our team of multimedia journalists to learn more about New Jersey's top football honor!
---
The Story of the Zoneman Trophy and Our Football Banquet
By Rich Chrampanis | Jersey Sports Zone Chief Operating Officer
In the year 2000, I received the great honor of a Heisman Trophy ballot as I started my tenure on television at WPDE-TV in Myrtle Beach.  I was so excited to get the chance to weigh in on such a significant award and it got me thinking of bringing the same kind of excitement to our high school football coverage. So we built a trophy and instead of the Heisman, the Zoneman was born. During my 15 years, we were fortunate to have some outstanding winners of our award starting with former Pittsburgh Steelers and Miami Dolphins linebacker Lawrence Timmons, former Notre Dame quarterback Everett Golson and current Oakland Raiders wide receiver Hunter Renfrow, who caught the game winning TD pass in the 2016 National Championship game.  The Zoneman tradition is still going strong in South Carolina, began its New Jersey chapter on the Jersey Shore and is now a statewide honor. We're excited to continue this tradition in New Jersey high school football as we will present the most outstanding player in the state with our Third Annual Zoneman Trophy.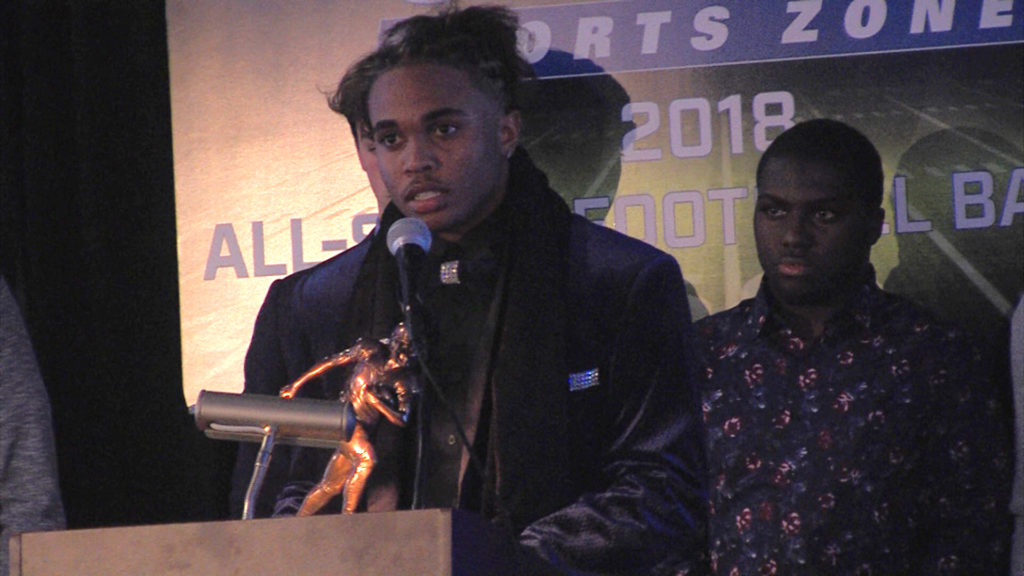 ---
The Zoneman Balloting
Our 2019 Zoneman was voted on by head coaches from every part of the state (WJFL, Shore Conference, Greater Middlesex Conference, Mid-State 38 and the SFC) as well as the JSZ staff and media representatives from around the state.  Every ballot has a 1st, 2nd and 3rd place vote with three points awarded for 1st, two for 2nd and one point for 3rd.  We are excited to announce the finalists for the 2019 Zoneman Trophy in alphabetical order:
---
Meet the 2019 Zoneman Finalists
Jalen Berger, Don Bosco Prep
Jalen Berger has been one of New Jersey's most prolific recruits throughout his four-year varsity career as the starting running back at North Jersey power Don Bosco Prep. Berger, named a 2020 All-American, delivered the goods in his senior season while accounting for 1,218 scrimmage yards and 17 touchdowns for the Ironmen. Berger remains uncommitted yet holds offers from college football's best — Alabama, Ohio State, Penn State, Wisconsin, LSU and Michigan are among the schools recruiting him. The announcement will come on live TV during the All-American bowl on Jan. 4 from San Antonio, TX.
---
Jada Byers, St. Joseph (Hamm.)
There's no other way to put it — Jada Byers is the most dynamic scoring threat to ever grace South Jersey. Byers, a Sacred Heart commit, was an electric runner with the football who scored a South Jersey record 102 touchdowns in three years of varsity play with the Wildcats. His mark of 644 career points ranks second in South Jersey history only behind Kevin Harvey. The highlights of Byers' 2019 season was a 10-touchdown performance against Morris Catholic in the sectional semifinals.
---
Fadil Diggs, Woodrow Wilson
There might not be a better two-way player in the Garden State. The Woodrow Wilson star and future Texas A&M Aggie shined on both sides of the ball in a stellar 2019 season. He collected 95.5 tackles and 17.5 sacks on defense while also catching 65 passes for 1,031 yards and 11 touchdowns on offense. Woodrow Wilson head coach Preston Brown told JSZ Diggs is the best player in Camden's history.
---
Kyle Monangai, Don Bosco Prep
Talk to anyone in North Jersey and they'll tell you Don Bosco Prep doesn't get back to it's winning ways without Kyle Monangai on the field. After transferring to the Ramsey private school from Seton Hall Prep after his sophomore season, Monangai put up eye-popping numbers. He put up 2,903 scrimmage yards on 310 touches with 35 touchdowns in arguably the toughest conference in America. He holds 25-plus D-I offers yet remains uncommitted.
---
Cody Simon, St. Peter's Prep
He's the best player on the best team in New Jersey — does anything else need to be said? Simon's boasts one of the most polished resume's we've seen in years. He was a preseason for the 2019 Butkus Award, was one of five N.J. players named an All-American and is committed to play at Ohio State. Simon led the Marauders with 106 tackles, 4.5 sacks, four interceptions and four touchdowns on defense and special teams.
---
Luke Wypler, St. Joe's (Mont.)
What does it take to be ranked the No. 1 center in the entire country? Watch the way Luke Wypler dominates on the gridiron. Wypler's intelligence and intensity on the field is a major reason why St. Joe's had the toughest offensive line in the state — that translated to a Non-Public Group 4 championship in 2018. Wypler, also named a 2020 All-American, is committed to play at Ohio State after a stellar career in Montvale.
---