TR North – 3 TR East – 1 | Shore Conference Baseball 
It was a complete game for Toms River North RHP Jon Giordano, in more ways than one. Not only did Giordano pitch 7 strong innings on the mound with 5 K's, he also hit a crucial home run at the plate, leading the Mariners to a 3-1 win over rival Toms River East. TR North improves to 5-4 on the season, while the Raiders fall to 5-1 with their first loss of 2018. Jared Belissimo and Craig Larson also contributed RBI's for the Mariners in the win. Watch Highlights of the Toms River Rivalry Game on JSZ!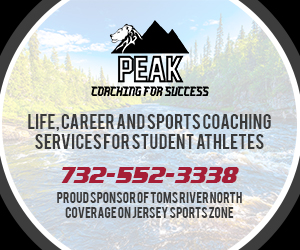 JSZ's coverage of Toms River North is made possible by Peak Coaching for Success!
Rumson-Fair Haven 8 Holmdel 2 – Shore Conference Baseball
Robby Smith busted open a 3-2 RFH lead with a grand slam blast to left field to lead the Bulldogs to their 4th win of the season.  RFH scored single runs in the first three innings to jump out to a 3-0 lead, before Holmdel put together a 2-run fifth to get within one run.  JSZ has the grand slam blast and highlights from an RFH Tuesday afternoon win:


Jersey Sports Zone's coverage of Rumson-Fair Haven is made possible by ServPro of Eatontown/Long Branch.  Thanks to BCB-Bayshore, your community bank, for allowing us to capture great moments from Holmdel High all year long