Shore Conference basketball shines in the post-season.  SSZ has highlights of Colts Neck's win against South Brunswick and in the Manasquan Bank Game of the Week, the Warriors win round 4 against rival RFH to advance to the Central Jersey Group 2 Finals.  Watch the full highlights including an amazing dunk by Ryan Jensen!
Manasquan 65 Rumson-Fair Haven 46
Ryan Jensen led a balanced attack with 16 points and 11 rebounds as the Warriors beats the Bulldogs for the third time this season and advance to the Central Jersey Group 2 Finals.  Jensen brought down the house with a ferocious dunk late in the first half.  Jack Sheehan had 11 points and 12 boards and Shane Flanagan added 11.  Brendan Barry's career came to a close.  RFH's all-time leading scorer had 20 and finished with 1,812 points.  Watch all the action from a sold out gym in Manasquan: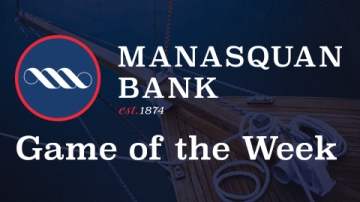 Thanks to Manasquan Bank, we were able to bring you all the excitement of the Warriors big win over RFH.  We will continue to spotlight Manasquan Bank area teams in the state basketball tournament and coming up this spring, we'll once again bring weekly polls involving Manasquan Bank area teams and ask you what game we should go to bring you extended high definition highlights and post-game interviews.
Colts Neck 67 South Brunswick 47
Lloyd Daniels scored 23 and Kyle Gordon added 17 points and 11 rebounds as the Cougars busted open a one point halftime deficit into a rout at home.  Watch the highlights as the Cougars earned a spot in the Central Jersey Group 4 Finals and a matchup with neighbor Freehold Township on Monday night:
Six Shore Conference boys and girls basketball teams secured wins into the next round of the state tournament on Saturday.
STATE BASKETBALL SCORES
Saturday – Sectional Semifinals
BOYS
Central Jersey Group 4
(4) Freehold Township 55 (1) Hunterdon Central 51
(2) Colts Neck 67  (3) South Brunswick 47
Central Jersey Group 2
(2) Manasquan 65  (3) Rumson-Fair Haven 46
South Jersey Group 2
(7) Medford Tech 50  (3) Manchetser 47
Non-Public South "B"
(2) Gill-St. Bernards 54  (6) Mater Dei Prep 51
GIRLS
Central Jersey Group 2
(4) Rumson-Fair Haven 72  (1) New Providence 41
(2) Manasquan 63  (3) Lincoln 44
Non-Public "B" South
(7) Saint Rose 57  (6) Gill-St. Bernard 45
MONDAY MATCHUPS
BOYS
Central Jersey Group 4 FINALS
(4) Freehold Township at (2) Colts Neck, 6:30 pm
Central Jersey Group 2 FINALS
(2) Manasquan at (1) Bordentown
Non-Public South "A" SEMIFINALS
(3) St. Augustine at (2) CBA, 5:00 pm
GIRLS
Central Jersey Group 3 FINALS
(3) Neptune at (1) Middletown South, 6:30 pm
South Jersey Group 3 FINALS
(3) Toms River East at (1) Ocean City, 6:00 pm
Non-Public "A" South SEMIFINALS
(4) Red Bank Catholic at (1) Saint John Vianney, 6:00 pm
TUESDAY MATCHUPS
Non-Public South "B" FINALS
(7) Saint Rose vs. (1) Rutgers Prep, 5:00 pm at Jackson Liberty High School
Central Jersey Group 2 FINALS
(4) Rumson-Fair Haven at (2) Manasquan, 6:30 pm