Happy Thanksgiving from everyone at Shore Sports Zone!  We've got a full menu of games as we will bring you highlights of all six Shore Conference Thanksgiving matchups later on today including Manasquan taking on Wall.  Watch live scoring updates throughout the day
Shore Sports Zone will bring you live scoring updates from all the Thanksgiving games that kick off this morning
| Week 12 Scores | | |
| --- | --- | --- |
| Barnegat | 29 | |
| Pinelands | 28 | FINAL |
| | | |
| Rumson-Fair Haven | 7 | |
| Shore Regional | 14 | FINAL |
| | | |
| Raritan | 44 | |
| Holmdel | 14 | FINAL |
| | | |
| Asbury Park | 20 | |
| Neptune | 21 | FINAL |
| | | |
| Middletown South | 6 | |
| Middletown North | 24 | FINAL |
| | | |
| Red Bank Regional | 0 | |
| Long Branch | 27 | FINAL |
| | | |
| Wall | 21 | |
| Manasquan | 3 | FINAL |
| | | |
| Lakewood | 28 | |
| Toms River South | 24 | FINAL |
Coming up later today….Thanksgiving Highlights
Shore Sports Zone brings you highlights from all six Shore Conference Thanksgiving games.  We'll post our highlights show later on today.  Here are some preview clips from Thursday's show:
Missed our Wednesday Appetizer?
In case you missed it, our Thanksgiving football coverage got started on Wednesday night as the Shore Regional Blue Devils scored a 14-7 win over Rumson-Fair Haven in the Devil-Dawg Bowl.
Coming up this weekend – Thanksgiving Game Ball vote and Plays of the Year!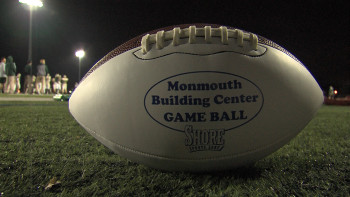 On Friday morning, we'll have our final regular season Game Ball vote of the year.  We'll post nominees from all the great playmakers from Thanksgiving football and keep the polls open until Sunday and the winner receives a Monmouth Building Center Game Ball.  On Monday morning, we will present the Top Plays captured by our cameras in 2016.  The voting goes throughout the week and the winners will earn an invite to the 3rd annual Shore Sports Zone football banquet.  Thanks to everyone for voting all year long.