Just five days after an upset loss in the Central Jersey Group 1 semifinals, Shore Regional ends its season with a 14-7 win over rival Rumson-Fair Haven on Wednesday night.  The Blue Devils are now 3-0 in the Shore's newest Thanksgiving rivalry.  Watch the highlights and see all the matchups for Thursday
Shore Regional 14 Rumson-Fair Haven 7
Matt Pennell's 7-yard TD pass to Nick Rew early in the 4th quarter was the difference as Shore Regional made it three straight wins over RFH.  After a scoreless first half, Mark Russo got the Blue Devils on the board in the 3rd quarter with a 7 yard TD run.  Bulldogs starting QB Michael O'Connor played the first half and turned things over to backup Jack Volker in the second.  Volker put together a drive capped off by an Alex Maljian 1-yard score late in the third to draw the game even at 7.  With ten minutes to go in the 4th, Pennell floated a pass to the end zone that was wrestled between Rew and a defender.  The ball fell down and into the waiting arms of Rew on his back in the end zone.  Jack McRae added a late interception to seal the win.  Shore's season comes to an end, but Rumson is still in the hunt for a fourth straight sectional title when they take on South Plainfield on Saturday, December 3rd at Rutgers at 7:00 p.m.  Watch the highlights and post-game reaction from Shore's win here:
Sponsor Shout Out!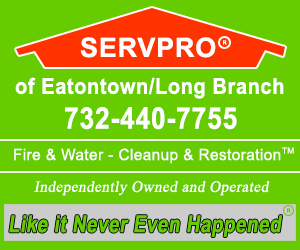 Thanks to ServPro of Eatontown/Long Branch for sponsoring our coverage of both Shore Regional and Rumson-Fair Haven this year.  They are the reason we are able to bring you great action from the Blue Devils and Bulldogs all year long in all varsity sports!
Coming up on Thursday
Shore Sports Zone brings you a Thanksgiving highlights show complete with action from all six games on the menu.  We will also have live scoring updates throughout the morning.  Thank you for making us part of your holiday and we can't wait to bring you great action from some of the richest traditions in the Garden State.
| Week 12 Scores | | |
| --- | --- | --- |
| Barnegat | 29 | |
| Pinelands | 28 | FINAL |
| | | |
| Rumson-Fair Haven | 7 | |
| Shore Regional | 14 | FINAL |
| | | |
| Raritan | 44 | |
| Holmdel | 14 | FINAL |
| | | |
| Asbury Park | 20 | |
| Neptune | 21 | FINAL |
| | | |
| Middletown South | 6 | |
| Middletown North | 24 | FINAL |
| | | |
| Red Bank Regional | 0 | |
| Long Branch | 27 | FINAL |
| | | |
| Wall | 21 | |
| Manasquan | 3 | FINAL |
| | | |
| Lakewood | 28 | |
| Toms River South | 24 | FINAL |