Phillipsburg is no stranger to honoring their glorious past that spans well over 100 years. The Garnett Booster Club sponsoring all Stateliner athletics unveiled its second addition to the Phillipsburg Athletic Hall of Fame, take a look at the inductees for the Class of 2022 below and last year's inaugural class as JSZ's Nery Rodriguez has the story from Phillipsburg:
The 1918 football team: The team was the first to be recognized as state champions by what was then known as the New Jersey Scholastic Football Association. They finished 6-and-1, losing only to Barringer. They scored 336 points and gave up only 13 to Barringer. They put up 101 against Washington and 99 against Lincoln.
Ted Dailey: First team all-state Defensive End, captain & four year starter from 1925 to 1928, scored 42 of the team's 89 points in 1928. All-American at the University of Pittsburgh, Syracuse University coach for 25 years during which the school won its only National Championship for football, Phillipsburg-Easton Football Hall of Fame 2006.
George "Sammy" Moyer: First team all-state halfback, played on tree unbeaten Phillipsburg teams from 1933-1935 that claimed three wins over Easton and Allentown, captain of the 1935, 10-and 0 team that was named co-state champions with Bloomfield and scored a team leading 14 touchdowns. That team had seven shutouts and allowed just 24 points, Moyer also scored 102 career points… Lafayette College Hall of Fame, Phillipsburg Head Football Coach 1952-1953 with a record of 12-5-1. Phillipsburg-Easton Football Hall of Fame 2006.
Clayton Willever: First team all-state quarterback who led P'burg's 1918 state championship team, the first team ever crowned state champion in New Jersey. Scored a school record seven touchdowns and kicked four extra points in setting the program record of 46 points in a game in a 99-0 victory over Lincoln of Jersey City in 1919. Tallied 195 career points which stood as the school record for 70 years and today stands sixth all-time. His 17-touchdowns in 1918 is still in the career top ten for a single season. He is tied for seventh in career touchdowns with 29.
Eileen Clymer Schwab: 12 varsity letters in three sports, four year starter in field hockey, basketball and softball, captain of all three teams, selected as an all-star in field hockey, basketball & softball. Starting shortstop on two state championship softball teams in 1975 & 1976, successful author of two books: "Promise Bridge" and "Shadow of a Quarter Moon".
Mary Jane Deutsch: Softball and basketball standout with eight varsity letters, records in batting average, RBI's, singles, triples & home runs, starter on three state championship teams in 1973, 1975, 1976 and four East Penn League championship teams 1973-1976, hit .517 with 18 RBIs, and did not strikeout in 47 at bats, first team all-East Penn League 1974, 1975, 1976. Also a four year starter and all-star in basketball who broke all-time basketball scoring and rebound records in 1976. Coached basketball, softball, track & field during the 1980's, supervisor of Health, Phys Ed, and Special Ed, Asst AD, Asst Principal, Principal, 39-year career in PSD and 31 years as an administrator.
Rick Thompson: Three sport star and coach best known as two-time state wrestling champion, four-time district champion, three-time regional champion, winningest wrestling coach in P'burg history, going a combined 268-54-1 in his career. His wrestling team won 15 Sectional Championships and 8 Group titles with 6 Group second place finishes, coached nine individual State Champions and 43 state place-winners, many regional and district winners. Thompson also earned eight varsity letters in cross country and track and later served as coach or assistant coach of both teams. He finished seventh in the state at cross country in 1972, started the girls cross country program with Neil Frankenfield in 1984, won 88 straight meets and four EPC championships (1985,1986,1987,1988) and three New Jersey State Sectional Championships (1985,1987,1988) finished second in the Group Championships in 1988. Career record of 195-39-1. Boys country won three EPC championships in 1984, 1985, 1987, the 2005 boys cross country team won the Group 4 State Championship and finishing third in the Meet of Champions.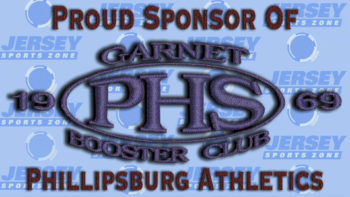 Thank you to the Garnet Booster Club for sponsoring our Phillipsburg coverage.