JSZ honors a season unlike any other with our fourth annual JSZ All-Zone team. We've got the top players from New Jersey at every position and the announcement of our 4th Zoneman Trophy Winner
---
The 2020 football season provided incredible memories in the midst of adversity. Despite teams losing games due to the pandemic, JSZ cameras were able to find the best of the best from New Jersey high school football. All this week, we will present the 2020 JSZ All-Zone football team.
Audric Estime wins 2020 JSZ Zoneman
The St. Joe-Montvale running back will always remember the day he won the Zoneman Trophy. That's because he happened to make national headlines when he flipped his commitment from Michigan State to Notre Dame signing with the Irish shortly after accepting the JSZ Zoneman Trophy. Estime was a force topping 1800 yards and 22 ground scores in just eight games of action Watch JSZ's Zoneman Trophy presentation and an extended interview with Audric during his signing day ceremony:
Estime received 33 votes from JSZ's 72 person voting panel of head coaches and statewide media: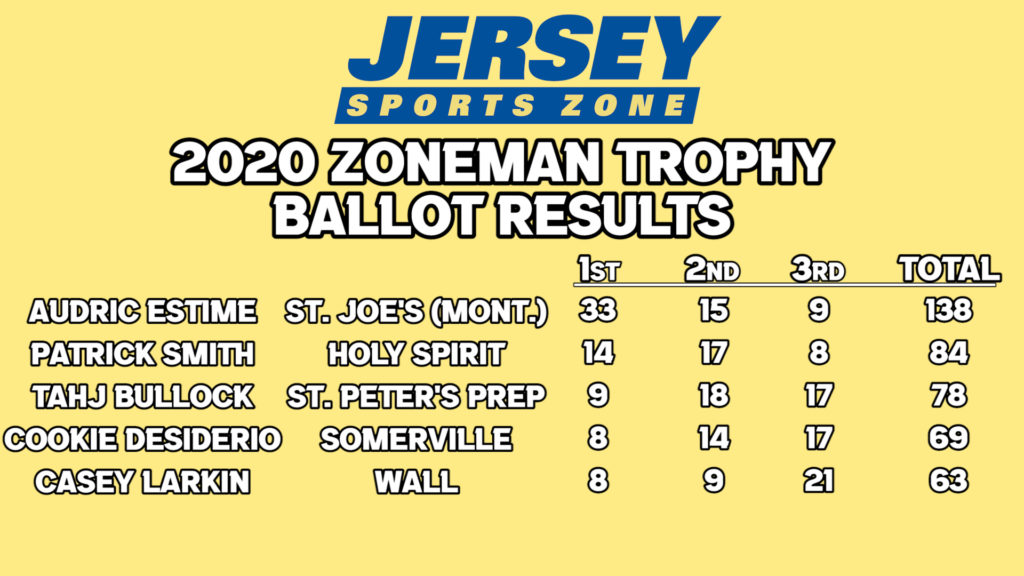 Thank you to the head coaches and statewide media who cast their vote for the 2020 Zoneman
Coaches: Joe Wojechowski, Lenape, Sean Clancy, Notre Dame, Rich Hilliard, St. Joe-Metuchen, Joe LaSala, Woodbridge, Vin Mistretta, Jackson Memorial, Montrey Wright, Salem, Kenny Scott, Winslow, Kevin Smith, Ocean City, Pat Gallagher, Williamstown, Steve Scanlon, Clearview, Chris Sacco, Absegami, Tim Gushue, Shawnee, Pete Lancetta, St. Augustine, John Whitehead, Paramus Catholic, Vito Campanile, Bergen Catholic, John McKenna, DePaul Catholic, Dan Sabella, Don Bosco Prep, Darnell Grant, West Orange, Bill Fitzgerald, Seton Hall Prep, David Schuman, Red Bank Regional, Dan Curcione, Donovan Catholic, Jeff Rainess, Holmdel, Jim Raso, Hammonton, Rich Hansen, St. Peter's Prep, Tony Grandinetti, Wall, Jim Sharples, Jackson Liberty, Dom Marangi, St. Joe-Montvale, Mike Lange, Red Bank Catholic, Don Klein, Ocean Township, Bryant Garvin, Newark East Side, Jason Acerra, Bayonne, Andrew Patterson, Robbinsville, Brian Bowers, Delbarton, Todd Smith, Hun, Chris Beagen, Sayreville, Dave Ellis, Freehold Boro, Al Chiola, Linden, Dallas Whitaker, Somerville, John Viotto, South Brunswick, John Emel, Penns Grove, Rob Davis, Barnegat, Brian Russo, Rahway, Lou Grasso, Union, Roger Kotlarz, Wayne Valley, Scott Bray, Bridgewater-Raritan, Kevin Kostibos, Summit, Len Zdanowicz, Brick Township
Media: Rich Chrampanis, JSZ, Jay Cook, JSZ, Nery Rodriguez, JSZ, Mike Frankel, JSZ, Kenneth Bradley, JSZ, James Mooney, JSZ, Andrew Koob, NJ.com, Sean Miller, NJ.com, Mike McGarry, Press of Atlantic City, Kevin Minnick, NJ.com, Tom Williams, Prime Events, Pat Lanni, NJ.com, Ryan Patti, Rivals.com, Dave McCarthy, McCarthy Report, Shawn Brown, 247 Sports, Chris Melvin, Asbury Park Press, Todderick Hunt, NJ.com, Mike Kinney, NJ.com, Joe Zedalis, NJ.com, Bob Badders, Shore Sports Network, Chris Gallagher, News 12 NJ, Sunil Sunder Raj, Gannett, Kyle Franco, NJ.com, John Jones, Max Preps, GMC Gridron
2020 JSZ All-Zone Non-Public Offense
(Click player's name to watch their JSZ All-Zone profile!)
[table id=210 /]
---
2020 JSZ All-Zone Non-Public Defense/Special Teams
[table id=211 /]
---
2020 JSZ All-Zone Public Offense
[table id=212 /]
---
2020 JSZ All-Zone Public Defense/Special Teams
[table id=213 /]
---
Meet the 2020 Zoneman Finalists
---
Tahj Bullock, St. Peter's Prep QB
Before ever taking a snap at St. Peter's Prep, fans and coaches on the St. Peter's Prep stands and sidelines buzzed about a kid nicknamed "Ducee" who would take New Jersey by storm. Now Tahj Bullock's illustrious high school career is over – and he'll be discussed as one of the most impactful player to ever play for the Marauders.
Bullock, a Virginia Tech commit, flashed in the six games St. Peter's Prep played in this season. He completed 51 percent of his passes for 818 yards and a touchdown to interception ratio of 12:0. Ducee also accounted for 306 yards and six more touchdowns on the ground, bringing his career touchdown total to an impeccable 52 scores.
JSZ's Jay Cook has the story on Bullock
---
Cookie Desiderio, Somerville RB
Players like Cookie Desiderio don't come around very often – and the numbers he produced in 2020 were just as unique. The Somerville bruiser exceeded every and all exception in this wild season with 1,569 rushing yards and 26 touchdowns on only 152 carries. That comes out to 10.3 yards every single time Desiderio took a handoff.
You know what makes those numbers so impressive? It's the fact that Desiderio did it in only seven games and that he surpassed every single benchmark he previously set in his junior season. Desiderio becomes the second player in Somerville history to be nominated for the award (Jalahn Dabney, 2018.) The recognition is well-deserved.
JSZ's Nery Rodriguez has the feature:
---
Audric Estime, St. Joe's (Mont.) RB
Audric Estime put in an offseason for the ages to deliver one of the most dominant single season efforts anyone has ever seen in North Jersey. While playing in arguably one of the toughest divisions in the entire country, the St. Joe's (Mont.) product ran roughshod over the competition for 190 carries, 1,857 yards and 22 touchdowns. All of those were career highs in only eight games played.
The Michigan State commit was also the only player in the state to account for 2,000 scrimmage yards and finished 2020 with a total 2,042 yards and 24 touchdowns. The Big 10 better be ready for what's coming.
JSZ's Jay Cook has the story:
---
Casey Larkin, Wall ATH
Both the soul and heartbeat of Wall's undefeated 2020 team is, without question, Casey Larkin. A starter on both sides of the ball for the Crimson Knights, Larkin shined in every game he played. At running back, he rushed for 870 yards and 13 touchdowns on only 97 carries. At defensive back, Larkin anchored the Crimson Knights defense with 32 tackles, five pass defenses and a fumble recovery.
Wall won the unofficial Shore Conference championship this season and finished the year 7-0. Larkin delivered two standout performances in the semifinal and finals. Some in New Jersey consider Wall to be the state's top-ranked team – if they indeed are, then Larkin had a major say in that decision.
JSZ's Rich Chrampanis has the story:
---
Patrick "Cheeks" Smith, Holy Spirit RB
If you ask any high school football fanatic in South Jersey who the area's top player was this season, the answer would be short and quick: Cheeks. Patrick Smith, the Holy Spirit standout, was an absolute force to be reckoned with every time the rock was in his hands. Smith concluded an unforgettable 2020 campaign with 1,719 rushing yards and 16 touchdowns on a workhorse-like 221 carries this season.
Holy Spirit ended the season at 8-0 after becoming the unofficial South Jersey champions with a 21-7 win over Lenape in the WJFL Bracket A Final. Smith's incredible top-end speed and vision helped drive the Spartans to the upper echelon on New Jersey high school football in a crazy season.
JSZ's Mike Frankel has the feature:
---
JSZ Plays of the Year
The JSZ Football Plays of the Year will wrap up on December 21st with the six winners of each category vying for the top overall play of the year. We'll interview the winner on December 23rd!
Special Teams TD of the Year: Monday, Dec. 7th through Wednesday, Dec. 9th.
TD Pass Play of the Year: Thursday, Dec. 10th through Saturday, Dec. 12th.
Defensive TD of the Year: Sunday, Dec. 13th through Tuesday, Dec. 15th.
TD Run of the Year: Wednesday, Dec. 16th through Friday. Dec. 18th.
Sack of the Year: Saturday, Dec. 19th through Monday, Dec. 21st.
2020 Overall Play of the Year (6 Plays of the Year winners): Monday, Dec. 21st through Wednesday, Dec. 23rd
---