Jersey Sports Zone shot hundreds of high school basketball games in 2017-18.  When it came to the most viewed games from this past season, the Tournament of Champions winner dominated our Top 10 list.  The Manasquan Warriors are in 9 of the 10 slots on our look back of a great season of New Jersey girls high school basketball:
#10: Manasquan 80 Saddle River Day 67 – Tournament of Champions Semifinals
The Warriors "Big Three" combination of Faith Masonius, Dara Mabrey, and Lola Mullaney combined for 71 points and 30 rebounds at Pine Belt Arena in Toms River:
#9: Manasquan 55 Red Bank Catholic 37 -Shore Conference Tournament Semifinals
Senior point guard Dara Mabrey came into the Warriors semifinal game against RBC with an injured left hand, but it did not slow down the future Virginia Tech Hokie. Mabrey scored a game high 18 points, leading Manasquan to a convincing 55-37 win over rival Red Bank Catholic. Lola Mullaney added 16 points, while Faith Masonius recorded 13 points & 10 rebounds for a double-double.
#8: Saint John Vianney 63 Franklin 55 – Lancy Lancers Winter Showcase
Junior Point Guard Sarah Karpell led the Lancers with 16 points and some great defensive play, as St. John Vianney took down the defending TOC Champions of Franklin at the Lady Lancers Winter Showcase. Vianney will now play another challenging game against Rutgers Prep on Thursday. Franklin's Diamond Miller scored 24 in the loss. Watch Full Highlights and postgame reaction from SJV vs Franklin below!
#7: Manasquan 77 Middletown North 35
Junior Faith Masonius reached the 1000 point mark in her illustrious career.  JSZ's Jay Cook was there and has the highlights:
#6: Manasquan 60 Red Bank Catholic 37
Dara Mabrey and Faith Masonius scored 20 points apiece in this December win and the start of a trilogy of battles against the Caseys:
#5: Manasquan 50 Saint Rose 44 (OT)
Manasquan and Saint Rose have established quite a tradition by closing out the regular season every year with one of the best rivalries in New Jersey girls basketball.  Annie Mako hit a huge three-pointer to start the Warriors in overtime and Faith Masonius leads the way with 23 points and 8 rebounds.  Watch the highlights of a terrific game that set the stage for Manasquan's post-season run:
#4: Red Bank Catholic 62 Manasquan 57
RBC was the only New Jersey team to beat Manasquan and it happened in Red Bank.  Sophia Sabino led the Caseys with 20 points and Katie Rice was sensational in a 16 point, 10 rebound performance that showcased incredible defense by the Lehigh signee.  Watch one of the best regular season games of 2017-18 along with post-game reaction:
#3: Manasquan 95 Newark Tech 79 – Group 2 NJSIAA State Championship
The Splash Sisters have made Pine Belt Arena in Toms River a second home.  Dara Mabrey, Faith Masonius and Lola Mullaney combine for 82 points in a 4th straight state championship:
#2: Manasquan 70 Saint John Vianney 52 – Shore Conference Tournament Finals
Dara Mabrey's legacy was cemented as one of the all-time greats at Manasquan thanks to a gutsy 33 point performance at Monmouth University.  Watch the Warriors SCT championship win along with emotional post-game reaction:
#1: Manasquan 72 Franklin 60 – Tournament of Champions Final
Dara Mabrey's high school career comes to a close with 30 points as the Warriors outlasted defending champ Diamond Miller and Franklin.  Watch two teams who showed why New Jersey high school girls basketball is among the best in America:
Dara Mabrey wins 2018 JSZ Miss Hoop Zone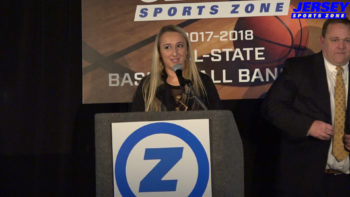 Manasquan's Dara Mabrey won our Player of the Year honors following her incredible senior season.  Click HERE to watch full coverage of JSZ's Basketball Banquet featuring highlight videos of the top girls basketball players in the state and profiles of our Miss Hoop Zone Finalists