Shore Sports Zone profiles Donovan Catholic's Rebecca Drake, who's played the last four years on the Griffins varsity boys ice hockey team
When Shore Sports Zone was shooting highlights of Donovan Catholic's 6-2 win over Rumson-Fair Haven at Red Bank Armory, there was a surprising image as the Griffins skated off the ice at the end of the second period – a long ponytail on the back of a blue #24 jersey.  A quick check of the roster showed Rebecca Grant, a three sport star for the Griffins making the rarest combination of soccer, softball and boys ice hockey.
With just a handful of girls high school ice hockey programs in the state,  Drake has been on the ice playing against boys from an early age.  "I was always playing with my brother when I was little," Rebecca said.  "I just grew up with it and I love the sport – it kind of just took my heart.  You know everyone's watching you because you are the only girl on the ice, but you just have to go out and play hard."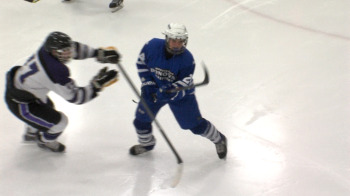 Primarily a defenseman, Drake has seen time at forward in her senior season as the Griffins are forced to take advantage of her versatility with depth issues.  "She's been on skates as a young kid went up through the club ranks at Brick.  She plays a very defensive style," Donovan Catholic head coach Brian Klimakowski told SSZ.   " Because of our short numbers, we've had to move her up to offense.  She's been doing whatever role we need her to do."
Drake is going to make the most of her final year on the ice as she will focus her college career on the softball diamond at Quinnipiac.  Her statistics from 2014 are eye popping: a .550 batting average, 1.083 slugging percentage and a 10-1 record on the mound with a 0.68 ERA.
Watch highlights of the Griffins 6-2 win over Rumson-Fair Haven along with post-game reaction from four goal scorer JC Maroukis: