It's official, Destiny Adams of Manchester Township is Jersey Sports Zone's Miss Hoop Zone for 2021. Winning McDonald's All American honors, 6'3 Adams takes home the award based on balloting from statewide coaches and media after averaging 30 points and 18.7 this season. With just 15 games on the schedule she scored 450 points to end her career with 2,010 points. JSZ's Nery Rodriguez sat down with the University of North Carolina bound Senior.
---
JSZ Miss Hoop Zone Balloting
Thanks to the coaches and statewide media who casted their vote for JSZ's Mr. Hoop Zone. Three points for a first place vote, two points for a second, and one point for third.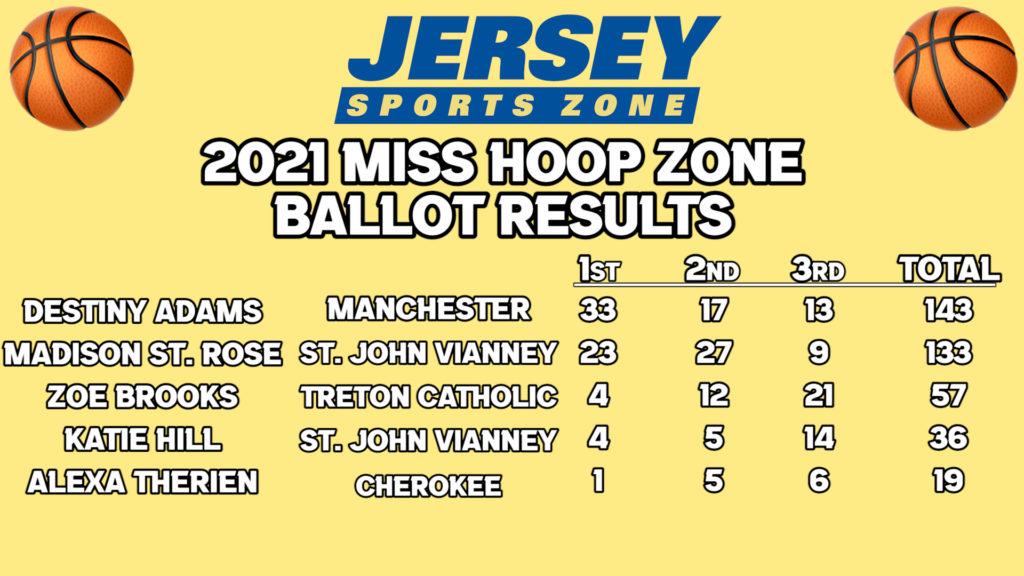 Coaches
Rachel Goodale, Jackson Memorial, Dave Beauchemin, Manchester Twp., Bob Fusik, Trenton Catholic, Sandy Gordon, Ramapo, Mary Klinger, Rutgers Prep, Steve Silver, IHA, Alaina Hearon, Jackson Liberty, Joe Montano, Red Bank Catholic, Mary Beth Chambers, Saint Rose, Mark Gnapp, Gill St. Bernard's, Dawn Karpell, St. John Vianney, Darren Ault, Holmdel, Theresa Cuniff, Wildwood, Scott Beston, Mainland, Steve DiPatri, Wildwood Catholic, Paul Baruffi, Ocean City, Scott Meile, Oakcrest, Lisa Stelle, Paul VI, Pete Vincent, Hudson Catholic, Meg McGeehan, Warren Hills, Derek Lynn, Montville, Billy Lovett, Morris Catholic, Shannon Coyle, Long Branch, Brandon Pilgrim, Paterson East Side, Lashawn Williams, Newark Central, Glenn Jansen, Donovan Catholic, Sandi Chera, Colonia, Sean Pekarsky, Paramus Catholic, Kristen Przbylski, Eastern, JW Senft, Highland, Dave Callahan, Rumson-Fair Haven, Allyson Scerbo, Phillipsburg, Liz McKeon, Westfield, John Considine, Bishop Eustace, Lisa Kukoda, Manasquan, Justin McGhee, Middletown North, John Barbarise, Shore Regional, Jenna Marcus, Hightstown, Chris Hernandez, Weehawken, James Martinos, Notre Dame, Travis Retzlaff, East Brunswick, Audrey Taylor, Franklin, Brad Allen, Teaneck, Janet Cook, Sayreville, Dan Montferatt, Ewing, Matt Margon, Montgomery, Lauren Bowler, Matawan
Media
Sean Miller, NJ Advance Media, John Jones, MaxPreps, Greg Machos, GMC Hoops, Mike McGarry, Press of Atlantic City, Tom Williams, Prime Events, Brian Deakyne, NJ Advance Media, Kyle Franco, Trentonian, Greg Johnson, Trentonian, Luis Torres, NJ Advance Media, Joe Fenelon, NYG Hoops, G Thing Basketball, Prep Girls Hoops New Jersey, JSZ Staff
Watch Highlight Reels of JSZ's Five Mr. Hoop Zone Finalists