The Last Dance Tournament rolls on with Round of 16 action at marquee venues around the state. Jersey Sports Zone has highlights + interviews from all eight games, so make sure to check back throughout the night!
---

Jersey Sports Zone's Last Dance Tournament highlights are being brought to you by Sterling National Bank.
---
South Region | FirstEnergy Park
Falcons (St. Joe's Metuchen) 11 Williamstown 1
St. Joseph Metuchen advanced to the Last Dance Elite 8 with an 11-1 victory thanks to a big day on the mound from Duke commit Adam Boucher who ended the evening with one earned run, four hits allowed and seven strikeouts. Brett Subers went 2 for 3 with 3 RBI's. JSZ's Nery Rodriguez has the highlights:
South Region | FirstEnergy Park
Saders Baseball (Bishop Eustace) 8 Kingsway 1
Eustace raced out to an early lead and never looked back, punching a ticket to the South Region semifinals. Nick Senior knocked in a pair of runs for the Saders in the victory. Joe Mascio pitched four scoreless innings to earn the win on the mound. JSZ's Mike Frankel and James Mooney have the highlights and reaction from Lakewood:
---
South Region | FirstEnergy Park
Brooklawn (Gloucester Catholic) 6 Dirty Boyz Liedtka Trucking (Hamilton West) 5
GC led 6-1 heading into the 6th inning, and held off a furious Hornets rally to advance. Adam Gates and Jason Morgan drove in two runs apiece in the victory. The Rams will now face South Jersey rival Bishop Eustace in the tournament quarterfinals on Tuesday. JSZ's Mike Frankel has the highlights and reaction:
---
South Region | First Energy Park
Jackson Memorial 5 Washington Twp 3
The Jags have been on a tear through the Last Dance, only giving up 3 runs and posting 2 shutouts but the Minutemen proved to be their best challenge yet. The game was scoreless until the sixth inning as Sam Kaschak (Washington) and Nick Beetel (Jackson) dueled on the mound. Jackson opened up the scoring in the sixth and held off the late surge from Township in the seventh to win 5-3. JSZ's Kenneth Bradley has the highlights from Lakewood:
North Region | Yogi Berra Stadium
Don Bosco (DiamondBacks) 3 Jefferson 1
After a thrilling, come-from-behind win Tuesday, Don Bosco turned around and battled through to the next round of the Last Dance World Series with a tough, 3-1 win over Jefferson. A huge fourth inning with a pair of monster doubles and a single proved to be the difference. JSZ's Jay Cook has the highlights:
---
North Region | Yogi Berra Stadium
Cranford 8 Ridgewood 2
Cranford has proven throughout the first two weeks of the Last Dance World Series that they can score against just about anyone. The Cougars backed that claim up on Wednesday with six runs in the first two innings – including a double and two-run home run from Marcus Johnson. Will Gallagher allowed a pair of runs in the complete game win. JSZ's Jay Cook has the highlights:
---
North Region | Skylands Stadium
St. Peter's Prep 4 Delbarton 2 (4th inning, 2 outs) Game Suspended Due to Rain
After Delbarton jumped out to a 2-0 lead three batters into the game, St. Peter's Prep scored all four of its runs on bases loaded walks to take the lead before lightning and rain forced this game to resume on Thursday at noon. The location is switched to Caven Point in Jersey City. JSZ's Rich Chrampanis has the early highlights of this game from Skylands Stadium in Sussex County:
Coming this Friday….JSZ Top Plays from the Last Dance Tournament
We'll compile the top plays captured by JSZ cameras in the second week of the Last Dance Tournament and ask you to vote for the top play. The winner of our poll this weekend will get a JSZ Game Ball and a presentation with their teammates. Thanks to RWJ Barnabas for supporting the Last Dance Tournament and our coverage!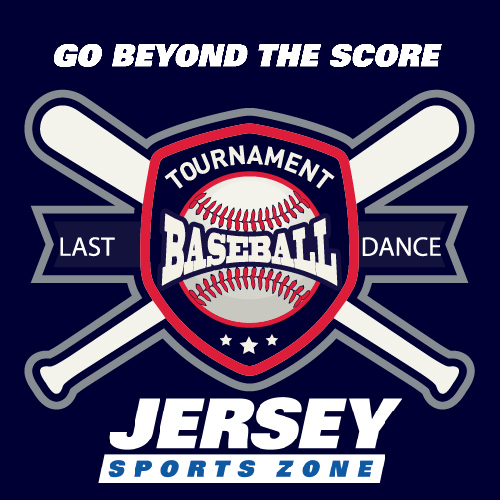 ---