JSZ's playoff hoops coverage continues with sectional final action all over the Garden State!
---
Gloucester 51 Salem 41 | Boys | South Group 1 Final
The Lions captured their first sectional title since 1971. Liam Gorman paced Gloucester (21-9) with 15 points. Steven Light went for 13 points and 11 rebounds, while Steven Burkhardt added nine points and 15 rebounds in the win. Amare Smith led the Rams (21-8) with 14 points in the loss. The Lions advance to the Group 1 state semifinals to face Central Jersey champ Burlington City on Thursday.
JSZ's Mike Frankel has the highlights and reaction:
---
Manasquan 71 Robbinsville 46 | Boys | Central Group 3 Final
Ryan Frauenheim led four Warriors in double digits with 19 in a dominating home effort. Sophomore Alex Konov had 15 thanks to five three-pointers, freshman Darius Adams had 15 and fellow frosh Griffin Linstra added 11 in a blowout victory. Robbinsville's Brian Herbert scored his 1000th career point in the defeat. JSZ's Rich Chrampanis has the highlights from Manasquan:
---
Ramapo 58 Tenafly 47 | Boys | North 1 Group 3 Final
What the Raiders lack in experience, they make up for in talent. Ramapo (22-6), a team with only one senior, captured the programs second sectional title in the last four years after a team-high 20 points from Nate Burleson and 16 points from Peyton Seals. Tenafly (20-5), who played in their first sectional title game in 55 years, got a game-high 22 point effort from John Celli in the loss.
The Raiders will face Colonia in the state semifinals on Wednesday at Phillipsburg High School.
JSZ's Jay Cook has the highlights and reaction from Franklin Lakes:
---
Woodrow Wilson 47 Burlington Twp. 40 | Boys | South Group 3 Final
The Tigers continue their incredible turnaround this season, topping the Falcons to take home their first sectional title since 2004. Zoe Holman led the way with a game-high 17 points in the win for Woodrow Wilson (20-6). Maurice Crump scored a team-high 15 points in the loss for Burlington Twp. (21-9). Woodrow Wilson will take on Central champion Manasquan in the Group 3 state semifinals on Thursday at Brick Memorial High School.
JSZ's James Mooney has the highlights and reaction:
---
Westfield 69 Hillsborough 42 | Girls | North 2 Group 4 Final
Westfield defeated Hillsborough 69-42 to capture the North 2, Group 4 Championship, the program's first ever Sectional Title. The Blue Devils never trailed once in the game after beginning on a 12-0 run in the first quarter. They would lead 37-21 at halftime and extended the deficit to as many as 30 by the end of the fourth. Senior Chloe Kreusser led all scorers with 27 points and seven rebounds. Juniors Paige Gorczyca and Annie Ryan also played a big part, Gorczyca had 12 points while Ryan finished with 13. JSZ's Nery Rodriguez has the highlights and postgame reaction: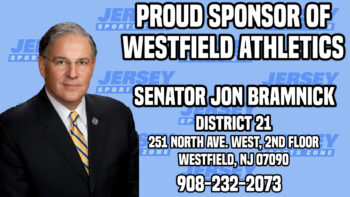 Thank you to the office of Jon Bramnick for sponsoring our Westfield coverage.

Thank you to Princeton Orthopaedic Associates for sponsoring our Hillsborough coverage.
---
Jackson Memorial 57 Middletown South 47 | Girls | Central Group 4 Final
Despite going down by six to start the final eight minutes, the Jags gutted out a strong fourth quarter comeback as Kamile Makselyte and Zoie Maffei combined for 14 points. Jackson Memorial wins its first sectional title in 10 years as Makselyte poured in 17 points and 13 rebounds and Maffei added 15 points. The Jags advance to the Group 4 semi-final on Thursday.
JSZ's Ken Bradley has the highlights from Jackson:
---
Manasquan 52 New Providence 35 | Girls | Central Group 2 Final
Hope Masonius tied a career-high with 18 points and Brooke Hollawell scored all 11 of her points in a third quarter that saw Manasquan bust open a two-point halftime lead on the way to an amazing eight consecutive sectional title. The Warriors will take on Haddon Heights for a spot in the Group 2 state finals. JSZ's Rich Chrampanis has the highlights from Manasquan:

JSZ's championship basketball coverage is made possible by RWJ Barnabas Health.
---