New Jersey's love for championship hockey stole the show on Valentine's Day this year. Highlighting the day is a pair of MCSSIHL championship games from Mennen Sports Arena. Stay tuned!
---
Morristown-Beard 4 Morris Knolls 3 | Mennen Cup Final
A late rally from the Golden Eagles wasn't enough to stun the Crimson in the championship game. Andrew Low provided two goals for Morristown-Beard (13-11-1), who held a 4-0 lead with five minutes remaining in regulation. Yet, Morris Knolls (13-7-1) climbed back in, thanks to three consecutive goals courtesy of Luke Dickerson inside the final two minutes. Knolls ran out of time and Mo-Beard was able to win their third straight Mennen Cup title and the 15th overall in school history.
JSZ's Jay Cook has the highlights:
---
West Morris 2 Mount Olive (Mo-Ho-Ha) 1 | Haas Cup Final
After not winning a single game last season, West Morris (14-6-1) defeated Mount Olive (16-4-3) 2-1 for the 2022 Haas Cup Championship. Mount Olive went ahead 1-0 after the first period following an early goal from Adam Twist. However, Ben Wilmott would tie the game at 1-1 for West Morris in the second. Still knotted late in the third period, Wilmott added another score with three minutes remaining to lead the Wolfpack to victory. Opposing goalies Phil Togno and Nick Gargiulo both finished the evening with 26 saves. JSZ's Nery Rodriguez has the highlights: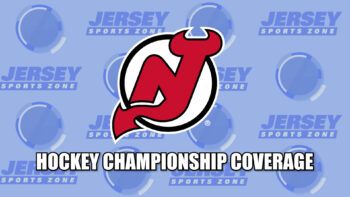 Thank you to the New Jersey Devils for sponsoring our championship hockey coverage.