Wall sophomore Ryan Napolitano threw six shutout innings and held off a seventh inning rally against Monmouth Regional to get a 3-2 win on the road.  SSZ has highlights from a game that features a number of outstanding defensive plays!
Wall 3 Monmouth Regional 2
Sophomore pitcher Ryan Napolitano went the distance and came through with two strikeouts with the winning run at the plate to give the Crimson Knights a big road win in "B" North play.  Napolitano struck out ten and threw six scoreless innings before Ricky Voss singled home two runs in the seventh inning.  Wall scored a run in the 4th on a sacrifice fly and added a pair of runs in the sixth inning to build a 3-0 lead.  The game featured some tremendous defensive plays from both sides as both teams now sit at 8-2 on the season.  Watch the highlights from a great game in Tinton Falls on Friday afternoon:
Trey Dombroski wins Monmouth Building Center Game Ball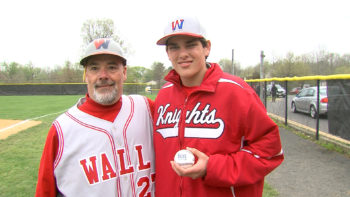 We were at the Wall/Monmouth Regional game thanks to the Crimson Crazies voting Trey Dombroski as this week's Monmouth Building Center Baseball Game Ball winner for last week.   Coming up this Sunday, we'll have ten more nominees from baseball and softball.  We'll stop by a game or practice and honor another Game Ball winner next week.
A special thank you to Monmouth Building Center for supporting high school athletes in our area.  It's because of Monmouth Building Center that we're able to bring a new level of coverage to Jersey Shore sports.