Two dunks remain in JSZ's 2023 Dunk Madness, and YOU decide who wins JSZ's 2022-23 Dunk of the Year! The Final Round polls are open until 3PM on Saturday (3/18). The winner will be announced tomorrow on our social media channels!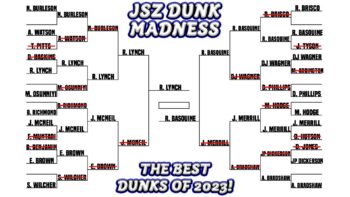 Vote now on our Championship matchup! Click on each player's name to watch the dunk and cast your vote below!
---
Thanks to the entire JSZ community for voting all week long!
---