THANK YOU to everyone who voted in our 2018 JSZ Plays of the Year.  With an overwhelming response, we are happy to announce that we will honor the top two finishers in each category at the JSZ Football Banquet on December 5 in Woodbridge
As we gear up for the sectional finals and upcoming state championships and bowl games, JSZ has compiled the best plays captured by our cameras during the 2018 football season.  We need your vote in six different categories.  The polls are open NOW through Thursday at 9:00 pm.  The winners of the polls will be honored at the 2nd annual JSZ Football banquet at the APA Hotel in Woodbridge.  Our Top Play winners from the season will also be honored as well as the top players in the state with our JSZ All-State team.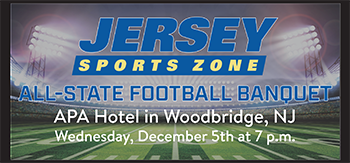 Watch all sixty of our nominees in the videos below and cast your vote!  Thanks to all the athletes for giving us so many great moments from the 2018 season!
NEW NOMINEE!  Thanks for pointing out Tyler Cook's big hit against Paramus Catholic.  It's now on the poll for voting along with the 10 nominees above