Toms River North 6 Monmouth Regional 0 – Shore Conference Tournament Semifinal
Jared Bellissimo and Brendan Mullins combined on a four-hit shutout and the Mariners used back to back three-run frames in the 2nd and 3rd to reach the SCT finals for a second straight year.  Toms River North will face Central Regional in the championship game on Monday night at the home of the Lakewood BlueClaws.  JSZ has highlights of the defending champs getting the win at Count Basie Park in Red Bank: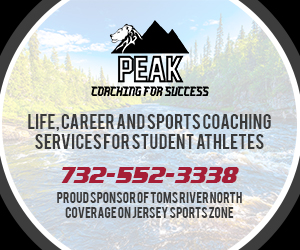 Jersey Sports Zone is able to capture great moments from Toms River North thanks to Peak Coaching for Success.  Visit peakcoachingforsuccess.com to learn more about their Athlete Development Camp this summer!