Middletown North beats Middletown South in the iPlay America Hockey Game of the Week 4-2 just seven days after losing to the Eagles in the Mayor's Cup.  We've got highlights and post-game reaction along with other quarterfinal results on the ice
Middletown North 4 Middletown South 2
Bobby Hampton and Kevin Felice scored two goals apiece and the Lions advance to the Shore Conference Tournament semifinals with a win over their rival.  Just seven days earlier, the Eagles won the Mayor's Cup with a 4-3 win at Middletown Ice World.  With the season series split, the post-season game would determine much more than bragging rights.  SSZ has all the highlights and extended post-game reaction:
Shore Conference Hockey Tournament Quarterfinals
Middletown North 4 Middletown South 2
RBC 6 Donovan Catholic 5 (shootout)
Howell 5 Freehold Township 2 (Thursday)
Saint John Vianney 3 Point Pleasant Boro 0
Shore Conference Hockey Tournament Semifinals (Wednesday)
(4) Middletown North at (1) RBC
(3) Saint John Vianney at (2) Howell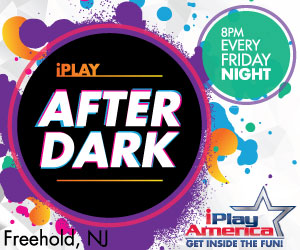 Thanks to iPlay America in Freehold for sponsoring our Game of the Week – coming up on Saturday, we've got more T-shirts to hand out – this time at the Marlboro at Holmdel girls matchup!