SSZ has highlights of Raritan's impressive performance against CBA on Saturday morning in Hazlet.  Watch the action of the 14-1 Rockets wrestling team!
The Raritan Rockets 8 of 11 matches along with three forfeits in a 57-14 win over CBA on Saturday morning in Hazlet.  Raritan improves to 14-1 on the season and currently owns a seven match win streak.  Watch highlights of the victory and post-match reaction here:
Raritan 57 CBA 14
Rockets: 14-1, Colts 6-6
Heavyweight: Dylan Kansky (R) wins by forfeit
106 lbs: Nick Schutznehofer technical fall vs. Robert Taddeo 15-0
113 lbs: Charles Barrale (R) wins by forfeit
120 lbs: Richie Koehler (CBA) pins Cameron Rafalko, 1:09
126 lbs: AJ Erven (R) wins majority decision vs. Sam LaCorte, 13-2
132 lbs: Russell Benson (R) pins Trevor Smith, 2:13
138 lbs: Christian Sookdeo (R) wins majority decision vs. Chris Gallegos, 16-2
145 lbs: Jimmy VanFechtmann (R) wins majority decision vs. Christian Recantini, 10-2
152 lbs: Anthony Aquilano (R) pins Owen Sullivan, 1:52
160 lbs: Nicolas Polaco (R) pins Matt Meyer, 3:24
170 lbs: Ryan McGuinness (CBA) defeats Justin Acevedo, 5-3
182 lbs: George Burdick (R) defeats Sam Houstan, 9-5
195 lbs: Ryan Dickens (R) pins Cameron DiGiorgio, 4:57
220 lbs: Ethan Wolf (R) wins by forfeit
Sponsor Shout Out!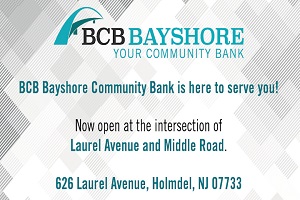 Bayshore Community Bank is a true part of our community.  It's because of BCB that we are able to show you great moments from the Raritan Rockets in ALL sports all year long.  We're excited to announce that Bayshore Community Bank has signed on to sponsor our coverage of Keansburg, Keyport, Holmdel as well as Saint John Vianney.  This means we're able to get to even more games from these great towns all year long.  Thanks to Bayshore Community Bank for making great memories for Shore Conference athletes!