The state champion Raritan football team was joined by the boys soccer and wrestling squads to build dozens of bikes to help support the Raine Foundation's annual toy drive.  Watch our story and see how Raritan will get you in the Christmas spirit!
Raritan football's improbable run from a #6 seed to a state champion was a special moment for the Hazlet community.  The Rockets are champions both on and off the field.  Coach Anthony Petruzzi and a number of the Rockets football players were joined by members of the boys soccer team and the wrestling squad to help the Raine Foundation's annual toy drive.
Raine (Reaching all in need everyday) was formed in 2001 and has assisted children and their families who are in crisis.  The Holy Family auditorium in Hazlet is the site for weeks of preparation for the delivery of Christmas gifts to over 400 families in the Bayshore area.  The three Rockets varsity sports teams assembled over 50 bicycles and started a new tradition by competing in a build off with a big trophy going to the winning team.  The football team won the inaugural competition last year, but it was the soccer team getting the bragging rights for 2015.
Ryan Dickens was a key contributor to the Rockets state championship squad at linebacker and fullback.  The junior's parents are the co-founders of the Raine Foundation.  Ryan used to assemble the bikes on his own, but is now grateful to have so many athletes from Raritan come out and contribute to an event that truly showcases the meaning of the holiday season.
Coming up this Thursday, over 30 Santas will board fire trucks from around the area and make their deliveries to over 400 homes including the bicycles assembled by the Raritan sports teams.  To learn more about the Raine Foundation, please click HERE and visit their website.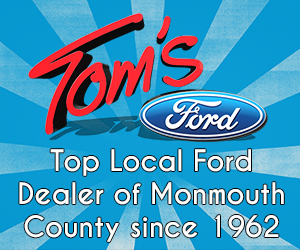 Thanks to Tom's Ford for making us aware of this great story.  Our sponsors support us so we can share not only high definition highlights of Shore Conference high school athletes, but inspiring stories as well!