Shore Sports Zone's Rich Chrampanis has a strong tie to a pair of Carolina Panthers who are heading to the Super Bowl.  Their journey to get to the world's biggest stage should inspire any athlete who has been told that they aren't good enough to play in the big time
It was April 27, 2008 and the NFL Draft had just come to a close.  252 players selected and one of them was not Mike Tolbert.  Just before 7:00 pm, I got the news that the Coastal Carolina fullback was going to the San Diego Chargers as an undrafted free agent.  As I arrived at his house in Carolina Forest, we stood in his driveway and talked about his chance to play in the NFL.  I thought Mike might be disappointed that he didn't get drafted knowing that the smallest of percentages make it on an NFL roster from the undrafted ranks.  Before I turned on the camera, he looked me right in the eyes and calmly told me, "I've got my shot".  I still get chills thinking about that moment.  It was just me and him in the driveway.  Did I think he was going to go on to two Pro Bowls, score 44 touchdowns, sign a $10 million dollar contract and play in Super Bowl 50?  No, but I left that driveway knowing that he was going to make it.
In 2008, the NFL scouts were crawling around the Coastal Carolina campus.  That's because the Chanticleers had a wide receiver named Jerome Simpson who was such an athletic phenomenon, that teams could easily overlook the fact that he played on the FCS level and wanted to get him on their roster.  Jerome was a second round pick of the Bengals that year and is most famous for his front flip touchdown against the Arizona Cardinals.  Whenever the scouts came around to look at Simpson, CCU football coach David Bennett kept telling scouts that he had another player that was special.  Mike Tolbert didn't have big stats as a collegian, that's because he was doing the little things that help a football team win, in his case plowing the way from fullback with tremendous blocks.  One NFL scout from a team that everyone knows told Bennett they had no interest in a 5'9″ running back with a bowling ball frame.  The Chants football coach took the logo from that team and taped it in Mike Tolbert's locker before a home game against VMI.  What happened after that was still one of the most dominating performances I've ever seen in person:
Josh Norman has aligned himself with Batman's Dark Knight persona.  It was fun to be around for the foundation of his bat cave.  On September 27th, 2008, Marrio Norman was a leader of the Coastal Carolina secondary who was out with an injury.  One of the Chants best players, there was great worry about who would step up in his place.  Little brother Josh, a freshman, stepped right in and recorded his first collegiate interception.  Much like Batman, Josh is a misunderstood hero.  I used to talk to Josh about having to change his ways and be more like the person I knew off the field.  But I learned an important lesson.  Josh chose to be himself and everything that comes with it and when he made that choice, he elevated himself to be what many think is the best defensive back in the NFL.  The fierce warrior on the field who is outspoken whenever a microphone is in front of him is just one side of who he is.  I got to see a young man who always had a smile away from the field and is fiercely loyal to his teammates, family and anyone who's ever had a positive effect on him.  Josh was obsessed with game film.  He approached Presbyterian just like he will the Denver Broncos on Super Bowl Sunday.  As someone who was used to seeing the coaches film of 11 vs. 11, he enjoyed knowing that my camera was there to get a different angle that he could study.  Josh was so driven.  Anytime he made a big play, he just seemed to gravitate my way and share the moment with me.  I spent training camp embedded with the CCU football team and had the chance to see what made Josh a special player.  This picture here was just after he tackled West Virginia's Noel Devine for a loss inside the five yard line in front of 70,000 people in Morgantown.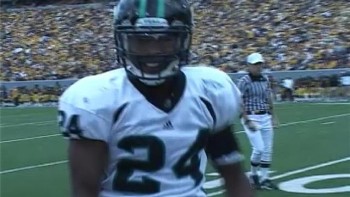 There are kids on the Jersey Shore who don't have any scholarship offers with Signing Day right around the corner.  There may be some athletes who think they can play Division I FBS and are getting no opportunities.   Josh Norman was on his brothers couch and went to Horry-Georgetown Tech before WALKING ON at an FCS school.  When he was drafted in the 5th round of the 2012 NFL Draft by the Carolina Panthers, I talked to him in the parking lot of the Red Robin in Myrtle Beach.  Just like Mike Tolbert, just me and him.  And Josh gave me the look.  He thought he was a first round talent and was furious that he had to wait so long.  It turned out to be the best thing to ever happen to him.  I might not have saw the look if he went in the second round.  Playing with a chip on your shoulder can be a really good thing and Josh has taken it to the top of the NFL mountain.  Mike Tolbert went to an NFL team with two Pro-Bowl players in the backfield (LaDanian Tomlinson and Lorenzo Neal).  The San Diego Chargers gave him a $5,000 signing bonus.  He was supposed to go to camp and get cut like 90 percent of the other undrafted free agents.
They didn't listen!  And they've got that look.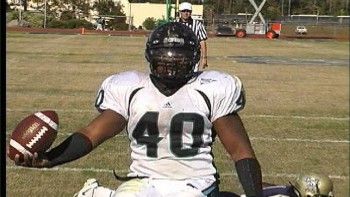 Josh and Big Mike have given me a gift.  I've seen the look and I know what it's capable of.  When I get the chance to see athletes and interact with them one on one, I can tell their story and let them know they can make it.  It may not be the Super Bowl, but it could be something they never thought they could accomplish.  What the kids on the Jersey Shore don't realize is that it won't be long before I'm telling stories of athletes around here who are playing in Yankee Stadium, or playing in the World Cup or even playing on Super Sunday.  You just have to get that look and don't let others decide your ceiling.
I won't be at Super Bowl 50, but I wouldn't trade an all expense paid trip to San Francisco for seeing what I've already seen.  Just like everyone else, I'll be watching the Panthers and Broncos on TV hoping to see a Mike Tolbert run like the VMI game or a Josh Norman pick like he did in the corner of the end zone against Gardner-Webb.  Except this time, instead of hundreds knowing about it, there will be millions.  The best part of my job is seeing greatness at the very beginning of the journey.  So I can't wait to be back in an empty gym or another parking lot talking one on one with someone who could be the next person to shine on a worldwide stage.