Rumson-Fair Haven's Chase Boyle was named the MVP of the Under Armour All-American girls lacrosse game. Check out JSZ's interview with the Loyola Greyhound and check out her incredible senior year highlight reel!
---
The Under-Armour All-American girls lacrosse game featured the top 44 players in the country July 31 in Baltimore. Pingry's Kevin Parnham was the lone representative on the boys side while eight New Jersey products were showcased in the nationally televised game. Rumson-Fair Haven's Chase Boyle was named the MVP of the game following two goals, two assists, and three forced turnovers helping the North team to a 16-8 win over South. Clearview's Hailey Russo scored a goal for the South team while Haddonfield's McKenzie Blake (2 goals) and St. John Vianney's Alexis Lauricella (1 goal) also scored in the showcase game. Boyle playing big-time lacrosse in Baltimore is just a precursor as her college career will begin for the Loyola Greyhounds, who finished 9th in the 2021 NCAA national polls. JSZ caught up with the MVP following her memorable performance.
JSZ: You found out that you were named the MVP of the Under Armour All-American game during ESPN's national broadcast. What was that moment like?
Boyle: Honestly, that was probably one of the craziest moments of my life. I was playing with all these girls who are amazing and I was wondering why they wanted to interview me after the game. When he told me I was shocked and I still can't believe it.
JSZ: The game featured the best 44 players in the nation. How would you describe the level of talent on the field compared to a typical high school game?
Boyle: The level of play was so high and the game was so intense. Playing alongside the best girls in the nation was such a fun opportunity. It's crazy going from high school play to what that was. It gave me a glimpse of what the next level is going to be like.
JSZ: You were one of eight New Jersey players representing the state with the nation's best. What did it mean for you to represent NJ lacrosse on the national stage?
Boyle: Being able to represent New Jersey in a game like that was amazing. I'm so proud of where I came from and I am so grateful for getting the chance to rep Jersey on a national level. Also getting the chance to play with and against my Jersey girls again was so exciting.
JSZ: Your coaches from Loyola were able to watch you shine in your new hometown. What have they told you about your role on a team that finished in the top ten in the 2021 national polls?
Boyle: Having my coaches watching and cheering for me there was surreal. Next year, whether I'm on the field or cheering my team on from the sidelines, I just hope to win some titles and have fun doing it. I can't wait to go and play high-level lacrosse with some of the best players in the nation.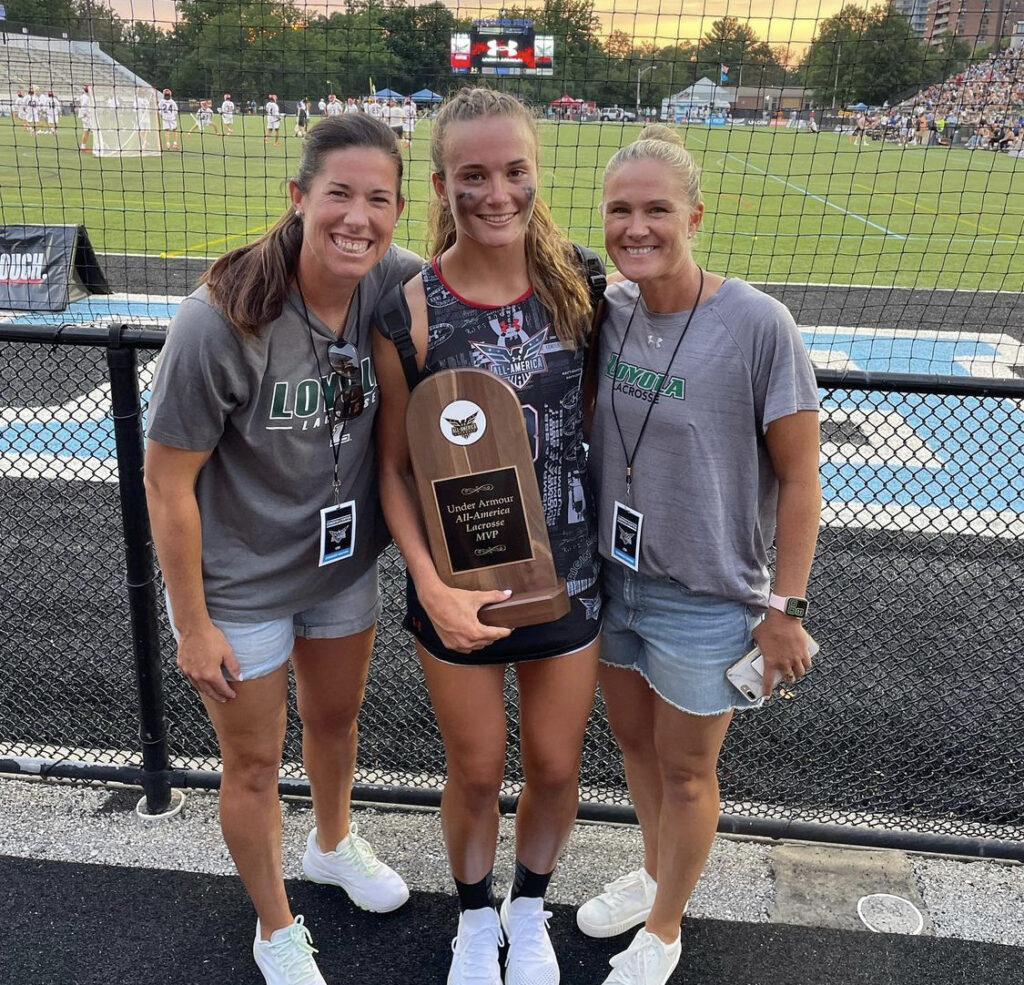 JSZ: Your incredible three-sport career at Rumson-Fair Haven is now officially over. What was your experience like at RFH and what will you remember most about your high school career?
Boyle: The four years I spent at RFH were my favorite years of my life. I cannot begin to state the amount of love I have for the school and the athletic programs and everything in between. Being able to play three sports throughout my years allowed me to make so many friends and create the best memories ever. And although we've won so many championships in all different sports the one thing I will remember most is the culture and the community RFH provides for everyone. Every person at that school whether it be a teacher or a student is so supportive of one another and that is something I will never forget. I wouldn't trade my time at RFH for the world and while it's sad to see it all go I'm excited to start my new chapter.
In case you missed it, here's a look back at Chase Boyle's sensational senior season leading Rumson-Fair Haven to a state title and the first T of C girls lacrosse victory in school history:
NJ Under Armour All-Americans
Boys
Kevin Parnham, Pingry (Penn State)
Girls
McKenzie Blake, Haddonfield (Princeton)
Chase Boyle, Rumson-Fair Haven (Loyola)
Alexis Lauricella, St. John Vianney (Harvard)
Margaret Lawler, Moorestown (Ohio State)
Jordyn Lipkin, Millburn (Maryland)
Olivia Pikiell, Ridge (North Carolina)
Hailey Russo, Clearview (Maryland)
Reilly Traynor, Red Bank Catholic (Duke)
---