Monmouth Building Center in Shrewsbury salutes great performances during football and basketball season with Game Ball presentations!
Monmouth Building Center in Shrewsbury is a proud sponsor of SSZ Game Balls.  They are family owned and operated since 1967.  If you have a home project, they have everything you need.  Monmouth Building Center is showing their support for high school athletes in Monmouth and Ocean County and Shore Sports Zone thanks them for allowing us to shine the spotlight on kids all year long.
2014 Monmouth Building Center Football Game Balls
Over 350,000 votes were cast during the 2014 high school football season on Shore Sports Zone for Monmouth Building Center Game Balls.  Here is a look at all the winners.
[table id=55 /]
State Championship Game Balls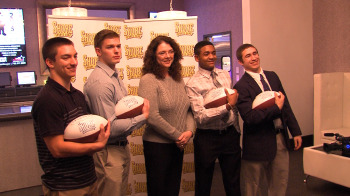 At the Shore Sports Zone All-Zone Football Banquet, Monmouth Building Center handed out six more Game Balls to state championship winners!
Monmouth Building Center 2014 State Championship Game Ball Winners:
Doug Goldsmith – Shore Regional
Sam Eisenstadt – Rumson-Fair Haven
Shawn Ramcheran – Matawan
Joe DeMaio – Jackson Memorial
Ben Sieczkowski – Manalapan
Tommy Spernal – RBC