The New Jersey Devils honored the Top 5 Goals from New Jersey high school hockey in January captured by JSZ cameras during the NHL team's 4-1 win over the Buffalo Sabres on Sunday night at the Prudential Center in Newark. Once again, the Devils rolled out the red carpet and gave the VIP treatment to five great high school hockey standouts. From a pregame film session with Miles Wood, to five awesome goals on the scoreboard at the second intermission, it was another special night provided by the Devils. Watch our recap of another special evening:
New Jersey Devils winger Miles Wood met with our players prior to faceoff and watched the Top 5 goals from January captured by JSZ cameras. There's no question that the players were inpsired to see an NHL player talk about their goal and Wood's pre-game video session paid off as well. Wood scored his sixth goal of the season in the Devils 4-1 win over Buffalo. Here's Miles Wood breaking down the Top 5 goals from January: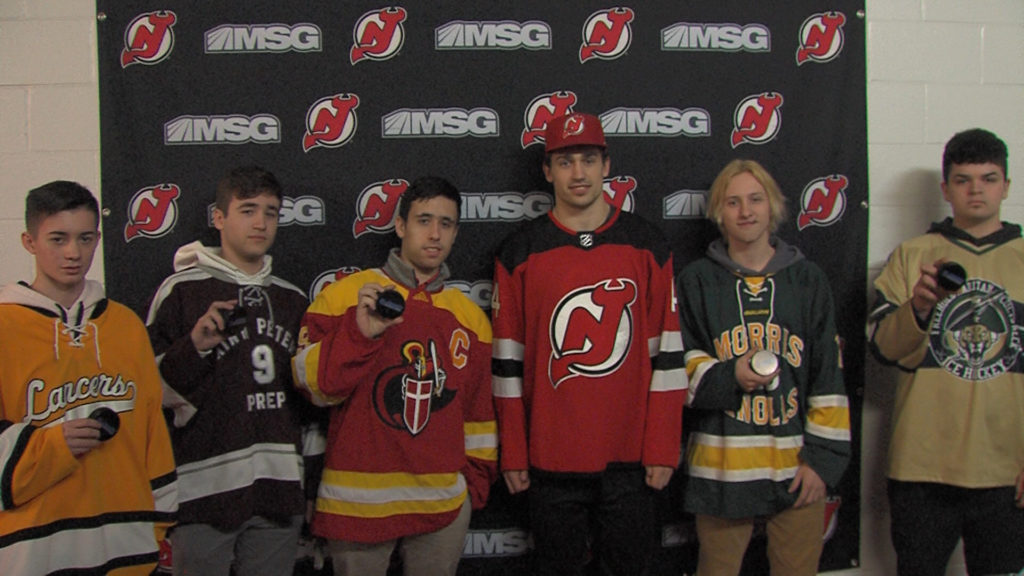 Congratulations to our Top 5 goals from January
#5: Tommy Kleinman, Bergen Catholic
#4: Dom Troisi, Saint John Vianney
#3: Ty Pezzolla, Saint Peter's Prep
#2: Dyland Idland, Morris Knolls
#1: Andrew Kutzman, Freehold Boro
On March 21, the Devils will honor the Top 5 goals from February during their home game against the Boston Bruins. On March 25, the Devils and JSZ host our 2nd annual All-Zone hockey banquet during their game against the Buffalo Sabres.