Middletown South 7 Morris Knolls 0 | Ice Vault Classic
Middletown South (5-0-3) defeated Morris Knolls (7-1-1) 7-0 to hand the Golden Eagles their first loss of the 2021-2022 season. South went ahead 5-0 after two periods of play thanks to goals from Andreas Forand, Aiden Cavendish, Brandon Gronau, Luke Pennington and Ryan Nicholson. Gronau finished with two scores. Goalie Jack Collings recorded his first shut out of the season and ended the evening with 21 saves. JSZ's Nery Rodriguez has the highlights from Wayne: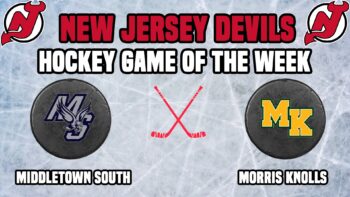 The New Jersey Devils have partnered with Jersey Sports Zone to bring you more exciting free highlights from the best match ups across the Garden State.