The 3rd annual Shore Sports Zone banquet celebrates the 2016 high school football season.  We reveal the finalists for SSZ's top award, the Zoneman Trophy, as four outstanding players stand on the podium at the Sheraton in Eatontown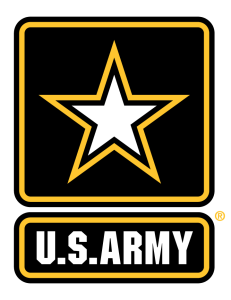 The U.S Army is the newest part of the Shore Sports Zone team and is the presenting sponsor of our 3rd annual Shore Sports Zone football banquet.  On Thursday at the Sheraton in Eatontown, we honor the top players in the Shore Conference by presenting our All-Zone team.  We've got the best players in the Shore Conference and their highlights from the 2016 season.  Later on this week, we'll share every one of our highlight videos and reaction from players and coaches.
Our banquet features videos from the All-Zone offense and defense as well as Plays of the Year, Monmouth Building Center State Championship Game Balls and our SSZ Scholar-Athlete.  The night culminates with features of the four finalists for SSZ's Zoneman Trophy.
What is the Zoneman Trophy?
Created by SSZ owner Rich Chrampanis during his television days in South Carolina, the Zoneman Trophy is given to the best player in Monmouth and Ocean County.  Each head coach casts a 1st, 2nd and 3rd place vote.  The first two Jersey Shore Zoneman winners were Long Branch running back Dahmiere Willis and Saint John Vianney's Anthony Brown, who is currently at Boston College.  Previous South Carolina Zoneman winners include Pittsburgh Steelers linebacker Lawrence Timmons and current Clemson wide receiver Hunter Renfrow.
Meet the 2016 Zoneman Finalists
The 2016 SSZ podium features four outstanding football players.  The coaches ballots have been collected and here who's up for the Zoneman Trophy (in alphabetical order):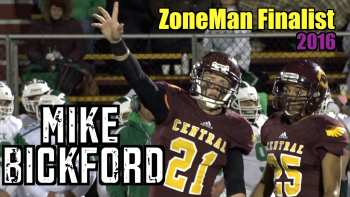 2016 Stats: 211 carries, 1737 yards, 8.23 yards per carry, 17 TD's
For three years everyone in New Jersey knew that #21 was going to get the ball a lot.  And despite defenses keying on stopping the Central Regional run game, Mike Bickford still piled up yards and scores.  His senior season was highlighted by piling up over 400 yards and 7 TD's in a win against Brick Memorial and against Brick Township he topped 5,000 yards and became the school's all-time leading rusher.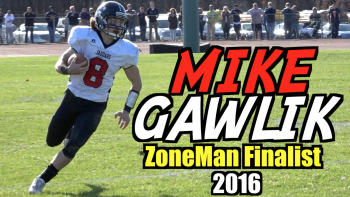 2016 Stats: 267 carries, 2129 yards, 7.97 yards per carry, 24 TD's
5,214 yards.  62 visits to the end zone.. No Jackson Memorial Jaguar has ever covered that kind of distance in his career  .  Mike Gawlik hit the hole consistently and had defenders in his rear view mirror.  Gawlik's incredible numbers are forever a part of Jaguar football history, just like his back to back state championships in his sophomore and junior years where he rushed for 359 yards in a pair of games at Rutgers High Point Solutions Stadium.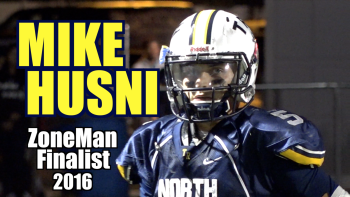 2016 Stats:  88/147, 2027 passing yards, 25 TD passes, 8 INT's, 186 carries, 1644 rushing yards, 8.83 yards per carry, 19 TD's
As a sophomore he became a 1000 yard rusher and 1000 yard passer.  Those are the kind of numbers that can plateau, but
Husni
took his game to even greater heights over the next 2 years.
In 2016, he met his goal with over 2000 yards passing, 1500 yards rushing and accounting for 44 touchdowns. Toms River North was one of the most potent offenses not only in New Jersey, but the entire nation cranking out just over 44 points a game.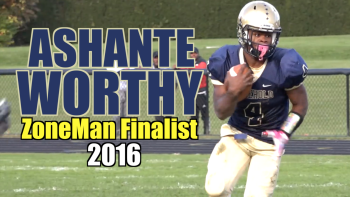 2016 Stats: 50/98, 837 passing yards, 9 TD passes, 1 INT, 249 carries, 2066 rushing yards, 8.29 yards per carry, 30 TD's
We all knew Ashante Worthy as one of the top young running backs in the Shore Conference after a 1400 yard sophomore season, but when the Freehold Boro Colonials started the year 0-3 and had two quarterbacks go down with injury, head coach Dave Ellis asked his tailback to make the move under center.  In his first game against Manalapan, Worthy worked out of the triple option and topped 100 yards in a loss, but something changed.    Worthy moved to the shotgun the following week and became an offensive machine.  The numbers became mind boggling.  Two 7 TD efforts against Monroe and Marlboro weren't the ceiling.  That would come against Pennsauken against the state playoffs when he had 465 yards rushing and a staggering ten touchdowns
Just Missed the Podium
Shore Sports Zone 2016 Zoneman Trophy Top 10 Voting (top 4 to be revealed after SSZ banquet)
5. Chris Chukwuneke, Saint John Vianney RB
5. Mike Ruane, Rumson-Fair Haven LB
7. Micah Clark, Saint John Vianney OL
7. Sean Larkin, Wall RB
7.  Donald Glenn, Middletown North QB
7.  Luke Corcione, Manalapan QB
7.  Naim Mayfield, Manalapan RB
Players selected to the 2016 SSZ All-Zone team were given invitations via their head coaches last week.  Head coaches and players being honored are on our guest list.  Any family members or friends who wish to attend the banquet can purchase tickets here:  Tickets and information on 3rd Annual Shore Sports Zone Football Banquet presented by the US Army