Shore Sports Zone is set to celebrate the 2015 football season with our All-Zone football banquet.  Three outstanding players from the Shore Conference are up for SSZ's Zoneman Trophy, given to the Shore Conference's top high school football player
Shore Sports Zone is set to celebrate the 2015 high school football season with our 2nd annual All-Zone football banquet.  The top players in the Shore Conference are set to come to the Sheraton in Eatontown to be honored by Shore Sports Zone.  The banquet culminates with the presentation of the Zoneman Trophy, given to the most outstanding player in the Shore Conference as voted on by head coaches.
2015 SSZ Zoneman Trophy Finalists (in alphabetical order)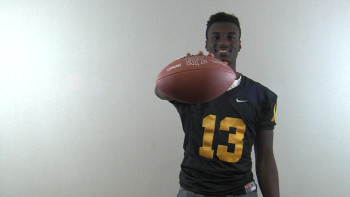 Anthony Brown, St. John Vianney Quarterback:  Anthony is on the SSZ Zoneman podium for a second straight year – committed to Boston College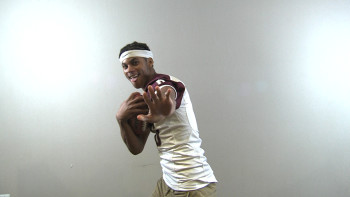 Sadiq Palmer, Red Bank Regional Wide Receiver: The University of Syracuse commit helped lead the Bucs to an 11-1 season and dominating on offense and defense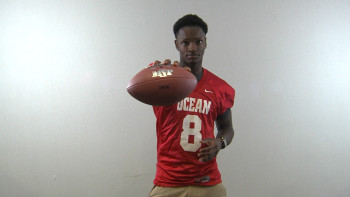 Tyler Thompson, Ocean Township Running Back: A 5,000 yard rusher in his four year high school career and overcame a broken leg in his junior season to come back and have a stellar senior campaign
What is the Zoneman Trophy?
Shore Sports Zone owner Rich Chrampanis created the Zoneman Trophy in South Carolina during his television days.  In 15 years, the award became prestigious thanks to former winners including Pittsburgh Steelers linebacker Lawrence Timmons, Florida State quarterback Everett Golson and current Clemson wide receiver Hunter Renfrow.  Long Branch running back Dahmiere Willis was the winner of the first Jersey Shore Zoneman winner in 2014.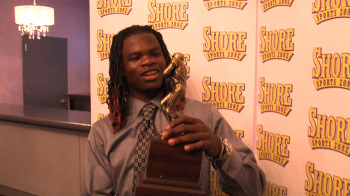 Every head coach in the Shore Conference along with Rich Chrampanis and recruiting expert Chris Melvin receive a ballot for the Zoneman Trophy.  1st place votes receive 3 points, 2nd place votes receive 2 points and 1 point goes to a 3rd place vote.  Here's who finished just outside the podium in the top ten.
2015 Zoneman Trophy balloting results (winner to be revealed on Thursday night at SSZ Banquet)
4th place: Amir Tyler, Lakewood RB/LB
5th place: Eddie Hahn, Red Bank Catholic QB
6th place: Mike Nobile, Brick Memorial OL/DL
7th place: Cole Rogers, Middletown South RB
8th place (tie): Mike Gawlik, Jackson Memorial RB
8th place (tie): Tim Santiago, Brick Memorial QB
10th place: Da'Shon Copes, Toms River North DL
Coming up at the 2015 SSZ All-Zone Football Banquet
Highlight videos of the 2015 SSZ-All Zone selections
Monmouth Building Game Ball winners awarded from the state championships
Winners of the iPlay America 2015 SSZ Football Plays of the Year
We announce the 2015 SSZ Football Scholar-Athlete of the Year
We present features of the three Zoneman Trophy Finalists and announce the winner
We will post all of our highlight videos, awards and great moments from our banquet later on tonight on SSZ.  Thank you to all of our sponsors and the Sheraton in Eatontown for giving us the opportunity to celebrate the 2015 high school football season