SSZ has highlights of Middletown South's 5-1 win over Raritan in the second round of the Shore Conference Tournament as Maddie McMahon was once again stellar on the mound for the defending state champs
Middletown South 5 Raritan 1
Maddie McMahon threw a 3-hitter striking out 11 Rockets to lead the Eagles into the quarterfinals of the Shore Conference Tournament.  Sophie Wilson got the Eagles on the board in the 4th with an RBI single.  13th seeded Raritan hung with the defending Group 3 state champs getting with 2-1 on an Ashley Marino triple and run following a wild pitch.  But Middletown South sealed it with a 3-run 6th highlighted by a two run double courtesy of Julia Blarr.  Watch the action from Friday afternoon in Middletown:
Shore Conference Softball Tournament Second Round Scores from Friday
(4) Middletown South 5  (13) Raritan 1
(1) Jackson Liberty 9  (16) Brick Township 1
(6) Donovan Catholic 5  (11) Manasquan 1
Shore Conference Quarterfinal Matchups
(8) Lacey at (1) Jackson Liberty
(5) Pinelands at (4) Middletown South
(6) Donovan Catholic at (3) Middletown North
(7) Red Bank Catholic at (2) Saint John Vianney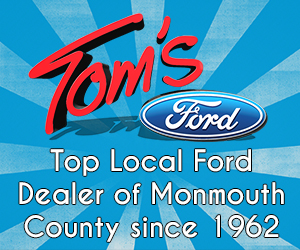 Thanks to Tom's Ford for supporting our Middletown South coverage all season long.  We're not done yet!  The Eagles baseball team still plays for a Shore Conference title and the softball team is still in the hunt in both states and the SCT.