Trinity Hall still has the label as the new kid on the block in Shore Conference Sports, but the Monarchs have built a strong sports foundation thanks to a senior class that helped blaze the trail.  Catherine Loder made a significant impact in all three seasons.  JSZ profiles the all-girls school's first ever 100 goal scorer in lacrosse as she reflected on her four years at the Tinton Falls school and looks ahead to study engineering at the University of Michigan:
Senior Makes School History in Lacrosse
Tinton Falls, NJ – On Wednesday, May 2, senior Catherine Loder became the first lacrosse student-athlete in Trinity Hall history to reach 100 goals in her high school career. Loder, who graduates this June, is a multi-sport, straight-A student-athlete, playing basketball and lacrosse for four years and cross-country for two. Trinity Hall is a member of the Shore Conference, the New Jersey State Interscholastic Athletic Association (NJSIAA) and the New Jersey Independent School Athletic Association (NJISAA), and competes against public, parochial, and independent schools in Monmouth County and throughout the state. Loder's milestone 100th goal was reached at the school's home game at Dorbrook Park vs. Shore Regional. Although the game was a loss for Trinity Hall, the team rallied around Loder to celebrate the achievement.
"Being the first player at Trinity Hall to score 100 goals in lacrosse is an honor I will never forget," said Loder. "It is a testament to the hard work of my teammates and coaches and also to the growth of our lacrosse program here at Trinity Hall. I'm thankful to be a part of this special community."
Loder's achievement of 100 high school career goals in lacrosse is notable because she was able to reach that milestone in a much shorter time than most other high school student-athletes. Ken Santos, athletic director, explained, "Trinity Hall opened in Fall 2013. We were accepted into the Shore Conference in Fall 2015. Since the conference does a two-year scheduling cycle, we were not eligible to play in the division or enter the tournaments in the 2015-2016 school year, playing only a handful of varsity games against comparable teams. In the 2016-2017 school year a new two-year cycle started, with games scheduled for 2016-2017 and 2017-2018, so we were then included in the division and could play in the Shore Conference Tournaments if we qualified. Catherine's accomplishment is significant because, as new members of the Shore Conference in 2016-2017, she has only played two full seasons of a varsity schedule whereas many who also achieve this milestone have played three or four years of varsity-level play."
"I have coached Catherine for all four years she has played lacrosse for the Monarchs," said Dana Lenneper, lacrosse head coach. "She is one of the most talented athletes I've ever had the privilege to coach. She has the ability to take what you say to her and apply it to every game and practice. Beyond that, Catherine has a positive energy and attitude every day. It's contagious. She is an amazing captain who always knows how to make her teammates come together and remain that way whether we win or lose. There are a million examples I can give about what makes her so special but one thing I know for sure is that she will be missed by both her team and, definitely, by her coaches. It was a wonderful moment for Catherine and our school. We couldn't be more proud of her."
"It was inspiring to witness Catherine score her 100th goal, an achievement of only the best athletes in the state," said Mary Sciarrillo, head of school. Santos added, "These are the days that make coaching and being a part of athletics so rewarding: when an athlete such as Catherine is rewarded for her hard work and gets to enjoy that with her teammates and coaches."
Trinity Hall, a not-for-profit 501(c)(3), is an independent all-girls college preparatory high school, educating and empowering young women in the Catholic tradition. Trinity Hall's core values of leadership, respect, perseverance and faith are foundational to their mission and work as educators. For more information, visit www.trinityhallnj.org.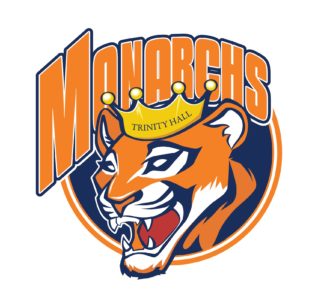 Jersey Sports Zone is excited to have Trinity Hall join our team as one of our sponsors.  JSZ will have highlights and features of the Monarchs sports programs all year long.  Visit trinityhallnj.org to learn more about Monmouth County's independent college preparatory high school in the Catholic tradition