Middletown North 4 Marlboro 4
The Lions rally from a 4-2 deficit with a pair of goals in the span of 45 seconds to earn a 4-4 tie with Marlboro on Tuesday night.  Chris Repman scored the first two goals of the game and Middletown North controlled the first 27 minutes of the contest before Marlboro strung together three goals in just 56 seconds.  Anthony Galante had back to back goals 17 seconds apart and then Jack Inveldt gave the Mustangs a 3-2 lead with a power play goal.  The Lions Kurt Kroper made it 4-3 before Justin Skelly got the equalizer.  Marlboro is now 1-0-3 on the season while Middletown North is 3-1-1.  Watch the highlights from a great game at the Middletown Ice World: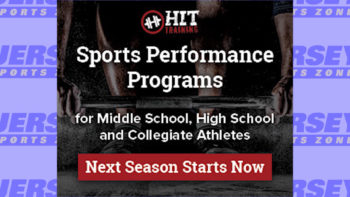 Thanks to Hit Training for sponsoring our Marlboro Mustangs coverage on Jersey Sports Zone.   Hit Training is the reason we bring you great highlights from Colts Neck, Marlboro, Freehold Boro and Manalapan all year long!