Jersey Sports Zone's high school basketball coverage produced hundreds of thousands of views during the 2017-18 season.  It's no surprise to see the elite teams from New Jersey dominate our top 10 most watched games.   Look back on an amazing season and check out our top dunks from this past season and our profiles of the top talent honored at the JSZ basketball banquet
#10: Ranney 59 Mater Dei Prep 45
Junior guard Scottie Lewis led the Panthers with 23 points, including the 1,000th of his career, as The Ranney School captured a 59-45 win over their arch rival Mater Dei Prep. Savior Akuwovo chipped in 13 points, 14 rebounds and 2 blocks for Ranney, as Kenny Jones and Alexander Rice scored 12 points each for the Seraphs in the loss. Watch Highlights and postgame reaction from Ranney vs Mater Dei, including Scottie Lewis' 1,000th point.
#9: Montclair Immaculate 60 Hudson Catholic 49 – NJSIAA Non-Public "B" North State Playoffs
Only in the world of Non-Public B North could a team with multiple division-1 prospects be considered an underdog story, but that's exactly what Montclair Immaculate has become. After defeated the defending TOC Champions Patrick School in the opening round, The Lions then traveled to Jersey City and took down the star-studded lineup of Hudson Catholic. Syracuse bound Jalen Carey scored 13 of his 18 points in the 2nd Half, and Zion Bethea added a game-high 21, as Montclair Immaculate shocked the state with a 60-49 win.
#8: Roselle Catholic 65 Linden 45
Naz Reid celebrated being named a McDonald's All-American with a 10 point, 19 rebound performance as the Lions snapped a three-game losing streak to Linden.  JSZ's Alex Lorenzo was there to capture one of the great rivalries in NJ high school hoops:
#7: Ranney 71 Trenton Catholic 56 – Non-Public "B" South Finals
Ranney's electric Class of 2019 duo Bryan Antoine (30 points) and Scottie Lewis(20 points) combined for 50 points and 17 rebounds as The Panthers made history, capturing their 1st ever Sectional Title. The 71-56 win over Trenton Catholic is the 2nd historic victory of the season for Ranney, after bringing home their 1st ever Shore Conference Tournament Championship in February.
#6: Hudson Catholic 83 Archbishop Malloy 64 – SNY Invitational
Jahvon Quinerly had one of the most electrifying performances of his high school career dropping 37 points at the SNY Invitational in Harlem.  Luther Muhammad added 23.  JSZ's Alex Lorenzo went across state lines for the highlights of a tremendous showcase game:
#5: Roselle Catholic 57 Gill St. Bernards 40 – NJSIAA Non-Public "B" North Finals
Roselle Catholic has not so quietly become New Jersey's premier boys basketball program in recent years. On Thursday night at Rutgers, the Lions added yet another sectional title to an impressive trophy case with a 57-40 win over Gill St. Bernard's. Junior Kahlil Whitney scored a game-high 19 points in the win, including the 1,000th of his career while Paul Mulcahy scored 15 in the loss for the Knights.
#4: Roselle Catholic 75 Ranney 49 – Jersey Shore Challenge
At Brookdale Community College, Naz Reid scored his 1000th career point and the Lions dominated a depleted Ranney squad at the Jersey Shore Challenge.  Ranney played without Scottie Lewis, who was hampered by an ankle injury.  It was the first of two meetings between these two teams (see #1 for our game of the year!)
#3: Roselle Catholic 61 Don Bosco Prep 54 – Tournament of Champions Final
Naz Reid closed out his high school career with 22 points as the Lions held off Don Bosco Prep to claim their third T of C title.  Watch the highlights and post-game reaction from the final game of the 2017-18 season:
#2: Roselle Catholic 92 Montclair Immaculate 63 – NJSIAA Non-Public "B" North Playoffs
Montclair Immaculate's amazing run through the Non-Public B North playoffs came to a halt on Saturday thanks to New Jersey's No. 1 ranked team. Roselle Catholic used a high flying aerial attack and hellacious defense to shut down Montclair Immaculate, and advance to the sectional championship on Wednesday at Rutgers University. Khalil Whitney poured in 29 points and grabbed 7 rebounds, while Joshua Pierre-Louis added 18. Syracuse bound Jalen Carey scored 20 in the loss for Immaculate.
#1: Roselle Catholic 63 Ranney 61 – NJSIAA Non-Public "B" State Championship
Naz Reid blocked a game-winning shot attempt and raced up the floor to slam down an alley-oop pass from Ithiel Horton with under 10 seconds left to give the Lions a state championship.  Roselle Catholic overcame a seven-point deficit with three minutes to go in the fourth quarter in an amazing come from behind win.  Reid finished the game with 22 points and 9 rebounds and led the comeback in crunch time.  Ranney played inspired basketball against New Jersey's #1 ranked team.  The Panthers had four players in double digits led by Ahmadu Sarnor's 16 points.  Scottie Lewis had 12 points, 9 rebounds + 8 assists.  This game was an instant classic!  JSZ has multiple angles of the play that won the state title and a full breakdown along with post-game reaction in Toms River:
Naz Reid Named JSZ Mr. Hoop Zone for 2018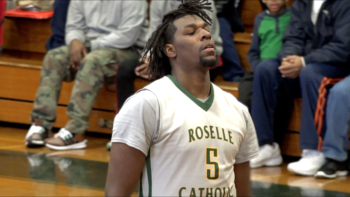 Jersey Sports Zone capped off the season with a celebration of the best players across the state. CLICK HERE for full coverage of the JSZ Basketball Banquet including profiles of our Player of the Year finalists and highlights of every player honored at the event.
JSZ Dunks of the Year!!!
Thanks to the hoopsters from every part of the state for giving us countless highlights and memories.  Our Dunks of the Year reel shows why New Jersey high school basketball has a stellar reputation across the country