Jackson Memorial scores a 34-22 win over Brick Memorial to win a third consecutive Central Jersey Group 4 wrestling title.  SSZ has highlights and post-match reaction from Jaguars country
Three Shore Conference teams qualified for the state semifinals.  Point Pleasant Beach won the Central Jersey Group 1 title, Howell is the Central Jersey Group 5 champ and Jackson Memorial ousted Shore Conference foe Brick Memorial in the Central Jersey Group 4 finals.  SSZ has highlights of the Jaguars big win on the mat:
Jackson Memorial 34 Brick Memorial 22
152 lbs: Tim Hamann (JM) pins Jaden Crippen  0:37
160 lbs: Kyle Epperly (JM) defeats Chris Richardson  3-1
170 lbs: Sam Williams (BM) defeats Leo Shimonovich  6-0
182 lbs: Dan Bergeron (JM) defeats Jack Tango  8-2
195 lbs: Ron Hopping (BM) defeats Frank Fowler-Umana  4-2
220 lbs: Dave Lemay (JM) pins Willie Garner  4:21
Heavyweight: Nick Rivera (BM) pins Naj'zir Humbert  0:41
106 lbs: Vin Scollo (JM) defeats Mike Richardson  6-4
113 lbs: Chris McDonald (JM) defeats Joe Rotondo  2-1 UTB
120 lbs: Jeremiah Nash (JM) defeats Liam Rivera  9-4
126 lbs: Carsten Digiantomasso (JM) defeats Ryan Andrus  3-2
132 lbs: Caleb Alvarado (BM) pins Justin Burkert  0:34
138 lbs: Gianni Ghione (BM) major decision vs. Ryan Bohringer  9-1
145 lbs: Matt McGowan (JM) major decision vs. Bryan Willson  11-0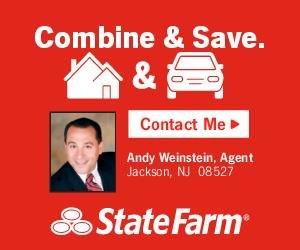 Thanks to Andy Weinstein and State Farm Insurance for sponsoring our Jackson Memorial coverage on Shore Sports Zone.  It's because of Andy that we are able to capture great Jaguars moments like this.
State Semifinal Matchups – Sunday at Pine Belt Arena in Toms River
Point Pleasant Beach vs. Kittatinny, 11:30 am
Howell vs. Piscataway, 11:30 am
Jackson Memorial vs. Mendham, 2:00 pm