Watch highlights of an incredible game as the Jaguars hold off a furious rally from Middletown South to win 21-18 at Rutgers for the Central Jersey Group 4 championship
PISCATAWAY – Middletown South scored 15 straight points in the second half, but fell short on a fake field goal attempt that gave Jackson Memorial a 21-18 win at Rutgers and the Central Jersey Group 4 crown.  The Jaguars scored on their opening possession when sophomore running back Mike Gawlik went 55 yards for a score.  After Middletown South fumbled the kickoff, Joe DeMaio hit Kyle Johnson on a 31 yard pass in the end zone to give Jackson Memorial a 14-0 lead just 3:43 into the game.  But Middletown South settled down and put together a 9 play, 51 yard drive that culminated in Matt Mosquera's 14th field goal of the year to make it 14-3.  DeMaio would score from 13 yards out to make it 21-3 Jaguars at the half.
But Middletown South got back into the game after its defense made a stop on 4th down at the 1-yard line.  Quarterback Matt Mosquera from his own end zone heaved a pass to Tom Marron and 96 yards later, it was 21-10 instead of 28-3.  The Eagles rode that momentum into another huge play as Cole Rogers went 79 yards early in the 4th to make it 21-18 after a two point conversion from Spencer Peerless.
The Eagles were primed to win a state title driving the ball to the Jackson 16, but a Zach Tetro sack pushed the Eagles back and forced them to settle for a game tying field goal.  After confusion by the officials on the first field goal attempt, Jackson was flagged for too many men on the field giving Mosquera a chance to kick a 34 yard field goal.  In cold and wet conditions, the Middletown South elected to go for a fake field goal.  Holder Nolan Peerless threw a pass that was deflected by Cole Collins.
Gawlik rushed for 159 yards on 30 carries, while Cole Rogers had 18 carries for 157 yards before leaving the game in the 4th quarter with a leg injury.  Jackson Memorial ended its season with wins over Red Bank Catholic, Brick Township and now Middletown South.
SCORING SUMMARY
Jackson Memorial 21 Middletown South 18
1st Quarter – Mike Gawlik 55 yard TD run (Jackson 7 MS 0)
1st Quarter – Joe DeMaio 31 yard TD pass to Kyle Johnson (Jackson 14 MS 0)
1st Quarter – Matt Mosquera 28 yard field goal (Jackson 14 MS 3)
2nd Quarter – DeMaio 13 yard TD run (Jackson 21 MS 3)
3rd Quarter – Mosquera 96 yard TD pass to Tom Marron (Jackson 21 MS 10)
4th Quarter – Cole Rogers 79 yard TD run (Spencer Peerless 2pt conversion) (Jackson 21 MS 18)
State Championship Scores
We've got highlights of all the state title games involving Shore Conference teams and we'll keep you updated on Sunday night when RBC battles Delbarton at MetLife Stadium:
[table id=50 /]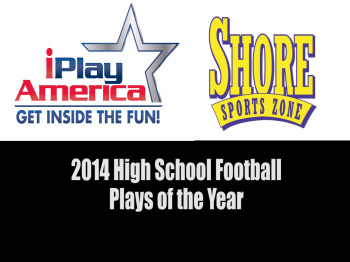 Don't forget to vote for the 2014 high school football Plays of the Year.  Six categories featuring the top plays captured by SSZ cameras in 2014!  Winners will receive an invite to our first annual SSZ All-Zone football banquet on December 16th at IPlay America in Freehold.  Click HERE to see all the nominees and cast your vote – ballots stay open until this Wednesday.