Donovan Catholic picked up its 22nd win of the season thanks to Lindsay Nelson's work on the mound and a tremendous defensive play by Mya Lamicella in a 2-1 win at Middletown North in a game that pitted two of the top softball teams in the state.  SSZ has all the highlights and post-game reaction in our US Army Softball Game of the Week
Donovan Catholic 2 Middletown North 1
The Griffins manufactured runs in the 3rd and 4th inning and Lindsay Nelson went the distance giving up just one run to get to 22-0 on the season.  Alex Pagano hit a sacrifice fly to left field in the 3rd inning to score Mya Lamicella and Mikayla LaPlaca hit a hard grounder to 3rd that had Kayla Roncin slide home to beat the throw.  In the 6th inning, Middletown North's Riley Kernan made it a 2-1 game with an RBI double to right center field.  The Lions were primed to tie the game, but Lamicella made a diving grab to take a base hit away from Kayla Gallo to get out of the inning.  Nelson gave up five hits and struck out eight to improve to 15-0 on the season.  Watch the highlights of a fantastic game in our US Army Softball Game of the Week:
US Army Game of the Week
Thanks to the US Army, Shore Sports Zone will bring you a Game of the Week in baseball, softball and lacrosse throughout the entire spring.  We'll pick the big games on the schedule and bring you extended highlights and post-game reaction.  Thanks to the US Army for supporting our coverage of great Shore Conference sports here on SSZ!
Sponsor Shout Out!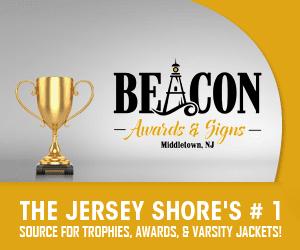 Thanks to Beacon Awards for sponsoring our Middletown North coverage all year long