Red Bank Regional's Sadiq Palmer and Jack Navitsky won the vote for Top Play of Week Two earning the duo a Monmouth Building Center Game Ball.  Manalapan's LJ Holder won the Game Ball for Top Performance of Week Two
Red Bank Regional wins Top Play vote for Week Two
Jack Navitsky's second TD pass of the game to Sadiq Palmer was a perfect fade route and the Buc Deck was out in full force to win the voting for Top Play of Week Two.  Palmer, committed to Syracuse, had two TD catches, an interception and a safety in RBR's 30-0 home win against Colts Neck to improve to 2-0.
Manalapan's Holder comes through in the clutch to win Top Performer of Week Two
LJ Holder caught the game winning touchdown pass to give Manalapan a 21-20 win over Freehold Township.  SSZ caught up with the winner and head coach Ed Gurrieri during a Braves practice this week:
Shore Sports Zone awards two Monmouth Building Center Game Balls every week.  One goes to the Top Play captured by SSZ cameras, the other is for the Top Performer for all the other games.  Voting begins every Sunday morning and runs through Tuesday at 9pm.  Thanks to the loyal supporters of Shore Sports Zone for making this one of our most popular features!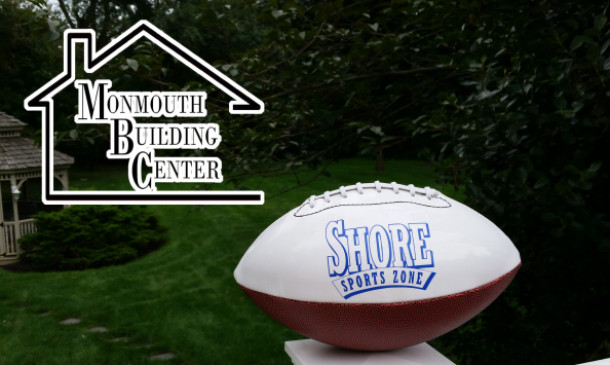 Monmouth Building Center in Shrewsbury salutes great performances all year long with Game Ball presentations!
Monmouth Building Center in Shrewsbury is a proud sponsor of SSZ Game Balls.  They are family owned and operated since 1967.  If you have a home project, they have everything you need.  Monmouth Building Center is showing their support for high school athletes in Monmouth and Ocean County and Shore Sports Zone thanks them for allowing us to shine the spotlight on kids all year long.
Sponsor Shout Outs!
Thanks to db Orthopedic for sponsoring our Manalapan Braves coverage and Navesink Electrical in Little Silver for signing on to sponsor Shore Sports Zone's Red Bank Regional coverage in 2015/16.  If you enjoy our videos and the great features we do every day, make sure to support our sponsors!