Frankie Tagliaferri's senior season at Colts Neck started late, but for good reason.  Following a two goal effort for the United States in the Under 17 World Cup, Frankie returned to the Cougars and scored in a 5-0 win over Marlboro.  Watch the highlights and our feature on Tagliaferri's World Cup experience
Colts Neck 5 Marlboro 0
Frankie Tagliaferri began her senior season on game #10 for Colts Neck girls soccer.  Tagliaferri had a goal and an assist as the Cougars busted open a 1-0 halftime lead to score a 5-0 victory over Marlboro.  Nicole Loehle, Kristen Gambardella, Kayla Lee and Laila Rosenthal were the other goal scorers for the Cougars, who are now 7-2-1 on the season.  Watch all the highlights here:
Frankie's Back!
Taglaiferri was with the United State Under 17 Women's World Cup team that competed in Jordan.  The US did not advance to the quarterfinals after losing back to back games to Ghana and Japan in Group Play.  Frankie scored a pair of goals in three games including this awesome effort against Paraguay:
Following world class competition, it would have been easy for Tagliaferri to skip her senior season with Colts Neck and begin to look ahead towards her collegiate career at Penn State and more time with the US National soccer program, but after playing against Japan last Saturday in Jordan, Tagliaferri had a quick turnaround to return to high school competition just five days later.  Shore Sports Zone talked with Frankie about her World Cup experience and her decision to play for the Cougars following her one goal, one assist effort against Malrboro: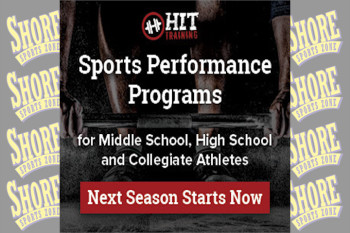 Thanks to Hit Training for sponsoring our Marlboro and Colts Neck coverage and giving us the ability to show great highlights and features all year long in so many different high school sports!