A special night in Rumson!
Rumson-Fair Haven's senior night was a dream come true for Bulldogs manager Jack Velcamp.  The 4-foot-2 senior, who represented the United States at the World Dwarf games in basketball, got to achieve his dream of suiting up for the Budllogs.  Velcamp got the start and made this layup to bring the house down.  JSZ's Jay Cook will tell the inspiring story in detail on Friday in JSZ.  For now, watch the big basket and see the incredible emotion!
Ocean Twp. 61 Red Bank Catholic 53
At the start of the fourth quarter we saw Ocean Township take a 36-32 lead over the Casey's. However, Red Bank Catholic quickly rallied back to regain the lead in the opening minutes. As RBC led for most of the fourth, The Spartan's Andrew Seager managed to tie the game at 47 in the closing seconds to send it to over time. Red Bank Catholic was no match for OT's scoring in extra time as the Casey's were outscored 14-6. Seager with 26 points in the upset victory helps propel Ocean Township to 11-8 on the year. JSZ's Nery Rodriguez was there for all the action:

Thanks to Playa Bowls of Red Banks for sponsoring our Red Bank Catholic coverage on JSZ!
Summit  65  Gov. Livingston 48 
Summit took the lead early in the first period of this game and ran with it; however, the Highlanders did challenge that lead in the third period thanks to the offensive push by Tyler McCulloch who would get GL within three of Summit. Unfortunately, for GL though they would not gain the lead and the final score would land in Summit's favor 65-48. Check out full highlights now: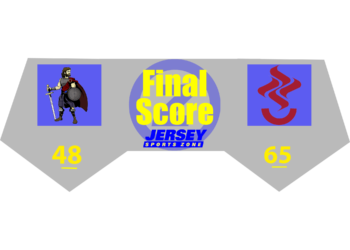 Sponsor Alert!
Coverage of Summit is brought to you by Equinox Fitness Clubs. Thanks to Equinox JSZ will bring you the best of Hilltoppers highlights all season long!
Trinity Hall 77 Keyport 50
16-0 Trinity Hall put their undefeated record to the test on Thursday evening as they took on a 9-6 Keyport, a team that has had its fair share of success in the Shore Conference this year. The Monarchs led Keyport 33-19 at the end of the first half, but when Keyport finally found momentum one of their go-to players had to leave due to injury. This caused the Monarchs to go on a scoring frenzy in the third including Nicole Ventura who along with her teammates Bridget Andrew and Caitlin Wingertzahn finished with a double double to put this one out of reach early in the fourth. Watch the highlights now:

Thanks to BCB Bayshore for sponsoring our Keyport coverage!

We'd also like to thank Trinity Hall for their sponsorship of Monarch's sports on JSZ!
Delsea 82 Highland 60 – Boys
Javon Gordon did it all for Delsea on the road: 29 points, 9 rebounds, 7 assists in a convincing win.  Mike Frankel brings us the highlights:
Haddon Heights 66 Haddonfield 63 – Boys
Jared Latane had a huge game with 30 points to lead Haddon Heights to a big rivalry win.  SNJ Today's Mike Frankel gives us the highlights from South Jersey: