Three state champions are crowned at Kean University and JSZ was there for highlights and post-game reaction from the trio of title games. A reminder that we'll also have highlights of three more state finals on Sunday from Kean. Enjoy the highlights and congratulations to all the state champions!
Donovan Catholic 11 Mount St. Dominic 1 – Non-Public A State Championship
Donovan Catholic proved why they're New Jersey's best team, plain and simple. Only 24 hours after winning a marathon game in the sectional finals, the Griffins went right to business — they shot out to a 9-0 lead after an explosive first inning and never looked back after finishing Mount St. Dominic via the mercy rule in five innings. JSZ's Jay Cook has all the highlights and post-game reaction from this historic first state title in Donovan Catholic history:
Hightstown 9 Mount Olive 4 – Group 4 State Championship
For the first time in program history No. 10 in the NJ Top 20 Hightstown brought home the Group 4 State Championship. Mount Olive would take a 1-0 lead in the top of the third before Morghan Fleisher would help the Rams go ahead 2-1 on a 2 RBI double in the bottom of the inning. Hightstown eventually led 5-1 before the Marauders cut it to a one run lead in the sixth. However, thanks to a two run homer from Abby Bell and a 2 RBI double from pitcher Allie Bridgman they pushed the deficit to 9-4 in the sixth. Bridgman finished the day with 10 strikeouts. JSZ's Nery Rodriguez has the highlights: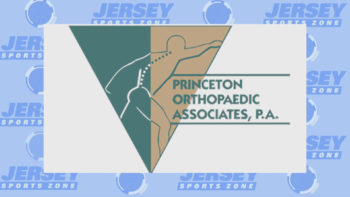 Thank you to Princeton Orthopaedic Associates for sponsoring our Hightstown coverage!
Ramsey 2 Bordentown 1 – Group 2 State Championship
Emma Cunningham's base hit to left plated younger sister Sophie with the game winning run in the bottom of the 7th to give the Rams their first state title since 2015 after losing in the finals in the previous two years. Bordentown jumped out to a 1-0 lead on a solo homer from Makenza Goleniecki, but Ramsey responded in the third with a two out RBI single courtesy of catcher Kaitlin Houser. In the bottom of the 7th, Sophie Cunningham bunted her way to first followed by base hit from pitcher Victoria Sebastian setting the stage for Emma Cunningham's heroics. JSZ's Rich Chrampanis has the highlights and fantastic post-game reaction from Kean University: