Saturday's public state finals are now set! Jersey Sports Zone has semifinal action from all around the state. Four games of exciting state baseball action are posted now on JSZ!
Eastern 1 Manalapan 0 – Group 4 State Semifinal
Alec Funari executed a suicide squeeze in the fourth inning for the game's lone run and Cole Boyan pitched a complete game five-hitter with five strikeouts to give Eastern a spot in the Group 4 state championship against Ridgewood. It was a controversial seventh inning as Manalapan appeared to tie the game on a Lou Marzo pinch hit squeeze bunt, but the home plate umpire called him out for making contact outside the batter's box. Manalapan would line to third on the next play to end their season. Watch JSZ's highlights and you can make the call on the controversial ending at Monmouth University:
Jersey Sports Zone's coverage of Eastern is brought to you by Cooper University Health Care.
Ridgewood 6 Westfield 1 – Group 4 State Semifinal
Ridgewood had revenge on their minds in this year's state semifinal — the Maroons fell to Westfield in last year's semifinal game. It was all different this time around as Ridgewood jumped on Westfield early and often and rode the arm of Sam Favieri to the win. JSZ's Jay Cook has all the highlights from Kean University:
Sponsor Shoutout!
Congratulations to Westfield for a great season. JSZ's coverage of the Blue Devils this entire year was brought to you by Assemblyman Jon Bramnick.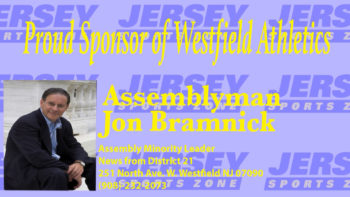 Wall 4 Cherry Hill West 3 – Group 3 State Semifinal
No. 7 in the NJ Top 20 Wall advanced to the Group 3 state final with a 4-3 win over No. 17 Cherry Hill West. The Knights went ahead 4-0 early off a three-run home run from John Iradi in the bottom of the second. However, the Lions capitalized on errors in the third and sixth innings to cut the lead to just 4-3. Monmouth University commit Trey Dombroski finished a complete game by striking out two batters and forcing a pop fly to seal the victory for Wall. Dombroski finished with 7 Ks total on the day. JSZ's Nery Rodriguez has the highlights:
Point Pleasant Boro 8 West Deptford 4 – Group 2 State Semifinal
Sam Collins went 5-5 with an RBI triple to lead the way for the Panthers at the plate. Nicholas Guzzi also sparked the Point Boro offense with a pair of hits and three RBIs. Jack Murphy had a double and three RBIs for the Eagles in the loss. JSZ's Mike Frankel has the highlights, as the Panthers advance to face Pascack Hills in the Group 2 state final: