Long Branch 30 Brick Memorial 29 – Central Jersey Group 4 Finals
Daniel Santos-Silva scored a dramatic two-point takedown with 10 seconds to go in the 3rd period of the final match of the night to give Long Branch a thrilling one-point win over the Mustangs.  Santos-Silva was tied with Ron Hopping 1-1 at 182 pounds when he delivered what proved to be the clinching points.  The two teams went back and forth scoring points.  A critical turning point came at 160 pounds when freshman David Szuba scored a 3-2 Ultimate Tiebreaker Win over Luke Arnold to give Brick Memorial a critical three points.  A pin by the Mustangs Ean Mueller at 170 pounds gave Brick Memorial a nine point swing and a 29-26 lead.  Santos-Silva's win tied the match at 29 and Long Branch won on criteria thanks to an 8-6 edge in overall matches.  Watch the exciting match and the thrilling final moments: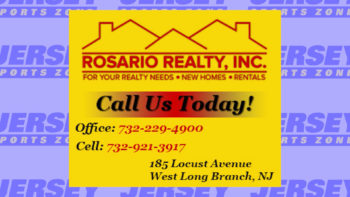 We're able to bring you great moments from Long Branch sports thanks to the support of Rosario Realty!
Long Branch 30 Brick Memorial 29
195 lbs: Peter Wersinger (LB) technical fall vs. Roberto Hererra  19-4
220 lbs: Sam Williams (BM) pins La'Qym Morris  3:59
285 lbs: Kevin Cerruti (LB) defeats Christopher Mittler  7-0
106 lbs: Joe Rotondo (BM) majority decision vs. Dylan Kelleher  12-2
113 lbs: Vin Santaniello (BM) majority decision vs. Rey Guzman  14-4
120 lbs: Ryan Zimmerman (LB) defeats Michael Richardson  6-0
126 lbs: Chris Dean (LB) majority decision vs. Liam Rivera  15-6
132 lbs: Stivini Silva (LB) defeats Ryan Andrus  5-1
138 lbs: Caleb Alvarado (BM) pins Ryan Carey  1:43
145 lbs: Isaac Shohet (LB) majority decision vs. Brian Alexander  10-0
152 lbs: Louie Saez (LB) majority decision vs. Bryan Willson  11-3
160 lbs: David Szuba (BM) defeats Luke Arnold  3-2 UTB
170 lbs: Ean Mueller (BM) pins Edgar Padilla  5:11
182 lbs: Dan Santos-Silva (LB) defeats Ron Hopping
Phillipsburg 32 Middletown North 30 – North 2 Group 4 Finals
Thirty-seven. That's right, the Phillipsburg Stateliners' wrestling program has won 37 state sectional wrestling titles in 39 years of the state tournament. No. 2-seeded Phillipsburg added it's most recent trophy to the case 
on Friday
 night when they trekked to the Jersey Shore to take on No. 1-seed Middletown North in the North Jersey 2 Group 4 sectional finals. Pins in the middle of the lineup by Cody Harrison, Josh Ramos and Lance Wissing helped propel the Stateliners to a 32-30 victory.   Phillipsburg will turn right around after the win and head to Toms River 
on Sunday
 for the Group Championships. Phillipsburg has a date with Roxbury in the Group 4 semifinals starting at 
11:30 a.m.  JSZ's Jay Cook has the highlights and post-match reaction from Middletown: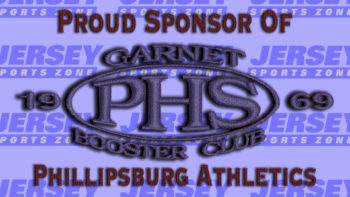 Thanks to the Garnet Booster Club for supporting JSZ's coverage of Phillipsburg.  They are the reason we are able to capture great moments from the Stateliners all year long!
 Phillipsburg 32 Middletown North 30
285: Austin Dewise (MN) d. Patrick Sharpe  3-0
106: Thomas O'Keefe (MN) d. Logan Maczko  7-1
113: Tyler Klinsky (MN) d. Cullen Day  8-1
120: Travis Jones (P) d. Freddy Luchs  7-0
126: Nate Pujols (MN) d. Luke Hardin  9-3
132: Kyle Tino (P) tf. Chris McCarthy  25-7
138: Cody Harrison (P) p. Mike Puzo  
0:28
145: Stanley Wojdylak (MN) d. Jayson Zinsmeister  7-1
152: Josh Ramos (P) p. Joe Cavanagh  
5:59
160: Brian Meyer (P) by forfeit
170: Lance Wissing (P) p. Nico Cerbo
182: Nicko Cofone (MN) by forfeit
195: Jacob Anderson (MN) d. Austin Roth  3-1
220: Kevin McCarthney (MN) by forfeit
Howell 29  Hunterdon Central 20 – Central Jersey Group 5 Finals
It was a Group V Sectional Final rematch for the Howell Rebels and Hunterdon Central Red Devils tonight at Hunterdon Central High School. The Rebels were the favorite once again this year, coming in ranked No. 3 in the state, while the Red Devils sat in the No. 7 spot. Last year it was Howell who came out on top, and so Hunterdon Central was looking for redemption. Unfortunately for the home squad, the Rebels came to wrestle. Howell took the match 29-20 after Christian Murphy sank the only pin of the night in one minute and 25 seconds, and both Darby Diedrich and Kyle Slendorn remained undefeated with decisions in the 120 and 132 weight classes. The Rebels are now 30-0 heading into groups. Check out full highlights now: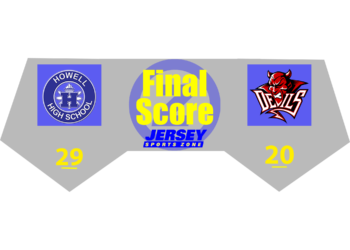 Howell 29 Hunterdon Central 20
145 lbs: Vince Romaniello (HC) defeats Paul Jakub  10-7
152 lbs: Xavier Kelly (H) defeats Norman Cella  10-5
160 lbs: Kevin Ciresa (HC) defeats Evan Richard  9-0
170 lbs: Shane Reitsma (H) majority decision vs. Dan Furmato  18-4
182 lbs: Christian Murphy (H) pins Kyle Barrett  1:25
195 lbs: Lukas Bakerian (HC) defeats Rashaun Hansford  8-1
220 lbs: Angelo Crespo (HC) defeats Joe Sardina  7-5
285 lbs: Ryan Joyce (HC) defeats Scott Prendergast  3-2
106 lbs: Brett Ungar (HC) majority decision vs. Jesse Liptzin  8-0
113 lbs: Jerry Lleshi (H) majority decision vs. Colton Washleski  16-8
120 lbs: Darby Diedrich (H) defeats Jack Bauer  3-1
126 lbs: Luke Rada (H) defeats Anthony Romaniello  9-2
132 lbs: Kyle Slendorn (H) defeats Hunter Graf  10-6
138 lbs: Dan Esposito (H) defeats Pasquale Vizzoni  2-1 TB