Wall 2 Toms River North 1
Hailee Reinhardt's penalty kick conversion in the 51st minute proved to be the game-winner as the second-seeded Crimson Knights advance to the SCT finals.  Lauren Karabin gave Wall a 1-0 lead with a goal late in the first half.  Jordan Cheche made a fantastic save on a direct kick from 20 yards out which proved to be critical as Marisa Tava got the Mariners on the board with 8:50 to go in the second half.  But Wall was able to melt away the clock and earn the victory.  Watch highlights of the Crimson Knights semifinal win at Ocean Township High:
Freehold Township 2 Jackson Memorial 0 
The Colbert twins set the tone to get the Patriots to 18-0.  After a scoreless first half, Jada Colbert set up a scoring opportunity to sister Jasmine before she was dragged down inside the 18.  That allowed senior Paige Farrell to convert a penalty kick in the 47th minute to give the Patriots a 1-0 lead.  Later, Jasmine returned the favor to Jada who delivered a beautiful shot from 30 yards out to close out the scoring.  Watch the highlights of the Patriots semifinal win: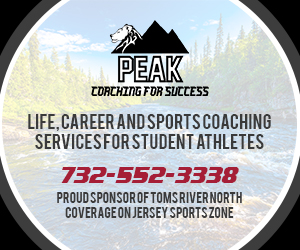 Thanks to Peak Coaching for Success for sponsoring our Toms River North coverage on Jersey Sports Zone.  We'll have many more great Mariners highlights and features thanks to the support of Peak Coaching for Success
Shore Conference Tournament Soccer Finals
Thursday at Ocean Township High School
Boys FInal: (1) Holmdel vs. (5) Ocean Township, 5:00 p.m.
Girls Finals: (1) Freehold Township vs. (2) Wall, 7:00 p.m.