Toms River North Ready To Right the Ship
Typically known as an Ocean County public power, Toms River North took a step back last year with a 1-9 record. But head coach Dave Oizerowitz will be turning to physical and oversized linemen to set the tone on both sides of the ball. Senior Stavon Drew will anchor the offensive line and brings experience to the group.
Experience will also help out a young defensive line anchored by Najae Hallenbeck and CJ Niedzielski. Hallenbeck, a 16-year-old standing at 6'7, 290 pounds, has already been offered by Rutgers. Niedzielski brings a blue collar toughness to the defense.
The Mariners will also employ a fresh offense to improve on last year's squad. Fans can expect to see Jarrod Pruitt and a stable of tailbacks run the offense in 2018.
JSZ's Jay Cook has the story on the 2018 Mariners.
Toms River North 2018 Schedule
Friday, Sept. 7 — at Manalapan
Friday, Sept. 14 — at Howell
Saturday, Sept. 22 — vs. CENTRAL REGIONAL
Friday, Sept. 28 — at Freehold Township
Friday, Oct. 5 — vs. MIDDLETOWN SOUTH
Friday, Oct. 12 — vs. TOMS RIVER SOUTH
Friday, Oct. 19 — at Toms River East
Saturday, Oct. 27 — vs. SOUTHERN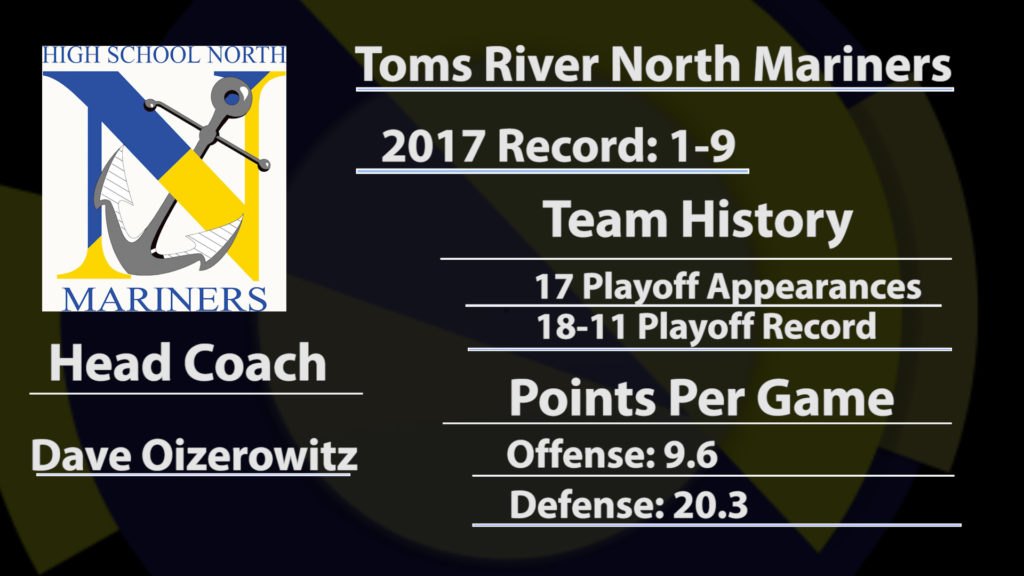 Sponsor Shout-Out!
Please welcome Jersey Sports Zone's newest Toms River North sponsor, CJA Construction! Thanks to CJA Construction, JSZ is able to be on hand to capture moments from the Mariners' 2018 football season.