Walt Schopf's 2-run double was the key hit in Middletown North's 5-1 win over Mater Dei Prep in the first round of the Shore Conference baseball tournament.  SSZ has highlights of the Lions win plus all the first round scores and round of 16 matchups
Middletown North 5 Mater Dei Prep 1
Walt Schopf's 2-run double was the key hit in a 4-run 4th inning for Middletown North as the 9th seed advances in the second round of the Shore Conference Tournament.  Garrett French pitched 3 2/3 innings of no-hit relief to pick up the win.  Watch the highlghts from Middletown: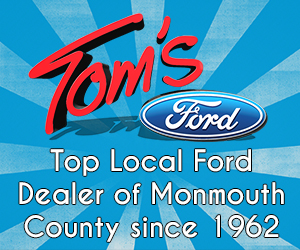 Thanks to Tom's Ford for sponsoring our Middletown North coverage.  We will continue to showcase post-season games with the Lions and Middletown South thanks to Tom's!
Chiusano pitches perfect game for Colonials!
The big headline from the opening round of the SCT was Freehold Boro's Dan Chiusano pitching a perfect game in Freehold Boro's 3-0 win over Manasquan.  Here's the celebration courtesy of the Freehold Boro athletic department:
SCT Baseball First Round Scores
(4) Red Bank Catholic 3  (29) Point Pleasant Beach 1
(5) Point Pleasant Boro 7  (28) Keansburg 0
(6) Toms River South 4  (27) Keyport 2
(7) Marlboro 8  (26) Matawan 2
(25) Saint John Vianney 5  (8) Barnegat 2
(9) Middletown North 5  (24) Mater Dei Prep 1
(10) Colts Neck 6  (23) Shore Regional 0
(11) Brick Township 11  (22) Monmouth Regional 4
(12) Ocean Township 5  (21) Manchester 0
(19) Jackson Liberty 9  (13) Brick Memorial 5 (8 innings)
(14) Freehold Boro 3  (19) Manasquan 0
(15) Howell 12  (18) Wall 5
(17) Manalapan 3  (16) Saint Rose 0
SCT Round of 16 Matchups 
(17) Manalapan at (1) CBA
(15) Howell at (2) Middletown South – Friday at 2pm
(14) Freehold Boro at (3) Toms River North
(19) Jackson Liberty at (4) Red Bank Catholic – Friday at 3:45 pm
(12) Ocean Township at (5) Point Pleasant Boro – Friday at 4pm
(11) Brick Township at (6) Toms River South
(10) Colts Neck at (7) Marlboro
(25) Saint John Vianney at (9) Middletown North