Shore Sports Zone covered four championship tournament games on Tuesday and Rich Chrampanis noticed a common theme from some of the Shore's top basketball player
The post-game on camera interview can be daunting.  The top high school athletes are more than comfortable on the field or on the court, but stick a microphone in front of their face with a camera after a hard fought game and it can be very intimidating.
The basketball holiday tournament frenzy wrapped up on December 30th and I made my way to four different championship games.  The routine was almost the same for each game: shoot the highlights, get the team picture with the trophy and interview the tournament MVP.  I was struck by the responses of three different athletes who won an individual award and their reaction: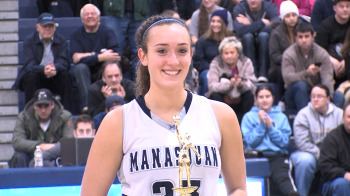 "I don't really care about the MVP stuff or anything like that.  I just care that our team is happy and everyone feels like they contributed and everyone feels like they are a part of it, not just me getting MVP."
Manasquan's Marina Mabrey (WOBM Christmas Classic MVP)

"Well I'm definitely more happy that we won the tournament.  I don't really care about the MVP, I'm just happy we won the tournament.  We've been talking about it since the end of the last year and I'm just happy we came through and did it."
Toms River North's Mike Nyisztor (WOBM Christmas Classic MVP)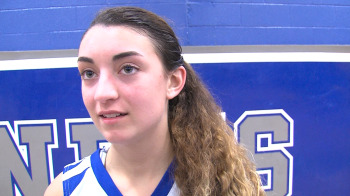 "It was definitely a team effort.  I couldn't have done it without them and I think we all played our hearts out and it was a good team victory."
Holmdel's Mia Ehling (Bayshore Invitational MVP)
Three players who have plenty of press clippings, interviews and individual accolades have a team first attitude.  Is it any coincidence that all three of these teams won championships?  I don't think so.
Marina Mabrey is one of the best high school players in America.  In 20 years of covering high school sports around the country, I've seen overhyped recruits and I've been able to see the real deal.  Mabrey has one of the most complete games I've ever seen.  Muffet McGraw, the head women's basketball coach at Notre Dame, gets to pick the best of the best when it comes to women's basketball.  She will be more excited about Marina's post-game quote than any of her highlights from her senior season.  It's the unselfish player who is also a tremendous talent that wins championships.
Pat Riley, who is as good an authority on championships as anyone, wrote in his book The Winner Within about the "Disease of Me".  It's the selfish attitude that can bring down any team no matter how talented they are.
I've been behind the curtain and have had the ability to know what great college coaches are looking for when it comes to recruiting.  The three answers you see above?  They are music to any coach's ear.  Talent and a selfless attitude?  That will get you far not only in sports, but in life.
In addition to talking with three great selfless players, I also got the chance to witness one truly selfless team.  Red Bank Regional was the #3 seed in its own tournament, yet hoisted the championship trophy because of 13 players and their coaches playing for one common cause.   Albert E. Martin was a Red Bank Regional senior when he collapsed and died in a preseason game in December of 2012.  They upset St. Joseph's-Metuchen, the defending NJSIAA Tournament of Champions winner, 59-54 in overtime to snap the Falcons 29 game winning streak.
"Because this tournament is for Albert and everything he taught us and did for us, this one's going to be for him," senior Jimmy Ferrogine said after winning in the semifinals.  "I was a sophomore and Albert was the senior on the team, he was our team leader.   We've been playing for him ever since that happened."
Just being around the Bucs for three games, it's easy to see that no one cares about who gets the points or the post-game glory.  I was not here when Albert E. Martin was an athlete at Red Bank Regional, but I already know that he was selfless.  After all, he's still having an impact on his teammates inspiring them to do something that no one thought could happen.
 Rich Chrampanis is the founder and managing editor of Shore Sports Zone in his first year covering Jersey Shore basketball.   He won two Edward R. Murrow Regional Awards for documentaries on basketball players Cindy Blodgett and Raymond Felton and spent the last eight years as host and executive producer of the Cliff Ellis Show at Coastal Carolina University.