Rich Chrampanis has covered National Signing Day for over 20 years.  What he witnessed in Lakewood was much more than two athletes putting pen to paper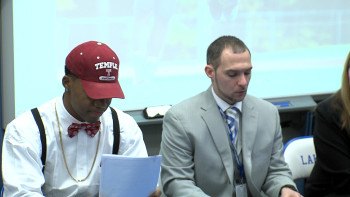 From a media perspective, Signing Day can be monotonous.  It's the same routine every year. Sit on the desk, sign the papers, take pictures with your coach and family and then say how you fell in love with the campus and you can't wait to get there.  But from my days in television, I made it a point to make a big deal about Signing Day – not just football.  Any athlete who puts in the hard work both athletically and academically deserve to be praised and fussed over.  It's not just a great moment for the athlete, but their entire family and the school administration who helped make it happen.  Before ESPN made it a spectacle and the internet is flooded with commits and analysis, I used my platform on television to elevate the celebration of choosing a school.
In 2003, I invited one of the biggest prospects in the country to announce his decision live in our studio.  This was in the early days of internet video and when Syvelle Newton put on a Clemson hat only to take it off his head and fling it on the table for archrival South Carolina's lid,  the entire state was thrown into a frenzy.  With all due respect to Kim Kardashian, I'll never forget when our boss came to me the next day and told me that we broke the station's internet site.
One year later, I had another elite prospect join me for his announcement.  Lawrence Timmons was spurned by in-state schools and chose the Florida State Seminoles.   He just made his first Pro Bowl and has an amazing NFL career with the Pittsburgh Steelers.  I've always said the best part of my job is seeing young men before they achieved greatness and seeing that spark before anyone else.
I never thought that I would have another Signing Day moment like the two above.  But then I walked into Lakewood High on Wednesday morning.  It was supposed to be just like all the other ceremonies – Chapelle Cook was a lock for Temple since last summer and Datrell Reed was choosing between Villanova and William&Mary.  I walked in to see Reed wearing a blue "V" cap and thought I had missed the moment.
But I didn't.  LJ Clark, the Piners football coach, had nearly many in the room say a few words to the honorees.  The tears flowed everywhere.  From parents, assistant coaches, assistant principals and the athletes themselves.  Signing Day at Lakewood isn't some dog and pony show.  It's a genuine and true celebration of two young men who had hundreds of reasons to be on the wrong path, but instead overcame it all to earn full scholarships.  You may think Lakewood is a tough place, and there's certainly some truth to that, but there's an awful lot of love.  The students at this high school have a staff of people who are giving their hearts and souls to making a better life for their students.
Cook and Reed both have over 3.0 GPA's and were first time qualifiers on the SAT's.  For Datrell, the turnaround is remarkable after failing through elementary school and middle school.  It was a substitute teacher, Ricky Maldonado and Clark, who helped get him on the right path.
The hardships that both of these athletes have had to endure aren't talked about very often, but rest assured they are there.  Clark painted the picture with just one story.   Datrell Reed came off the practice field in the summer to find his sneakers stolen out of his locker room.  They were his only pair.  Ricky Maldonado was there to help him out.  Do you think Datrell Reed is going to appreciate the countless amount of gear he'll get when he checks into Villanova's equipment room this summer?
Chapelle Cook and Datrell Reed are doing it right.  They dream of the NFL and are doing everything they can to make it happen.   But they have the fallback of a stellar education.  And in this day of student loans, these two young men won't have to pay a penny when they get their diploma.  Can they make it to play on Sunday?  I've seen countless players who flew under the radar and had that special something to make it.  Cook and Reed have that special something.
We live in a world where negativity reigns.  When Lakewood had a number of football players kicked off the team after being arrested for burglary, the news was front and center.  Datrell Reed and Chapelle Cook's story of overcoming the odds and taking a huge step towards great success is not going to grab the clicks of the police blotter.  But maybe you can change that by watching our story and do what I do every Signing Day – find new athletes to follow and pull for at the next level.  Thanks to Datrell and Chapelle, I have a new favorite Signing Day moment.