Raritan's Ryan Dickens losing his scholarship to UConn has become a national story.  SSZ owner and managing editor Rich Chrampanis isn't shocked by what transpired even though it's unfair to the SSZ All-Zone linebacker
The camera was turned off and we were just talking.  Ryan Dickens was on his way to start a long night of delivering Christmas presents to families all around the Bayshore area.  During the drive over to the start of the route, Dickens talked excitedly about the start of his college football career.  I talked about how he'll put on weight and become a much bigger and stronger version of an already chiseled linebacker.  He said that there was a constant group text of all the UConn commits, excited for the future.  He had hoped that he could come back home in the midst of bowl practice to return to Hazlet and continue to be part of the RAINE Foundation's marquee event.  Ryan Dickens committed to coach Bob Diaco in June and never thought about any other college.  When Diaco was fired by UConn in December, Randy Edsall returned for his second stint leading the Huskies.
An NJ.com article chronicled the end of Dickens UConn dream.  Coaching changes often have a domino effect when it comes to recruiting.  The fact that Coach Edsall, according to the NJ.com article, assured Ryan on January 1st that his scholarship was safe and UConn linebackers coach John Wholley had a meeting after that date to talk about Signing Day and a visit on campus later this month makes the rescinded scholarship offer sting so much more.
With National Signing Day a mere 18 days away, Dickens is now at square one.  By committing to UConn in the summer, the Raritan linebacker was off the recruiting radar.  Many schools have their scholarship quota filled up.  This isn't an isolated or unique story.  A little Google searching can find that there have been other athletes who had their scholarship pulled from Edsall and he's not the only coach to do it.
I've personally seen this before, and sadly, I'm sure I'll see it again.  A major SEC school pulled the plug on an outstanding running back from South Carolina in a script that would match the Ryan Dickens story.   The ripple effect of that move is still felt today.  It used to be that this particular school would come in and pluck outstanding players.  I haven't seen a player from the Florence/Myrtle Beach, SC area at the SEC school since.   Will Randy Edsall be able to come and recruit the Shore after the Dickens situation?  Time will tell.   There are many new college coaches that come in and honor commitments.   On the same day the Dickens situation happened, Bryce Watts of Toms River North re-opened his recruiting after giving a verbal to Rutgers.  His reason is based on the coach who recruited him moving on to North Carolina State.  Every athlete's recruitment can truly be unique and that's why there's chaos in the final weeks of January.  All of the sudden, Rutgers is back on their board looking to fill a slot they already had filled.
The relationship between a college football staff and the high school coaches in an area is the single greatest resource to successful recruiting.  I can remember a coach at Wilson High School in Florence, SC who told every Division I FBS coach who would listen that he had a linebacker that can play for them.  Justin Durant never got that big offer and instead wound up at FCS Hampton.  I personally watched the staffs at Clemson and South Carolina build strong bonds with high school football coaches in the Florence/Myrtle Beach area and they were able to cultivate many players who contributed to their programs.  Mike Tolbert thought he was going to get a scholarship at the University of Georgia, but it never came.  The three time Pro Bowl fullback from the Carolina Panthers wound up at FCS Coastal Carolina.  Same goes for $75 million dollar Washington Redskins cornerback Josh Norman.  Sometimes coaches listen.  David Bennett, the former head football coach at Coastal Carolina took the advice from John McKissick, the all time winningest coach in high school football history.  He had a player, DeAngelo Henderson, that couldn't get the offer from a big time school.  Coach McKissick said that DeAngelo Henderson was one of the best running backs he's ever coached.  What did Henderson do in his career at Coastal Carolina?  4635 yards rushing and 58 touchdowns.
The level of coaching in Shore Conference football is outstanding.  Whatever college football program is smart enough to build strong bonds with the coaches in our backyard will harvest incredible talent.  Do you think that Frank Edgerly of RBC and Steven Bush of Middletown North can tell a college football program who can play in the Shore Conference at the next level.  Two former NFL assistants?  That's an unequivocal yes.
For 20 years, I've seen the recruiting scene up close and personal both from the athletes side and the college program's side.  There's no question that the process is maddening.  With social media and text messages, it can consume not only an athlete, but their family and an entire program.  Ten years ago, 90 percent of the top recruits I covered waited until the final two weeks before Signing Day to make their choice.  Now, I constantly see the majority of Division I recruits making their verbal commitments during the summer.  The positives of an early pledge are obvious – an athlete knows his future and has a clear mind to focus on senior year of high school football before getting ready for the next level.  The early commits also open the door for an early graduation and a jump start on college.  Last year, Anthony Brown graduated SJV in December and enrolled at Boston College in January.  Fellow Lancer Micah Clark followed the pattern by enrolling at Rutgers earlier this week and Ocean's Kenny Pickett is already in class at the University of Pittsburgh.  Besides getting to spring practice, there's a chance to get ahead academically.
For 18 years, I've hosted a football banquet (15 in South Carolina and 3 in NJ) that have had top players in one room.  Looking back at the path of so many players, I've seen "5-star" recruits who haven't panned out and I've seen players who no offers not only shine in college, but make it to the NFL.  Recruiting will always be about "frames", times in the 40 yard dash and height and weight.
Rockets head football coach Anthony Petruzzi, who's working the phones like a madman to help Ryan find a new college home, is no doubt using one word to describe to him: character.  Winning college football programs put a premium on recruiting players with great character.  When it comes to character, Ryan Dickens no doubt has a five star resume:
Randy Edsall did Ryan Dickens a favor.  Intangibles are important and there are plenty of college programs that take them into account when choosing their talent.  The path to being a college football player is anything but clear.  Ryan Dickens is going to be ok.  He didn't need a boost of motivation, but he'll go to a program that sees his potential as a football player and as a person.   The analysis of recruiting, especially at this time of year is a fruitless endeavor.  Those who are defending Edsall's actions towards Dickens are relieved that UConn will upgrade its defense by getting someone higher profile than a 2-star recruit like Ryan Dickens.  After all, a 2-star recruit can't help you win a national championship: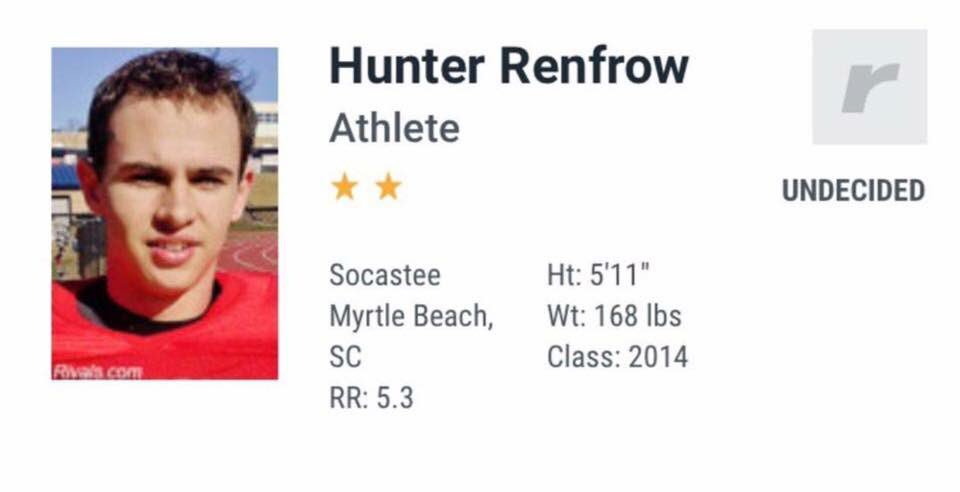 \
Fear not.  There will be stories of the kids we cover who will overcome the pitfalls of recruiting and shine on and off the field.   If I'm forecasting, Ryan Dickens will be one of them.